FEI Europe 2016 presentation by Colin Nelson, Director of Enterprise Innovation Consulting, Hype Innovation
Where once innovation was the focus of the R&D team in an organisation, it is now getting attention across the entire organisation and from the organisation's external relationships. To efficiently capture ideas across employees, suppliers, and customers, organisations are putting in place online innovation management programmes.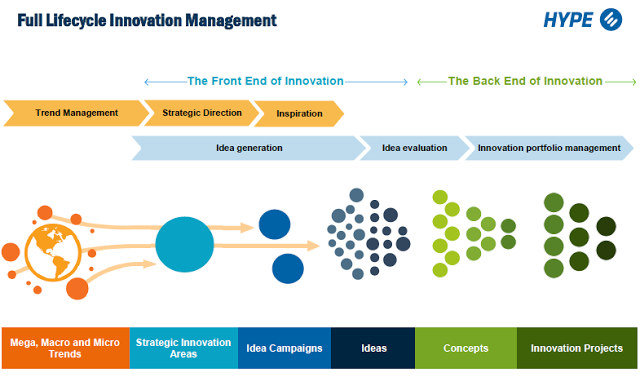 image from conference presentation
Rather than problems with innovation, some organisations are now experiencing collaboration and governance challenges. So why do they persist?
Benefits include:
Bringing clients, suppliers, and academia in on the innovation conversation strengthens these external relationships;
In the Business to Business (B2B) environment, many clients want to feel like a partner rather than just a customer, and this allows the organisation to get a deeper understanding of their client's business, and the opportunity for both firms to improve.
The benefits of innovation are described in the diagram summarising Rowan Gibson's 4 lenses of Innovation: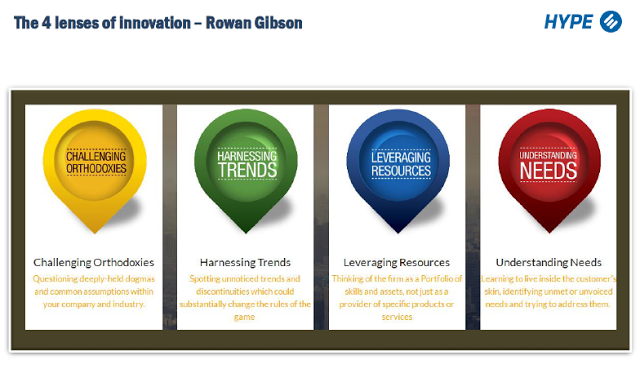 Such proliferation of ideas has created a significant innovation portfolio that requires active management, and the creation of a new role: The Innovation Curator.
Their key activities include:
soliciting for needs, challenges, trends, and problems
filter and search the database for ideas, concepts, and projects that might fulfil or contribute to an identified need
socialize ideas to interested parties in the organisation
run campaigns, and
keep the portfolio alive!
ABOUT THE AUTHOR: Dr Claire McGowan is CEO for SODA Inc. (SODAinc.com), a Founder-focused incubator and Wintec company based in Hamilton, New Zealand. Claire has trained as a life scientist, worked in venture capital and investment banking, and built and sold several businesses, including IPMarket.com. @clairemcgowan @Soda_inc @IPMarket