Bringing Sustainability and Innovation Together: One Company's Approach was presented by Ken McLellan, Business Connection Leader at Burt's Bees today at the Front End of Innovation 2012 pre-conference day.
Innovation at Burt's Bees, Driven by: 3 Pillars
Food Inspired: Liquid crystal technology
Power of Nature's Defenses: Willow Tree & salicylic acid
Biomimicry: Spiderwebs for strength,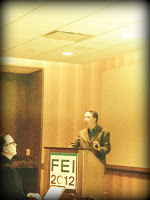 Must-read book: Biomimicry by Janine Benyus or visit asknature.org
Seek examples of the 3 pillars, these are perfect examples of transcending complexity and innovation at play.
Valerie M. Russo is a Senior Social Media Strategist at IIR USA with a technology, anthropology, marketing and publishing business acumen.  She is a published poet and also maintains a literary blog. She may be reached at vrusso@iirusa.com. Follow her @Literanista.