In 2019, we are excited to host BIO-Europe® for the third time, November 11–13. We look forward to welcoming more than 4,500 guests from the international biotech and pharmaceutical sector to Hamburg and would like to take this opportunity to present the Life Science region with its unique competencies.
[Download the BIO-Europe event brochure to get an inside look]
Located centrally in the city, Hamburg Messe offers ideal conditions for effective partnering as well as the congress program and accompanying exhibition. The varied supporting program will give you a lasting impression of North Germany and the companies based here. To start things off on Sunday evening, November 10, Life Science Nord and the City of Hamburg invite you to the welcome reception in the traditional and representative Curio-Haus building dating back to the early 20th century. The four industrial partners from the regional host committee—Eppendorf, Indivumed, Nordmark and Evotec—will also be hosting an evening reception in the impressive Kuppel Hamburg on Monday.
Life Sciences in Northern Germany – Innovation for Your Health
Biotech, pharmaceuticals and medical technology—an innovative core area of the healthcare industry—constitute an important field for the northern German states of Schleswig-Holstein and Hamburg. The region is home to around 500 companies, research facilities and institutions with a total of 49,900 employees and a gross value added of EUR 4.3 billion.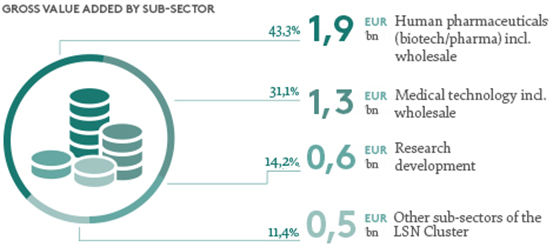 More about the "economic footprint" of the Life Science Nord Cluster: https://www.lifesciencenord.de/en/about-us/key-indicators-for-the-cluster/
Life Science Nord is the regional industry network for medical technology and biotechnology/pharmaceuticals in northern Germany and is managed by the Cluster Management Agency and the Life Science Nord e.V. development association, in which around 260 companies from the industry have joined forces to better represent their common interests. Working together we want to make global healthcare ready for the future—from northern Germany!
The medical technology and biotech/pharma sub-sectors boast outstanding competencies in drug research (particularly in the following indication areas: neurodegenerative diseases, oncology, inflammation and infections) molecular diagnostics, laboratory equipment, imaging, surgical technology and orthopedics.
The good cooperative partnership between research and industry covers the entire value chain necessary for the development of new therapies or medical devices, ranging from research, development and clinical trials to production, marketing and sales. The region is thus home to one of the most comprehensive industrial healthcare sector clusters in Europe.
Visit us, the four regional host partners and more than twenty other North German companies and institutions at our joint exhibition stand no. 65 in the Exhibit Hall at BIO-Europe!
We look forward to seeing you and wish you successful partnering, many interesting new contacts and a pleasant stay in the cosmopolitan city of Hamburg!