At 19,341 feet above sea level, the air is thin, the wind is cold, and the view is one that most of us only get to experience in photos, but what it isn't is a place where you can phone it in.
"There's no posing or pretending up there," explains Luke Timmerman, veteran biotech insider, journalist and avid mountain climber who recently helped to lead 27 men and women up Mount Kilimanjaro in Tanzania. "It kind of strips away a lot of the everyday sort of pretenses or battle armor, masks that we put on in the business world."
The masks came off quickly as the climbers laced up their hiking boots and secured the gear to their bodies for the long trek up the highest peak in Africa. In preparation for this arduous trek, these climbers had been training for six months in advance of their arrival to the mountain.
"I think altitude and mountains become very quick equalizers in terms of everybody being in it together," said Kelly O'Brien, Vice President of Philanthropy at Fred Hutchinson Cancer Research Center and one of the climbers who joined Timmerman.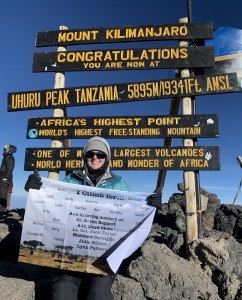 She, like the other 26 climbers, had been inspired to push her body and mind to strenuous limits for the experience of a lifetime and because of the lessons learned months earlier when Timmerman climbed Mount Everest. Reaching out to the biotech community to support his climb up the famous mountain resulted in $339,000 being raised for the Fred Hutchinson Cancer Research Center.
The overwhelmingly positive reaction Timmerman received from donors, and from Timmerman Report followers, for climbing Mt. Everest inspired him to expand on his idea of connecting the biotech world with raising money for a worthy cause by mountain climbing. To Timmerman, the logical next step was to open his fundraising mountain adventures to his fans and the donors who often mentioned how much they wished they too could do something similar to his Mt. Everest climb. To do this, Timmerman selected Mount Kilimanjaro, a more achievable trek for most climbers, for his next philanthropic adventure, and invited members of the biotech community and employees of Fred Hutch to join him. The one caveat was that each climber would need to fundraise at least $50,000 to be a part of the team.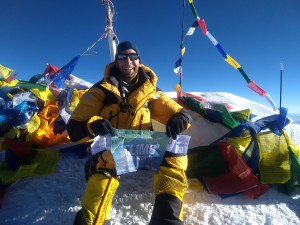 "I wanted this to be a really big fundraiser. I wanted to raise a lot more money than I had on Everest," explained Timmerman. "It was fairly audacious of me to say everybody who comes on this trip has to raise 50 thousand."
But his audacious gamble paid off. The Mt. Kilimanjaro group raised 1.6 million dollars and inspired 1,900 new donors to give money to Fred Hutch's efforts to fight cancer. The money they raised went to funding basic sciences, immunotherapy, global oncology, and to the investment in the next generation of scientists, particularly female researchers.
Timmerman's other gamble of bringing together a small group of mostly strangers from across the country also paid off. "There was also a strong family-vibe almost. People were there to pick each other up and help each other out. It just all came together in a wonderful way."
"It was just phenomenal. You never know when you bring 27 different people from different backgrounds together in tough conditions," agreed O'Brien. "From morning till bedtime, the conversation flowed. People would walk and talk about previous roles they had, people they knew in common, work that they had been a part of, what they were working on right now, whether it was raising money for a new startup or advances in their lab or things that had been approved of at their company."
The networking and sharing of ideas that took place on the trip far exceeded Timmerman's expectations. The de-masking that took place in Tanzania enabled these men and women to form friendships and connect to individuals they might never have met otherwise.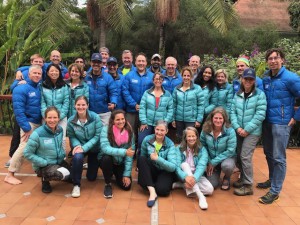 "It forces people to come together, to bond in a very deep and meaningful way," says Timmerman, who is now including this advantageous side effect in his pitch to potential climbers. Based on what they say to Timmerman, those in the biotech community have been quick to connect the dots of how partaking in Climbing to Fight Cancer with Timmerman benefits cancer research and their careers. Timmerman now hears people say, "OK, so there's this great mountain I'd like to do, supporting a scientific cause, but I'm also going to network with a lot of great men and women in biotech and who knows where that goes? That could be great for my career, good for my business."
On January 14, 2019, Timmerman will do a presentation on the Climb to Fight Cancer at Biotech Showcase™, from 4:15–5 pm, at the Parc 55 San Francisco Hotel. Register for the opportunity to meet Luke Timmerman and hear him discuss how he raised 1.9 million dollars for Fred Hutch in the past two years, how he expects to raise a lot more in 2020, and to learn about his next philanthropic mountain adventure to Nepal. In March, Timmerman is leading a team of executives and investors from the biotech and pharmaceutical industries through the Himalayas to Everest Base Camp.