Old, inefficient windows are more than just black holes for energy use and carbon emissions. They're also costing you a ton of money.
How much money? At last count, about $45 billion per year nationwide.
That's based on longstanding federal research into window energy waste and updated consumption and expenditure estimates from the U.S. Energy Information Administration (EIA). And be prepared for that number to worsen, unless we start looking at windows differently and start using smarter technologies.
Here's where the updated estimate comes from.
For many years, building technology experts at the Lawrence Berkeley National Laboratory in Berkeley, Calif., have warned that windows consume about 4 Quads of energy in the U.S. every year. That estimate was recently reaffirmed by the U.S. Department of Energy (DOE) in 2020.
For perspective, a single Quad – which is shorthand for 1 Quadrillion British Thermal Units, or BTUs – is roughly the same amount of energy as the state of Oregon consumes in a year.
But 4 Quads? That means windows are consuming more energy each year than a large industrial state like Ohio.
Windows are the "weakest link" in the so-called thermal envelope of a building, according to the research team at Berkeley Lab. In summer, too much heat is transferred inside through the glass. In winter, too much heat escapes outside.
On average, this means air conditioning and heating systems have to work 30% harder to maintain indoor temperatures, consuming more energy and driving up utility bills for building owners and tenants. When you factor in all sources of energy demand in a building, not just air conditioning and heating, windows consume about 10% of the total.
In 2018, the team at Berkeley Lab estimated the value of this wasted energy at roughly $40 billion per year.
You'll see the $40 billion estimate cited in articles about windows, energy waste and climate change, in specialist publications like ClimateWire and Architect Magazine and even by the cleantech accelerator Third Derivative.
But has anything changed in the almost 4 years since the $40 billion estimate was published? We decided to find out.
With help from Berkeley Lab, we identified more recent data from the EIA on commercial and residential energy consumption and expenditures, and then applied that data to the current body of research on window energy waste.
We also looked at several years of data – from 2016 to 2019, the most recent year available – to identify any notable trends. What we found was not surprising, but still concerning: The cost of window energy waste has increased to more than $45 billion per year.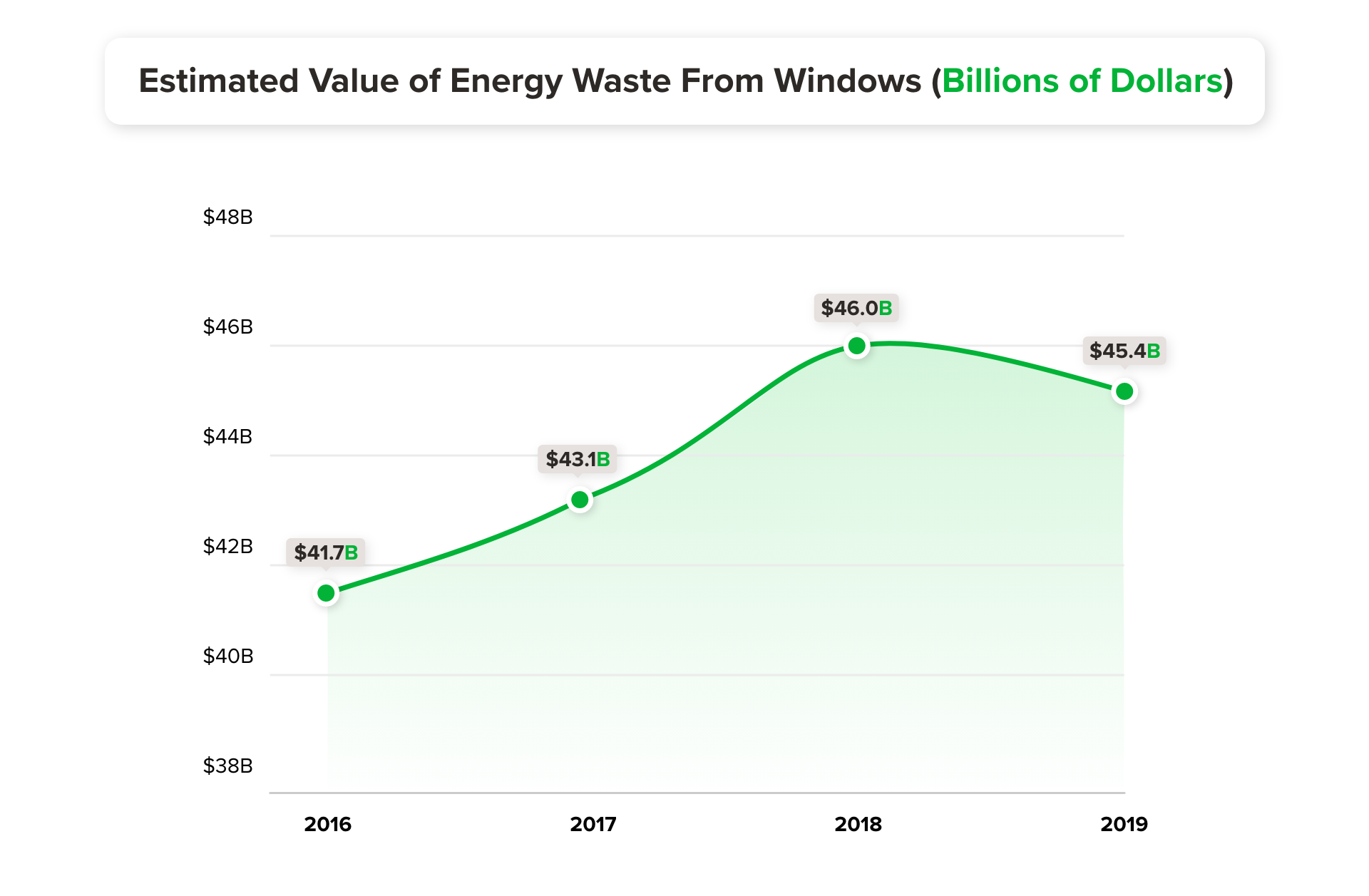 To be sure: When measuring energy consumption and energy expenditures on a national scale, there's a margin of error to consider. The 2-3 year time delay in the data also means the impact of COVID-19 on energy consumption isn't reflected in these numbers. On the other hand, neither is the impact of rising and more volatile fuel prices on energy expenditures.
So will we ever know the exact amount of money lost to inefficient windows nationwide, down to the very last dollar and cent? Obviously, no. As new waves of data are released by the EIA, DOE, Berkeley Lab and other expert sources, you can expect that number to change.
But do we know enough to understand the hidden financial toll of outdated window technologies on building owners, tenants and the broader economy? Absolutely, yes.
Energy waste from windows was a $40 billion problem four years ago. It's a $45 billion problem today. What will it be tomorrow? Well, that's up to us.
For this reason, Berkeley Lab's researchers aren't just studying the problem – they're working with the private sector to solve it, through a new DOE-funded collaborative, the Partnership for Advanced Window Solutions.
"There are some in the industry that are pushing for faster adoption of high-performance windows and attachments," said Robert Hart, Principal Scientific Engineering Associate at Berkeley Lab. "Our goal is to aggregate market demand, reduce product cost, quantify benefits, and accelerate the adoption of advanced windows and window attachments."
Sure, we could just sit back and watch the costs of window energy waste continue to climb.
Or we could start taking rational financial and environmental actions – like investing in smarter, more efficient windows and other energy-saving technologies – to save ourselves billions of dollars and accelerate the transition to net-zero carbon emissions at the same time.
There's really only one sensible choice.