For the past decade, FEI has been your trusted partner in bringing together the best and brightest authors, practitioners, academics, and experts in innovation, product development, design, and R&D. Download the brochure and find out why the 10th annual event is the most comprehensive FEI yet. 
Keynote Provocateurs - Deliver Expertise through Storytelling 
' Chris Anderson, Editor-in-Chief, Wired Magazine, Author, Free & The Long Tail
' Phil Duncan, Global Chief Design Officer, Procter & Gamble
' Jeff Dyer, Co-Author with Clayton Christensen, The Innovator's DNA
' Karen Freidt, Lead, Navigation Center for Creativity, Collaboration & Innovation, NASA
' Michio Kaku, Famed Futurist, Physicist and TV Personality
' Rob Cross, Associate Professor in Management, University of Virginia's McIntire School of Commerce, Author, The Hidden Power of Social Networks and Driving Results through Social Networks
' Tom Szaky, CEO & Founder, Terracycle, Author, Revolution in a Bottle, start of the National Geographic Channel Special "Garbage Moguls"
70 Real World Case Studies- Break-out speakers worthy of the Main Stage from the following organizations: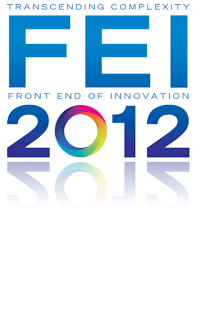 ' 3M
' Abbott
' ABN AMRO
' Austen BioInnovation Institute
' Best Buy
' Boeing
' Coca Cola
' Colgate Palmolive
' DSM
' DuPont
' Eli Lilly & Company
' GE Healthcare
' General Electric
' General Mills
' General Motors
' Harvard Innovation Lab
' Hasbro
' Hershey
' Hewlett-Packard
' Intuit
' Johnson & Johnson
' Kimberly-Clark Corporation
' Kraft
' MARS
' Medtronic
' Microsoft
' NASA
' NBC Universal
' NeuroFocus
' Nokia
' New York Life
' OnStar
' Owens Corning
' P&G
' PepsiCo
' Philips Healthcare
' Pitney Bowes
' PopChips
' Qualcomm
' Quirky
' Rolls-Royce
' Stanford Business School
' The Hartford
' Whirlpool
' Xerox
' LEGO
' Yahoo!
' and many more.. see full speaker list.
Uniquely Curated Experiences: The ONE event where you create content in real-time.
' Challenge & Change: Leverage the unmatched collective intelligence of the FEI group and create distributable take-aways after each core content area during our "challenge & change" sections.
' Don't Just Listen, Act: Choose from 8 different learning formats that allow attendees to be the speakers.
With over 100 world-class speakers, 600+ attendees (75% from the client-side), 4 pre-conference summits, 1 full day workshop, and 6 main conference core content areas FEI 2012 delivers the most value for your time.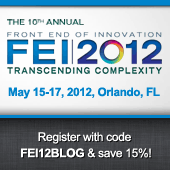 Register Now! and we will see you in Orlando in the next 2 weeks! 


Please mention your priority code FEI12BLOG to save 15% off the standard and onsite rate.
Online: www.frontendofinnovation.com
Phone: 888.670.8200
Email: register@iirusa.com