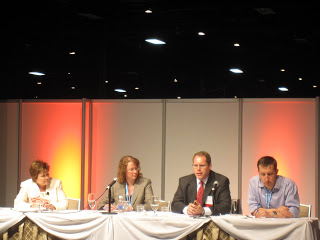 Moderator: Christina Hepner Brodie, PRTM
Richard Nelson, Philips Medical Systems
David Thomas, Petcare, Mars
Q: As you think about the Voc (Voice of the Customer) can you give some perspective on how you define a customer, in the medical industry you have nurses, doctors, consumers. How do you think about that in different industries?
A: We looked at all stakeholder sin that process, and determined their needs. In some instances we had radiologists, CFO, doctors. You want to be sure that you know the WIFFM (What's in it for me) for each of these.
Q: Can you give some examples of ways to capture the voice of the customer?
A: We took some time to sit in consumer's space to see exactly how it is to be a radiologist for example. Since he was interrupted so often, he would forget things about the images he was looking at. This information is greatly useful to understand what they go through on a daily basis. Another example is to see what brands they buy, or monitor them shopping. You can get consumers to put together collages and storyboards. Another good one is to identify people who know who your target is ' kids can be great.