<b'Graphic arts is a
means of expression beyond words'
Friday, December 13th was our last night in Paris.
My fianc?? and I had big plans to fully enjoy the city of lights and all it had
to offer for one more night before heading back home to New York City. We had
been in Paris that whole week for business and partially for pleasure. We spent
a full three days before my conference gallivanting around the city,
eating cheese and chocolate, and sipping wine. Then, we enjoyed another three days
filling my free evenings with delicious cafes and restaurants and wandering the
moonlit, romantic streets of Paris ' not a care in the world. That Friday night
after our last meal and glass of wine in Paris, that feeling came to a
screeching halt.
We casually walked out of the restaurant to screeching
sirens zooming by us, unable to get a cab. After waiting several minutes, we
got into a cab and were stung with the news of shootings and bombs less than a
mile from where we were having dinner. As we frantically Googled the news on
our phones, we were driven to safety at our hotel where upon our arrival, we
learned, 'There have been 9/11-type attacks in Paris tonight.'
After the terror attacks in Paris on the dark Friday, a
symbol of peace unified people across the globe, offering the world a glimpse
of light. I'll never forget that image because I posted it on Facebook that
evening as I sat, anxious and scared in my hotel room in Paris.  A simple image that combines a peace sign and
the Eiffel Tower created by French graphic designer Jean Jullien was shared by
millions across social media.
"It was the most spontaneous thing. I heard the news on
the radio, and I had this heartfelt reaction. I wanted to draw something that
could symbolize peace and solidarity, and I wanted something with the context
of Paris," Jullien told CNN.
About four hours after the image was posted on Twitter, it
had accumulated 16,000 retweets from Jullien's personal Twitter account; after
24 hours that number had climbed up to 53,000 retweets. His followers on
Twitter also sky-rocketed, going from around 8,000 prior to November 13, to
more than 21,000. A few hours after Jullien posted the image to his Instagram
account, Instagram shared the image to its 113 million followers with
credit to the artist. After 24 hours, the post by Instagram had accumulated
more than 1.3 million likes. Not to mention, countless media outlets and
celebrities around the world also have shared the image.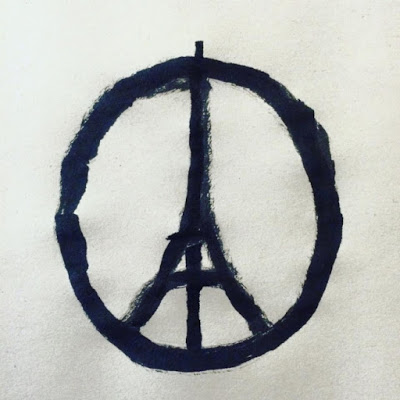 Aside from social media, Jullien's illustration was used in
a public show of support and to commemorate the victims. Not even 24 hours
later, people began printing it on T-shirts, on posters, and on flags, bearing
it proudly in a global show of solidarity with the City of Light.
"The response has been overwhelming -- especially since
I didn't have any control over it. But I can't feel pride or happiness because
it is such a dark time. It's undesired exposure. A horrible moment. But, I'm
just somehow glad people made use of it,' he said.
So what caused the image to go viral? The social role of
graphics is a powerful.
Jullien said, "People think it's just an everyday tool
to sell things like cars or advertise products, but graphic arts is a means of
expression beyond words. Words can sometimes be difficult to translate. I think
the simpler, the better, the more universally understood it can be.'
In Jullien's case, the Peace for Paris symbol he designed
was able to unify millions across the entire world in a common cause against
terrorism, proving that art can defy hate.
Jullien's design was honest, authentic and immediate, sending one message: peace. Sometimes words can be hard to
form after such a tragedy, and Jullien's design gave give us
something powerful to share.
About the Author:
Amanda Ciccatelli is a Social Media Strategist at 
IIR USA
 where she manages social marketing
strategy and content marketing across the business. She a background in digital
and print journalism, covering a variety of topics in business strategy, life
sciences, innovation, law, marketing, and technology. Amanda is the Editor at
Large for several of IIR's blogs including 
Next
Big Design
,  
Front End of Innovation
 and 
The Market Research Blog
s.
She previously worked at Technology Marketing Corporation as a Web Editor where
she covered breaking news and feature stories in the technology industry. She
can be reached at aciccatelli@iirusa.com. Follow her at @AmandaCicc.