Residential Tech Today is the only smart home publication that merges the news and best practices industry leaders need to be competitive with the innovator profiles, exclusive interviews, and product reviews consumers crave.
Executive Editor Jeremy Glowacki, founding editor of Residential Systems and CEDIA Fellow, combined his 20+ years of experience with the high-profile, fresh perspective of the Innovation & Tech Today team to injecting much needed energy into the smart home market.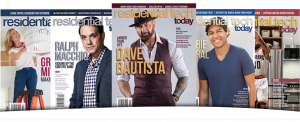 The publication specializes in something we call "New Print," which refers to our multifaceted print, digital, and event-based distribution strategy. When you partner with us, you are partnering with an experienced, skilled media partner who knows how to build an audience, increase impressions, and elevate our partners to the top of our readers' minds.