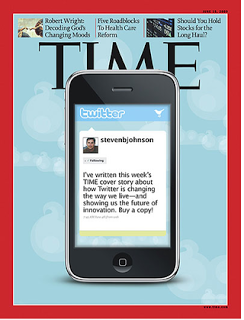 Steven B Johnson
Author, The Invention of Air and The Ghost Map
Contributor to Time, Wired, and Discover
Steven's writings have influenced everything from the way political campaigns use the Internet, to cutting-edge ideas in urban planning, to the battle against 21st-century terrorism. Newsweek named him one of the 'Fifty People Who Matter Most on the Internet', having co-created the pioneering online magazine FEED, the Webby-Award-winning community site, Plastic.com, and most recently the hyper-local media site outside.in.
Both social critic and technologist, Steven has a genius for mapping the future, has consistently been ahead of the curve predicting and explaining the real-world impact of cutting-edge developments in science, technology and media explaining why they're immediately relevant to both personal life and business.
Here's the Time cover article in which Steven B Johnson speaks about Twitter and Innovation.
Steven B Johnson will be speaking at this year's Front End of Innovation Conference in May 3-5 2010 at the Boston World Trade Center and Seaport Hotel. Don't miss your chance to see him!