What does it take to launch a successful biotech?
Taking a biotech company from concept through clinical trials, and ultimately bringing a product to market, requires a perfect storm of good science, healthy investment, the right management, and often a bit of luck. There are any number of things beyond the data that can slow down a company before it even gets out of the gate.
This sourcebook gathers advice from some of the industry's best sources to help entrepreneurs solve some of the toughest—and often unexpected—challenges of creating a life sciences startup.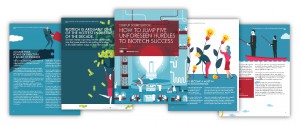 Gain advice on the following topics:
Essentials to IP game planning
Make your board of directors a board of enablers
Incubators become a MUST in vibrant biotech ecosystems
The art and science of constructing a cap table
Hit your mark with a perfect pitch