Bristol-Myers Squibb's $74 billion acquisition of Celgene won't curtail the company's partnering activity or ambition, says Paul Biondi, senior vice president and head of business development and strategy at BMS.  "We're at a point where there's an abundance of innovation happening across the industry. Historically at BMS and at Celgene as well, business development and R&D have worked hand in glove together in terms of sourcing innovation," he says. "We are committed to external innovation as a core part of our strategy as a combined company," and the combination will make the company a compelling partner that's as nimble and agile as either BMS or Celgene alone, he says.
Biondi says the companies are making good progress on the deal integration, and though the combined company will be best known as an oncology leader, it will be diversified across multiple key therapeutic areas. "You don't want to be focused in just one area—a lot can change scientifically and competitively. But you don't want to be too diluted either—we want to strike a balance."
The combined company's breadth of expertise and capabilities and financial flexibility should enable it to remain a leader in the cardiovascular area, for example, and build out its strength in immunology (via new opportunities like Celgene's S1P receptor modulator ozanimod in MS, ulcerative colitis, and Crohn's disease) and areas like fibrosis (specifically nonalcoholic steatohepatitis [NASH] and idiopathic pulmonary fibrosis). "We want to be a diversified specialty company, but our leadership in oncology and immuno-oncology is also an advantage," as it attracts partners who recognize the value of combining their own therapies with BMS's oncology drugs and platforms. 
"We feel good about the focus we have, and we have enough breadth and scientific synergy in the areas we have decided to focus in. And we have sufficient expertise and capabilities across the value chain, from discovery through manufacturing and commercialization." Those strengths underpin business development strategies as they create the ability to understand, evaluate, and act on external opportunities.
Partnering is part of both companies' DNA, says Biondi, and "we don't want to slow down while we're closing the deal because external sourcing is such a key part of our innovation engines." In mid-July BMS and partner Ono Pharmaceutical signed a clinical trial collaboration deal with Bayer to test the German company's kinase inhibitor Stivarga (regorafenib) with BMS/Ono's Opdivo (nivolumab) anti-PD-1 checkpoint inhibitor in patients with a form of metastatic colorectal cancer, for example, and in the weeks following the January announcement that it would be acquired by BMS, Celgene inked deals with Obsidian Therapeutics in cell therapy and with Kyn Therapeutics for small molecule immuno-oncology candidates. Biondi also cites a tight alignment between business development, R&D, and commercial teams at BMS as well as a flat management structure that allows the company to act quickly.
"Moving with a sense of urgency and quickness has all kinds of benefits," he says. "It's what the seller wants, you avoid changes in competitive dynamics, and you get the right kind of momentum internally to get things done. Even our recent deal with Bayer and Ono happened over a matter of months—we've done so many of these clinical collaborations that we're able to move particularly rapidly."
Outside of oncology BMS has used partnerships to share risk in resource-consuming areas like cardiology, where it has deals with Pfizer (around the factor Xa inhibitor Eliquis) and Johnson & Johnson (clinical-stage factor XIa inhibitors). "We've recognized having a partner in that space is critical, because it's a highly rewarding and risky area," says Biondi. 
Partnering has also been key to establishing the company's core franchise. Biondi points to BMS' deal with Medarex—which evolved from a research collaboration, to an asset partnership, and eventually the acquisition that brought in BMS's leading immuno-oncology drugs—as an example of how the company has used external innovation to drive its growth in a particular therapeutic area. Other alliances have helped BMS expand that presence. With CytomX, BMS has developed next-generation biologics in the immuno-oncology space, including an anti-CTLA4 in Phase 1/2. With Halozyme, BMS is creating subcutaneous formulations of its immuno-oncology drugs with Halozyme's Enhanze technology. 
The company's clinical trial partnerships in oncology have also at times evolved into something bigger. In 2016, BMS teamed up with Nektar to test Opdivo with the biotech's NKTR214 CD122-biased immunocytokine therapy targeting the interleukin 2 receptor in several tumor types. In February 2018, the companies signed a blockbuster joint development and commercialization deal for NKTR214, worth $1.85 billion upfront and up to $3.6 billion including milestones.
Once combined with Celgene, BMS will have a suite of new products and technologies like cell therapy to integrate into its portfolio and pipeline. "Bringing in all the innovation that Celgene has creates new opportunities," says Biondi.  "We'll be continuing to look for the sweet spot of innovative new technologies moving forward, in the discovery through early-clinical stage in particular. Our two companies have come at it slightly differently but external innovation is a core part of both companies' overall strategies."
Select BMS Alliances, July 2016–June 2019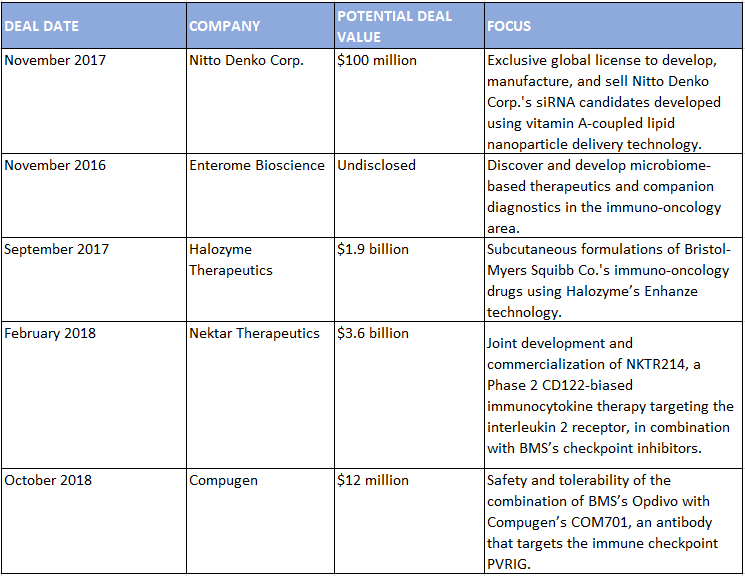 SOURCE: Strategic Transactions
BMS Acquisitions July 2016–June 2019

SOURCE: Strategic Transactions 
Chris Morrison has covered the biopharmaceutical industry for 20 years as a writer and editor for several industry publications. He is a former editor of In Vivo: The Business and Medicine Report and "The Pink Sheet" where he focused on trends in biopharmaceutical finance, business development, and research and development. Chris contributes to a variety of publications, including In Vivo, Datamonitor, Nature Biotechnology, and Nature Reviews Drug Discovery.
Read his most recent report, The Ultimate Biopharma Dealmakers Report for Alliances and M&A's where he analyzes the latest game-changing deals and what they indicate for the future of the biopharma industry.