In 2020 an unprecedented disruption to "business as usual" hit the Globe with a pandemic of a disease called COVID-19. From accelerated digitization of the workplace with millions suddenly working from home, to manufacturers pivoting and actually changing their products to help the world cope with new and sudden needs, never before seen or experienced phenomena are happening in businesses around the Globe, with analogies that have been made to both the Great Recession of 2008 and World War II.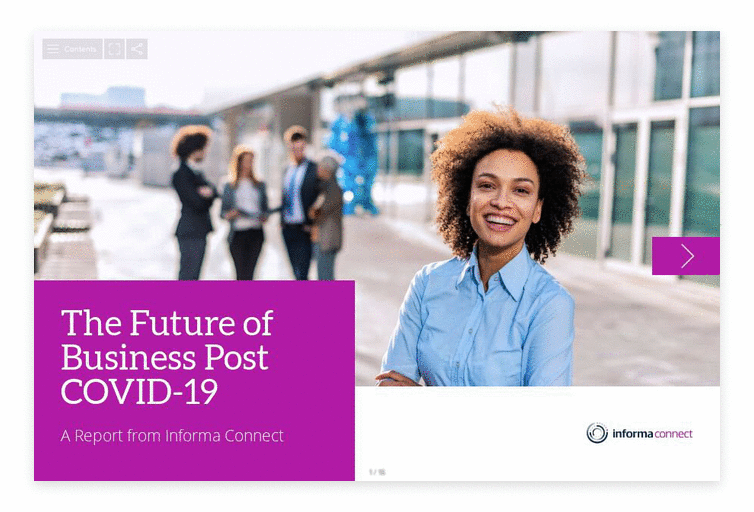 Click to access all the survey data in charts & graphs and read The Future of Business Post COVID-19: A Report from Informa Connect

We at Informa Connect have a mission to provide access to extraordinary people and exceptional insight. Our parent company, Informa plc, is a global business with a network of trusted brands in specialist markets across more than 30 countries, and a member of the FTSE 100. We are well known for our conferences, however we are also at our core a digital content creator. From videos to white papers, our content taps into a network of millions of professional and commercial customers.
With the spirit of our mission in mind we decided to do a deep dive into how COVID-19 is impacting our global customers so we could share this crucial data with them and with you, the reader. Why are people in sectors from the life sciences to maritime innovating? Where are they doing it? How successful are their efforts? We surveyed our customers, our speakers and thought leader contacts of Informa Connect, to ask them how their organizations are responding to the crisis. Our initial research told us that the most important changes happening right now in organizations fell into these categories: how organizations manage crises, both before and after COVID-19; the shift to online and working from home or other changes in the workplace; how companies are trying to be relevant to their customers; and lastly, how they have applied innovations with new business initiatives or products and creating efficiencies. We're offering our exclusive findings here, in this first-of-its-kind multi-sector report on The Future of Business Post COVID-19.
An April 30 Savanta survey of US consumers gives the mind-blowing figure: "just 24% of respondents plan to go about life the same as before once we emerge from lockdown", so business innovation is crucial right now. McKinsey recently stated that "It's possible that entirely new businesses and business models will emerge from the crisis" and that has indeed been proven in our survey. Organizations have been poised to digitally transform their workforces for some time; right now is a turning point, with "trials by fire" bringing in both interesting and unforeseen data.
Our survey results show that COVID-19 has indeed been a disruptor, with 65% of respondents reporting negative financial impact to their businesses, but in many cases companies have been able to turn this disruption into a positive force, by innovating and accelerating the creation of new products as well as cultivating deeper relationships with their customers.
The list of new products and services that survey respondees shared with us were astounding in their diversity: from one company who developed a new Maté drink "to give energy to people in stressful situations" during the crisis, to a maritime organization that developed remote auditing of vessels, to another organization that purchased their own factory to meet the demands of their clients.
In the life sciences, one organization, a telehealth provider, introduced mental health and wellness services, a second explained that they were in the process of "certifying the first 3D printing mask in the world", a third "designed and developed Study Protocols for the COVID-19 response in Africa" and a fourth was developing peptides related to a COVID-19 treatment.
Financial services innovated on such initiatives as: "a business loan for borrowers whose income is not based on salary checkoff", a "Customer Portal Bank on wheels" and new "low cost lending products for businesses impacted by coronavirus" with a "dedicated phone line for vulnerable customers".
The majority of companies that shared their new initiatives directly had stories that involved either pivoting their manufacturing to produce PPE or sanitizer, or new internal and external digital initiatives. One particularly productive organization announced that "all technology advancements that were planned for 2020/21 have been moved forward and completed during this period".
There were many new consumer products that came out of the crisis, too. Individuals described software platforms they had developed - from one that allows employees to access and engage with their peers while doing virtual workouts, yoga and healthy eating sessions at home, to another platform "that helps users safely declare if they are fit to fly, fit to shop"; one company even developed "live online theatre performances". There was one response that simply, and powerfully, summed up the situation: "We went digital".
The Future of Business Post COVID-19: Key Insights
87% of respondents feel that the crisis has impacted the need for digital transformation in business.
34% developed a new product, service or business initiative in response to the crisis; 40% introduced initiatives to better connect with customers;26% accelerated development of an already planned product.
47% of respondents put in place a dedicated crisis response team to respond to COVID-19.
85% believe their organizations can cope with at least some of their staff continuing to work from home. 43% believe their companies can cope with large numbers of staff doing so.
"Increasingly people from different disciplines across an organization or being gathered together to solve problems, rather than represent a singular division of the business."

Shawn Dickerson, SVP Marketing, KeyedIn, Five Ways the Future of Work is Changing Due to Coronavirus
Our 2020 Informa Connect survey "The Future of Business Post COVID-19" comprises the responses and insights of 1495 participants drawn from a wide range of Informa Connect customers, event speakers and thought leaders. In the spirit of Dickerson's observation, we've done a first-of-its-kind multi-sector, multi-disciplinary study. Drawn from global companies, participants represent the sectors of: finance, life sciences (pharma and biotech), marketing and innovation, human resources, maritime and energy. The survey consisted of 16 questions designed to discover how COVID-19 has affected the workplace, from human resources to innovation and product development. The conclusions drawn in this report are based on the collected answers and insights of our respondents.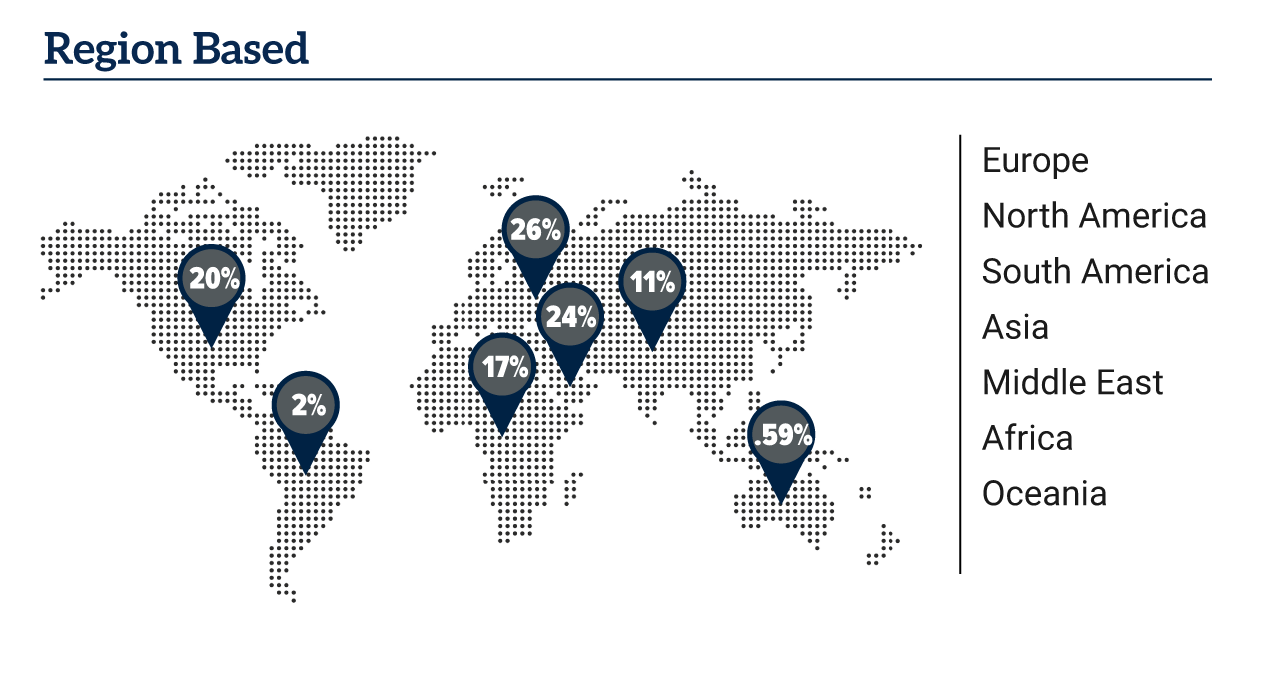 COVID-19 is a "Generation-Defining" Event
"We are likely in the midst of a generation-defining event that will influence how consumers behave for years to come."

McKinsey, How Marketing Leaders Can Both Manage the Coronavirus Crisis and Plan for the Future, April 2020
The COVID-19 pandemic has indeed been a "generation-defining event" that will influence how all of us behave, from consumers to producers, for years to come. Even as we return to "business-as-usual", with the reopening of places that have been shut for three months or more, we will not be returning to the places as we remember them, they will be radically changed. Microsoft CEO Satya Nadella aptly describes the scene: "As COVID-19 impacts every aspect of our work and life, we have seen two years' worth of digital transformation in two months".
Working from home is not surprisingly the hottest topic around the "new normal" of coronavirus. But we need to remember that work from home is not a one size fits all. David Michaels of the Milken Institute School of Public Health at George Washington University reminds us not to forget the 50% of UK workers, and 72% of Americans do not have jobs with the ability to work from home at anytime. He explains: "What is important about this pandemic is that it has shined a spotlight on workers who have been essential but before this were invisible."
70% of those surveyed said they expect things to go back to normal with some change in the way things are done."
The Future of Business Post COVID-19: A Report from Informa Connect, July 2020
Where work from home has been an option, multiple organizations have conducted studies finding several positive outcomes from virtual work: radical reduction of carbon emissions, cost savings - from company costs to employee commute time & costs, more productivity from employees, improvement of work/life balance, a more equitable workplace for women and people with disabilities or chronic illness, better mental health and a more diverse workforce.
Globally, the International Labor Organization estimates that: "18 per cent of workers have occupations that are suitable for WFH and live in countries with the infrastructure to enable WFH." Vox tells us that only 4% of the US workforce, for example, normally works from home at least part time (it's just slightly higher for the UK), but due to coronavirus 34% of folks were working from home in early April. Whether this sticks, only time can tell, although Ben Pring, Co-Founder and Leader of Cognizant's Center for the Future of Work was confident enough to make this prediction​​​​​​​ in early June: "probably 15% more will be working at home permanently than pre-COVID-19". Entrepreneur and adviser Hiten Shah reminds us that a transition to everyone who can moving towards permanent work from home would certainly be a radical shift from the status quo: "Right now, remote work isn't working for most companies…That's because we spent the last 120 years learning how people can be productive in an office."
A Gartner survey says that "74% of CFOs and Finance leaders will move at least 5% of their previously on-site workforce to permanently remote positions post-COVID 19". Nationwide was one of the first US companies to announce a transition to primarily working from home. Automaker Ford has extended work from home for most salaried employees "until at least the beginning of September". Amazon and Microsoft have announced that their corporate employees do not have to return to offices until October; Zillow, Facebook and Google have announced work from home until the end of 2020, and Shopify's offices will be closed until 2021.
Mark Zuckerberg told The Verge "I think we could get to about half of the company working remotely permanently" (in 5-10 years) and VMWare ​​​​​foresees 60% of their employees working from home "over time". Twitter, Square and Groupe PSA​​​​​​​ have made remote work permanent for those that are able to do their jobs from home. As of this writing, Mondeley, Barclays and Morgan Stanley were all looking at rethinking their working from home policies. Even state government, such as Silicon Valley's San Jose, California Santa Clara County board of supervisors, is getting involved with promoting virtual work, asking businesses to consider remote work as over 100,000 employees in their region commute for 3 or more hours per day, and they've seen as much as a 75% reduction in pollutant levels during the epidemic.
During this pandemic, Human Resources have become more crucial to businesses than ever before, as HR departments have been called upon to retain a sense of normalcy and connection. Michelle Davies, Vice-President of People at Phrasee explains: "Everyone's been in panic mode, whether it's fears over losing their job or that they weren't able to buy toilet paper. But it's not just about communicating with people formally about business matters. In the office, people have lots of informal connection points, so we've tried to recreate that virtually as you have to try and keep things as normal as you can." In many cases work has become a lifeline to people who are isolated from their friends and families. Fun virtual activities such as pub quizzes, online fitness classes and after-work gatherings provide team-building and help alleviate the multiple stresses that the current pandemic has brought to people's lives.
At Informa Connect​​​​​​​, like over 92% of our customers surveyed, we've been working remotely due to COVID-19; and we've been producing most of our in-person events digitally. This has been an incredibly busy and exciting time; it's been a journey of learning what our audiences value most from our events and digital content. It's been important to us to keep the quality of our digital events as high as our award-winning live events; we've been focussed on making them not only seamless, but best-in-class, from top-notch content to providing as-good-as-in-person networking experiences. Once we are able to do in-person events again, we'll be bringing the valuable lessons we've learned to all our events and content - both in-person and digital. From Informa Connect's EBD Group transforming what would have been a Paris conference to a digital solution for their BIO-Europe® Spring event, to our cutting edge Finovate events going digital for summer and fall 2020, we've learned that it's important for attendees to both engage directly with speakers and network with their peers. We've developed apps, live polls and other key ways digital conference goers can engage with speakers and other attendees live and on-demand.
One company that's notably bucking the trend is Walmart. Their new 350 acre home office, expected to open in stages by 2025, is still on track; Fortune explains that their CEO Doug McMillon "firmly believes the value of in-person collaboration with colleagues will endure and says it won't change the future home office's design much".
Coronavirus and The Financial Sector: Acceleration of Digitization
"As we have witnessed in the past few weeks, social distancing has forced many to work remotely, and accelerated the adoption of digital tools. I expect the trend to continue post-pandemic as more organizations reap the benefits of reduced rent obligations with less office space. Unfortunately, we will also likely see a shift in resource needs in some areas such as call centers, where companies are increasing adapting AI and automation capabilities to augment capacity." Theodora Lau, Founder, Unconventional Ventures
​​​​​​​​​​​​​​"COVID-19 has made most of us hyper-aware of every touchable surface that could transmit the disease, so in a post-COVID-19 world, it's expected that we'll have fewer touch screens and more voice interfaces and machine vision interfaces" Bernard Marr, What Does The Future Look Like Post-Coronavirus - 9 Future Predictions. Fintech thought leaders Theo Lau's (quote on right) and Bernard Marr's insights both show a remarkable side effect of COVID-19, the acceleration of digital. What is commonly called "voice first" and machine vision interfaces in mobile payments had slowly been rolled out by early adopters, but in the new reality of fear of disease transmission, it will be something that consumers will demand. PWC's Covid-19 CFO Pulse survey confirms this: "FS firms, including asset and wealth management, banking and capital markets and insurance, have been going through a rapid digital transformation... Once the COVID-19 situation stabilizes, firms may not be able to compete if they haven't built systems, products, and processes that meet client demands in the 'new normal'."
In The Financial Brand, Jim Marous tells us that: "As the shutdown caused by the coronavirus pandemic extends, more consumers are adjusting to vastly different daily behaviors. From increases in working from home and ordering take-out food to reductions in visiting friends or going to a workout facility, everything has changed… According to J.D. Power, only 46% of consumers will go back to 'banking as usual'."
Based on our survey results, the finance sector has been one of the most responsive to customer needs, with 31% of those surveyed developing a new product or service, 30% accelerating development of an already planned product and 45% introducing new initiatives during the pandemic to better connect with customers. Several respondees mentioned specific philanthropic projects such as pro bono initiatives - in one case all employees and their family members were provided with a supply of masks and hand sanitizer - and events for charities being part of their response to COVID-19. One organization used the time to work on their Diversity and Inclusion initiatives, and several others said they focussed on more client interaction and communication including webinars and education to address the impact of the pandemic.
Beyond disruption in products, the workplace is another place that has seen radical change. CNBC reported on how financial traders were affected: "While many global companies are telling all staff to work from home, for some banking roles, this isn't possible. Traders, for example, often deal with sensitive data, requiring workstations and technology that meet certain compliance standards and cannot be used at home. " Goldman Sachs, Citi, JP Morgan and Bank of America moved employees, in some cases, to backup offices and developed shifts splitting up time between work and home along with "other protective hygiene measures".
In our survey of finance professionals, 80% of respondents said that either everyone (49%) or the majority of staff (31%) were working from home. For those who needed to remain in the office, just 2% reported than they did not have some form of safety measure in place, from hand sanitizing stations to changes in location.
A consistent theme in the financial industry right now has been comparisons of the coronavirus pandemic to the Global Financial crisis of 2007–08. Mike Mayo of Wells Fargo recently told CNBC: "In the global financial crisis, banks were the problem… The silver lining from that is that banks are prepared for a situation like this, and they want to be part of the solution this time." In the Wealthmanagement.com article "How to run a financial advisory firm during a recession" Erik Bergquist interviews several financial advisors that share similar thoughts about the financial crisis being a great lesson for what the industry is dealing with now.
Pat McClain, Co-Founder and Senior Partner at Allworth Financial offers this advice: "(during) the last crisis we did have a hiring freeze and we went through the expense line of the whole business. If you think about our business, most advisors will work on a 30% to 40% margin and the assets under management comes right off the top, so the margins are compressed. We didn't furlough anyone, but we pulled back on the marketing budget and tech spend and all capital improvements, and we are doing the same now. You want to make sure on the back side of it that you are healthy. The last thing you want to do is lay people off because there is going to be a recovery, and this is a service business that is built around good quality people. If you do touch people, you don't want them to be client facing because there needs to be that consistency in the client experience; your firm can't look like it's struggling. This is the fourth one I've been through—it is steeper and faster than the previous ​​​​​​​ones, but we learned what the recovery should look like."
That PWC CFO Pulse survey mentioned confirms that 2008 has "strengthened our ability to withstand systemic shocks"; additionally PWC found that "only 55% (of financial services) are considering deferring or canceling planned investments as a result of this crisis, compared to 67% of all sectors." An Investopedia article reinforces the stability of finance as a sector and a profession during this crisis; three of the "9 Businesses That Thrive in Recession" are accountants, financial advisors and economists. Jim Chappelow writes: "People who have substantial assets want to ensure that they're well taken care of, especially during a recession. Financial advisors often see an increase in work as people become concerned about the stability of their investments and seek guidance on how to protect their assets."
A McKinsey report published this June echoes Clarke's sentiments; its authors conclude: "Nothing will pay more dividends to advisors in the long run than deeply servicing their existing clients."
In a recent Finovate Podcast, Alyson Clarke, of Forrester Research had this to say: "To hit a recession is preparing for the upturn…. If we think back to the last recession, they didn't survive so well when the economy improved. What financial services firms and banks need to do, they have to focus on reengineering around the customer, not the product. Reengineering to become more agile so you've got the ability to adapt quickly."
A Microscope on Marketing: Brands to the Rescue
"Three important trends are emerging now that will define Marketing for years to come: truly valuable content in marketing that's stuffed with empathy, inspiration, and utility; direct-to-consumer messaging, branding, communications; and virtual selling and online sales appointments." Ann Handley, Chief Content Officer, MarketingProfs

"Marketers—many working remotely from home—are faced with an entirely new situation: How should we be talking to our customers? Where should we be spending marketing dollars and where shouldn't we? How should we be working with our teams and our colleagues across the business? How are we going to stay in business? And all this on top of how can we support our family, friends, communities and planet." McKinsey, How Marketing Leaders Can Both Manage the Coronavirus Crisis and Plan for the Future, April 2020.

"92% of marketing professionals surveyed believe that COVID-19 has impacted the need for digital transformation for businesses, and that it will have long term impact." The Future of Business Post COVID-19: A Report from Informa Connect, July 2020
Marketers have had to justify their existence since the dawn of digital, and now the pressure is even higher, with budgets strained and all eyes on cutting costs. While marketing teams are being scrutinized, the Wall Street Journal tells us that the role is more crucial than ever. Caren Fleit of Korn Ferry explains to WSJ: "I don't think anything changes in terms of needing marketing, but in some cases the kind of marketing will change." How that will change includes being relevant to customers in this time of crisis, with authenticity and mindfulness. Savanta Group specializes in ​​​​​​​Coronavirus Trackers, and their survey of 2,000 consumers (published April 30) proves that ​​​​​​​Fleit is spot on: "consumers say they actively want to hear positive advertising from brands, with four in ten (42%) consumers believing that brands should focus on life after coronavirus in their ads."
From Instagram Live classes, hackathons and virtual bingo nights to production of hand sanitizer & PPE and donations to frontline healthcare professionals, Yola Robert gives several examples in Forbes how "many businesses have had to re-strategize, temporarily shut down or pivot offerings to stay afloat during these times". This re-strategizing and pivoting is happening globally, from the US to India. Brands who will come out on top are those who will be able to respond to the pandemic with the ability to change all of their plans in an agile manner and shift from regular mode to crisis mode. Wade Paschall of Westerra Credit Union aptly explained the situation to Muse by Clio: "I think brands are going to be remembered for what they do right now, good or bad".
Interactive Advertising Bureau (IAB)​​​ data "shows that 73% of advertisers have ​​​​​​​modified or developed new assets since the start of the pandemic. Of these, over half (53%) are increasing messaging that emphasizes the mission of the company". I would say in general that brands are doing remarkably well, because according to Edelman, 55% of those surveyed "said that brands and companies are responding more quickly and effectively than government".
"80% of marketers surveyed said they had either developed a new product, service or business initiative, or accelerated development of an already planned product in response to COVID-19." The Future of Business Post COVID-19: A Report from Informa Connect, July 2020
Ann Handley, Chief Content Officer of MarketingProfs describes what she sees as trends that came out of the COVID-19 epidemic that will define marketing for years to come: "1. The importance of truly valuable content in marketing that's stuffed with empathy, inspiration, and utility. Is your customer newsletter a must-read? No? Fix that. 2. The importance of direct-to-consumer messaging, branding, communications. Especially important for companies who have relied on retail brick-and-mortar distribution. 3. Virtual selling and online sales appointments. We might be feeling some element of Zoom fatigue. But face-to-face virtual meetings had a moment in a COVID-19 interrupted world."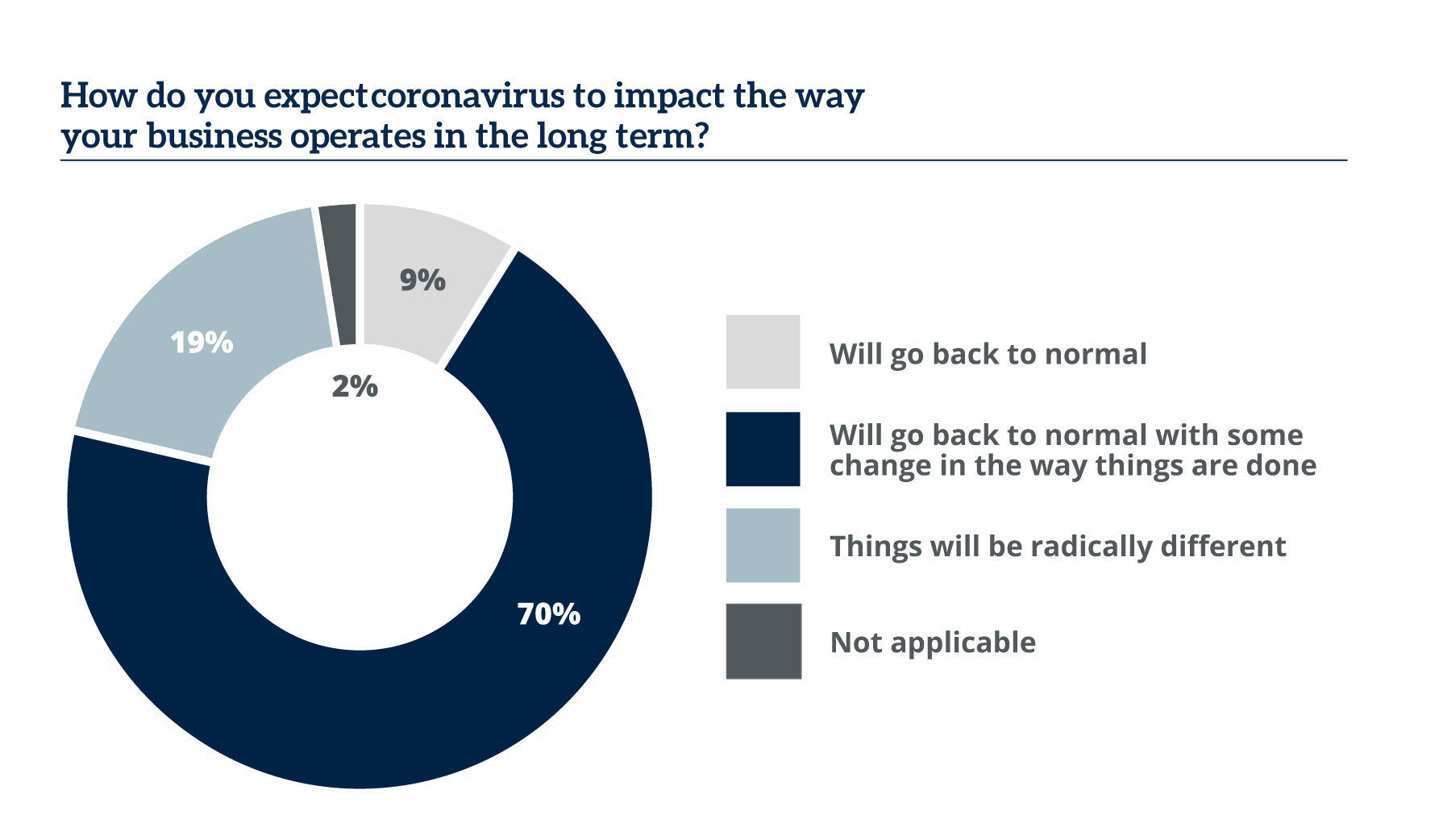 Life Sciences: Rising to the Challenge
"What COVID-19 has brought upon the world is a triple inflection of change. Amazing technological advances, regulatory and reimbursement approval, and the profound social imperative for use all come together to make health tech no longer an option, but an imperative. My sense is that 20 years from now we will look back at COVID-19 with a vague recollection of its social impact and perhaps even a silly mispronounce of the name. What will endure--become a lasting aspect of our humanity--will be the inculcation of technology into our daily lives. From medicine to education, the toothpaste of technological innovation is out of the tube, and there's no putting it back." John Nosta, President, NostaLab
​​​​​​​​​​​​​​"If you are a public [biotech] company with an approach that has promise [against COVID-19], I don't think there is going to be an issue of funding. If you are a public or private company not active in this [COVID-19] then I do think this is going to be a little bit tricky for a few months." Otello Stampacchia, Founder, Omega Funds Xconomy Special Report, Containing Coronavirus Through Innovation and Investment

"In a matter of weeks, regulatory barriers to telemedicine in the U.S. have largely fallen. Doctors in the U.S. now perform remote visits across state lines, can email and video-chat patients in compliance with HIPAA, and Medicare and health insurance providers have to now reimburse telemedicine services." Emma Rose Beinvenu,  7 Predictions for a Post-Coronavirus World, Medium.
From the sudden focus on healthcare workers and the biotech world, to the acceleration of the digitization of medicine and the difficulties of social distancing in labs; the life sciences industry has been has been thrown into the spotlight during the COVID-19 pandemic. Xconomy's Dan Stanton tell us that "industry is rising to the challenge. Supported by nervous investors hit hard by volatile markets, products are whizzing through the clinic at unprecedented speed. Tech-sharing partnerships are beginning to blossom. Meanwhile, money is being thrown at clinical trials and manufacturing facilities with faith that diagnostic products, therapies, and vaccines will spin a stronger and healthier world out of the current crisis."
CapGemini research declares that the solutions are there for life sciences R&D to excel during this crisis, but they lie in pushing beyond "old boundaries to accelerate". Companies such as Novartis, recently interviewed by Pharma Intelligence, are successfully pushing those boundaries, as their Chief Digital Officer Bertrand Bodson explains: "Many things that we had planned to take a couple of years to get into full motion have happened in two months. Everybody, including the regulators, have come together on this, and so we have been able to change gears strongly."
Our life sciences survey results illustrate this pushing of "old boundaries";  36% of respondents have developed a new product, service or business initiative while 22% have sped up development of an already planned product. The products and services people described were exciting: one shared that their organization was in the process of certifying the first 3D printed face mask in the world, a few were working on remote patient monitoring and remote clinical trial recruitment, and several were working on developing a treatment or vaccine for COVID-19.
36% of those surveyed in the life sciences sector have developed a new product, service or business initiative while 22% have sped up development of an already planned product." The Future of Business Post COVID-19: A Report from Informa Connect, July 2020
Burning Glass Technologies Labor Insights tells us that "the number of (life sciences) job postings in mid-May increased from the number in early February" and MassBio's discussions with industry leaders have found that "most employees are as busy as ever." In a May McKinsey study of life sciences R&D leaders, the picture is less rosy, with reported productivity having fallen "between 25 and 75 percent due to remote working" and "an average of 40 to 50 percent of their time (spent) on crisis management".
In our survey of global life sciences professionals, we discovered that fewer than 10% of respondents had a crisis management team in place before COVID-19, which parallels the McKinsey data showing that a great deal of workers' time needed to be spent on that. Our data found, however, that life sciences professionals were positive about the change to "work from home"; over 88% of respondents saw this as sustainable business practice for their organizations in the long term. 45% agreed it was sustainable for at least some to work from home, and 44% for large numbers of employees to work from home.
Digital transformation in healthcare has been accelerated by COVID-19 and 84% of our survey respondents agree that the disease has had an impact; 62% feel that the impact will be long term, 22% short term.  In the pharma industry this has certainly been demonstrated; for example, tools such as "sentiment/voice analysis, behavioral analysis, (and) strategic intelligence" are coming out of the "innovation shadows" to challenge the "status quo". With people unable to or afraid to leave their homes, digital health via telemedicine has filled the gaps - and regulatory bodies have been forced to speed up their approval processes. A new Deloitte study affirms that: "increased digitization is likely to change how therapies are provided, how clinicians practice, how health plans pay for care…and where investors place their bets".
Ryan Browne of CNBC informs us that: "The outbreak has led to increased uptake of telemedicine services from the likes of Teladoc, Babylon Health and Kry" and "Research firm Forrester estimates U.S. virtual care visits will top 1 billion this year due to the pandemic and other factors." The spotlight has been on healthcare workers in hospitals, but Browne reminds us not to forget about those in labs, labs which are both ramping up testing for coronavirus and developing vaccines. Their workplaces too have had to ramp up social distancing efforts, by adjusting staffing and rearranging schedules to practice social distancing. Informa Connect Life Sciences is following someone on the front lines who is working for a cure in their Coronavirus Diaries series, how they've had to quickly pivot the kinds of studies they were doing and apply new cleaning regimes. You can read their story here.
In Money's March article "5 Stocks That Are Actually Up Since the Coronavirus Market Implosion"  - not surprisingly two of the stocks were biotech companies -  Regeneron Pharmaceuticals Inc. and Gilead Sciences Inc. both working on drugs related to the COVID-19 outbreak. Moderna Therapeutics is another company that's doing well with a recent $483 million funding from the government for a "RNA-based SARS-CoV2 vaccine" they're working on. Johnson & Johnson is making progress with development of its vaccine; and CEO Alex Gorsky has pledged to make it available on a not-for--profit basis. Other organizations working on Coronavirus cures - from repurposing drugs to Covid-19 treatments include: AstraZeneca, Sanofi, Roche, Novartis, Ergomed PLC, Synairgen PLC, CytoDyn Inc, GlaxoSmithKline PLC, Tiziana Life Sciences, CureVac, The Vaccine Group, Amgen and Adaptive Biotechnologies, AltImmune, BioNTech and Pfizer, Heat Biologics, Inovio Pharmaceuticals, Novavax, Takeda Pharmaceutical, Vaxart, Vir Biotechnology, and several Universities as well. As of early May there were over 800 clinical trials working on COVID-19 treatments and 124 coronavirus vaccines​​​​​​​ in development.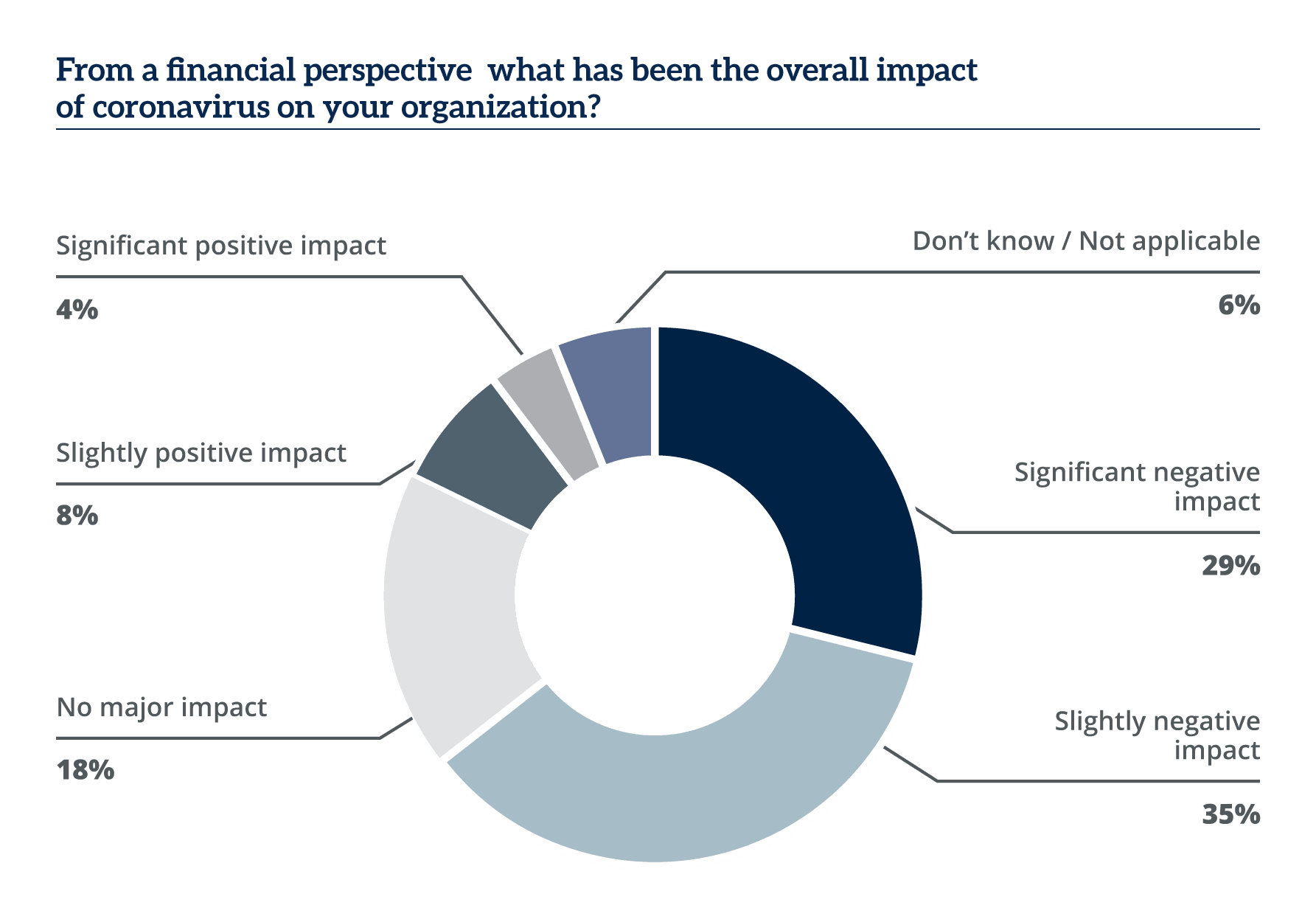 Maritime and Energy: Will Turmoil Lead to Transition?
"The positive message for both shipbuilders and shipping investors is that the shipbuilding industry enters this recession at the end of a long period of contraction, so we may be looking at a (relatively mild) recession. The climate crisis could also be a positive supply side influence... So, the real focus in the scenarios going forward is on the economic management of the pandemic and continued focus on climate change. I4 and new propulsion technology will also create new opportunities for adventurous investors." Dr. Martin Stopford. Coronavirus, Climate Change & Smart Shipping: Three Maritime Scenarios 
​​​​​​​​​​​​​​​​​​​​Two of the sectors hit early on before coronavirus became a global pandemic were shipping and energy. This is primarily because China - where COVID-19 began - is the largest shipowning country in the world. The maritime sector, which moves 90% of the world's goods, came to a standstill and this greatly affected the usage of oil as well. The International Labour Organization tells us: "With 384 sailings cancelled, the first half of 2020 could see a 25 per cent reduction in shipping, with a 10 per cent annual fall in 2020." And the World Economic Forum says that: "Maritime shipping has seen COVID-19-associated drops in activity of up to 30% in some regions."
Another major impact of the COVID-19 pandemic has been the drop in oil prices. Although, as Infiniti Research states: "The current oil price war could be short-lived owing to the increased economic dependence on the sector." Nonetheless it has sent waves through not only the energy sector, but through every sector on the Globe, as Jeff Meli, Global Head of Research at Barclays said in their press release: "COVID-19 will accelerate this trend [towards ESG] even further — creating a greater sense of urgency and responsibility toward everything from consumer behavior to climate change, supply-chain practices and the future of work and mobility — and potentially alter the nature of the investment process as a result." Deloitte offers that "Some of the larger, healthier (oil, gas & chemical) companies may alter or accelerate their plans to diversify into other energy segments."
"One of the interesting things about shipping is that there will always be heavy machinery (ships) moving heavy stuff (cargo) around. This means that, unlike so many other industries, digitalisation will only go so far. On some level, there will always be a need for people to be physically involved in those processes. The maritime industry's future operators will need to be experts in combined mechanical and digital systems. Even with the rise of autonomous shipping and remote operations, there is also no doubt that a career at the sharp end of the maritime industry will still mean putting on a boiler suit and getting your hands dirty occasionally." Nick Chubb, Founder & Director, Thetius 
As with other industries, COVID-19 has had the effect of speeding up some phenomena already in place, such as decarbonization and digitalisation. We cannot forget the human element, however, as Nick Chubb so aptly reminds us "there will always be a need for people". Digital transformation in shipping and maritime has been both tested and sped up during this crisis, emerging as a "silver lining". And that is not the only silver lining from this crisis, as some say we may also see a speeding up of the transition to renewable energy. In fact an IRENA study​​​​​​​ found that "renewable energy could power an economic recovery from COVID-19 by spurring global GDP gains of almost $100tn (£80tn) between now and 2050". Power Technology weighs in with more positive news for renewables fans: "Since the start of the year, returns from renewable energy investment have stayed well above those from fossil fuel projects, and slightly above US industrial averages. In many areas, investment in oil and gas has fallen below the rate needed to replenish existing reserves. Since the same is not true of renewables, they will gain a larger share of the generation as a result of the pandemic."
Energy company BP which employs 70,000 people worldwide announced in June that they would be cutting 10,000 of those roles, all office based; with a significant portion of roles cut being senior level. Electrek writes: "This (cut) is a result of the coronavirus impact on the economy, and also CEO Bernard Looney's plan to shift the fossil-fuel company to green energy." Just two days after those layoffs were announced, the BBC reported that as of midnight June 10 "Britain's electricity grid will not have burnt any coal for 60 days... by far the longest period since the Industrial Revolution began more than 200 years ago" more evidence that COVID-19 could be the environment's "big moment"​​​​​​​.​​​​​​​
"The main impact of COVID-19 outbreak on the energy industry was on 'demand' (particularly the oil demand). Demand shock in the short-term due to the global-lock downs and demand shortfall in the long-term due to potential changes in people's lifestyles around the world." Dr. Sara Vakhshouri, President, SVB Energy International
Many analysts, however, don't believe the future is bleak for the largest oil companies and see in fact that they may benefit from a COVID-19 induced "fire sale" environment. The Washington Post, in their article Big Oil could end up even bigger by the end of the coronavirus pandemic, explains: "the oil giants... have wells around the world and the cash on hand to weather the turmoil" and "the largest petroleum industry players to scoop up more wells on the cheap – and leave them with more reserves after all the market tumult."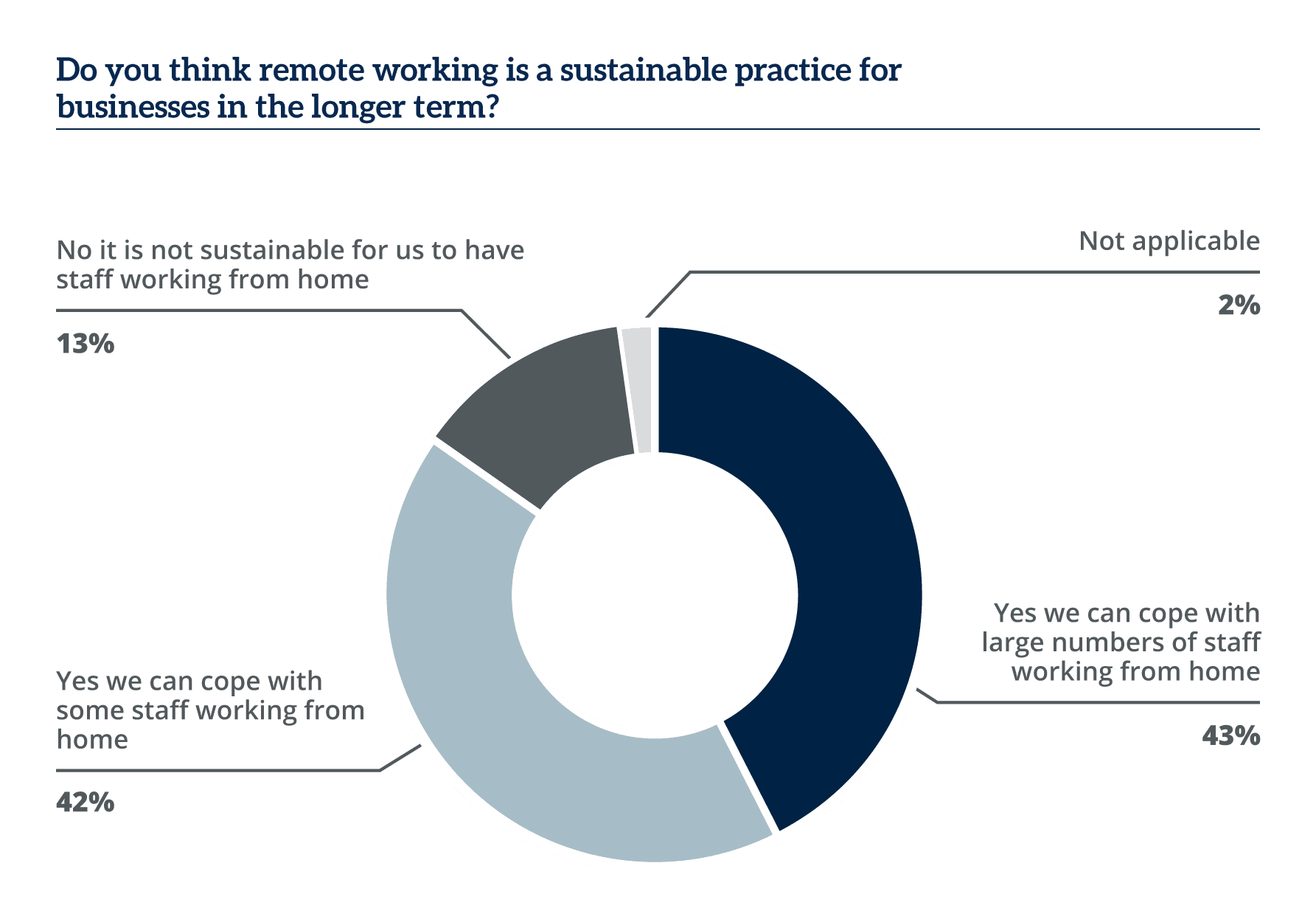 The "New Normal" Becomes "Next Normal"
"83% of Americans currently forced to work from home say they miss attending in-person meetings and conventions. As important, 78% say they plan to attend as many or more when the threat of COVID-19 passes and it is safe to do so." Fred Dixon, President and CEO of NYC & Company and co-chair of the Meetings Mean Business Coalition (MMBC)
​​​​​​​Not surprisingly, new research tells us that in-person meetings and conventions are something that 83% of Americans miss. Trina Camacho-London, Vice President of Global Group Sales at Hyatt Hotels Corporation and MMBC says: "Research proves what many of us have long suspected to be true. Our collective experience of physical distancing has us craving the day that we can all come together again and meet in person." Our disrupted lives will indeed never be the same, but irrevocably changed; however we will enter into this "Next Normal" invigorated, transformed, and ready to connect again.
As a society we will emerge from the COVID-19 pandemic as people who rely on digital and "the cloud" more than ever before, but also people who have radically changed ourselves. Those of us who have had the luxury to work from home have massively slowed down our usual hectic lives; many of us have had some time to reconnect with our families, and have revisited our own personal goals. Shana Sissel, Chief Investment Officer of Spotlight Asset Group recently told InsideETFs about an unexpected benefit from the current crisis: "This has caused people to have to slow down...I almost feel like I'm connecting more to people that I took for granted before."
One of the biggest things that COVID-19 has exposed are the flaws in our global supply chain systems - shown most dramatically in global healthcare workers in some of the wealthiest countries in the world being "dangerously ill-equipped" to deal with the crisis. However, almost overnight we saw corporations, groups and individuals step up to deal with the challenges. It's this proud legacy of hands-on problem solving and innovation we can take into our "next normal"; and as Wolfgang Lehmacher explains (on the next page), those companies that invest in the best talent and technology will come out on top.
For those companies who have employees on site, more than half of all respondents surveyed stated that measures were implemented such as hand sanitizing stations (84%), additional cleaning (68%), protective clothing (64%), or restricted access to communal spaces (54%). The Future of Business Post COVID-19: A Report from Informa Connect, July 2020
​
Various safeguards will be coming into offices in new and innovative ways as we slowly return. For those companies who have employees on site, more than half of all respondents surveyed stated that measures were implemented such as hand sanitizing stations (84%), additional cleaning (68%), protective clothing (64%), or restricted access to communal spaces (54%). We will be bringing our new, most likely masked, selves into our sanitized, medically monitored and socially distanced office spaces. Othman Loraki, CEO of Color explained the situation to Protocol: "This is literally the first time in human history where we're going to try to reintroduce 350 million people back into the workforce amidst an infectious disease that we are trying to suppress". The World Health Organization has guidance on "Getting Your Workplace Ready for COVID-19" here.
Our parent company Informa has collaborated with association partners and peers including venues, suppliers, contractors and health, government and local authorities to develop industry-wide Informa AllSecure standards that raise the bar on safe, hygienic, productive and high-quality organised event experiences.

​
It means that when exhibitors, speakers, sponsors and attendees come to our events, they can connect, learn, know more and do more business, effectively, safely and with confidence. All Informa events will be run according to official government and local authority guidance in the first instance, as well as any venue or location-specific regulations. In addition, all Informa events around the world, irrespective of format or location, will follow the ten Informa AllSecure priority commitments which include: enhanced cleaning, personal hygiene, non-contact registration, avoidance of physical contact with physical distancing including at food and beverage stations, use of PPE.
Additionally all Informa events will have access to a qualified first aider and a separate quarantine area if possible. All Informa events will follow relevant health authority guidance on screening participants. This may include checking the temperatures of everyone on entry, through thermal scanning or other screening processes. Lastly, should it be necessary, all Informa events will work with local authorities to trace and contact participants at our events, subject to local privacy regulations.
"COVID-19 has opened people's eyes for the power of digital in supply chain and logistics. Those that open their minds will make the leap. The talent to build the new solutions is out there. Go and get it." Wolfgang Lehmacher, Supply Chain and Technology Strategist, Former Head of Supply Chain and Transport Industries, World Economic Forum
As we are revisiting our own personal goals we are also reinventing our business strategies. Whether you are management or entry level, there is no one in business who is not right now reevaluating what they do for their companies and their customers. Wolfgang Lehmacher advises large companies look to startups for inspiration in his article: "How startup power can eliminate pain points in the time of pandemic" explaining how startups are helping the business world through this pandemic with everything from assistance to working from home to cybersecurity and innovative supply chain solutions.
Annobio Morelix takes it a step further, calling the post-pandemic economy "The Great Reboot" reminding us in Inc. that "half of the Fortune 500 companies started during a contraction, and… more than 50 unicorns started in the Great Recession". He recommends that businesses "take advantage of the opportunities in complements and substitutes" that this reboot has to offer. CNBC even offers this inspiration to would-be entrepreneurs: "it might not be such a crazy idea to start a company right now" and the "coronavirus pandemic is in many ways serving as a 'catalyst to creation'". This HBS Working Knowledge blog explored some of the ways companies are applying innovation - from "Just Walk Out" technology "that combines computer vision and AI to bill customers directly as they walk out of the store" to museums and galleries continuing their arts' mission through online engagement.
At Informa Connect we're learning from our customers and innovating, on a daily basis. This can been seen in the work our teams are doing to connect with digitally with our audiences in new and different ways. In just 16 days, Informa Connect's EBD Group transformed what would have been a Paris conference to a digital solution for their BIO-Europe® Spring event. This summer and fall our cutting edge Finovate and SuperReturn events are all offered virtually. And they're not what you might think, as Finovate's site describes: "these won't be like any other digital events you've seen before. Live and on-demand content will put your finger on the pulse of the industry. Live Q&A and polls will ensure you can engage directly with speakers. And 24/7 networking and an app packed with fintech enthusiasts will make it easy to start a conversation with the right person."