Despite the setbacks of COVID-19, our Greenbuild Legacy Project was able to take a big step in the right direction during two on-site work weekends in October 2020.
The committee worked with Olivewood Gardens & Learning Center to put safety protocols in place including temperature checks, mask enforcement, hand sanitizer stations, and plenty of outdoor workspace. During these two weekends, our committee was able to pull together a number of volunteers, including a troupe of dedicated eco-rotary members, to put some hard work into the project!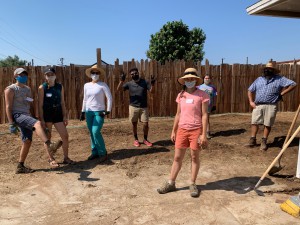 Volunteers worked on clearing out the site through pulling weeds, leveling the ground, laying mulch, and clearing debris. In addition to site preparation, a skilled team of volunteers were able to build a beautiful table and benches from salvaged urban timber provided by Lumbercycle, put up shade sails to prep the blueberry garden, and install a rainwater catchment tank to provide a sustainable water source for the gardens.
"The Legacy Project team has spent the past year helping Olivewood expand its capacity to serve healthy food to the National City Community, from concept and design of a site plan, to literally being covered in dirt (and face masks!) while we implemented the plan. Seeing the commitment of the onsite volunteers, Olivewood staff, and Legacy Project team members to make our project come to life has been incredibly rewarding." - Jessica Joelson, Volunteer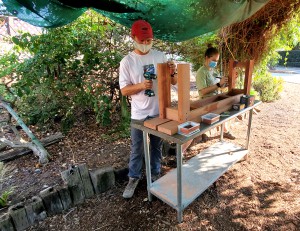 The project is still planning some work days in the new year, provided we are able to do it safely and efficiently. We are still actively seeking donors and sponsors for the remaining work. If you're interested in sponsoring, volunteering, or just learning more - please visit our webpage here.