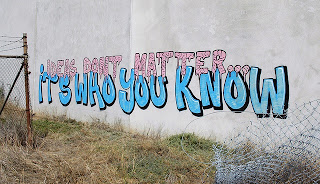 The idea management social network. You may not know it yet, but you want an idea management social network in your organization. If you don't have one, you may only get an electronic suggestion box, which is really no better than a static list of ideas. And that's not going to do anyone any good. Idea management social networks need to be transparent, democratic and dynamic. And they ARE social networks (click 'Like' if you agree :-) ). The idea management social network is transparent. There is no anonymity. We're all responsible for our own actions. This might be painful at first occasionally. But over time a bunch of smart adults take credit (or criticism) for their own thought; they self police. Truly destructive contributions will take care of themselves'the contributors will start to be ignored. Just think about all the friends you've 'un friend' on Facebook. The idea management social network is democratic. Everyone's opinion, everyone's vote is equal. It was the old guard (perhaps Innovation 1.0) that gave the most credence to ideas generated by the HPPITR (the Highest Paid Person In The Room). We have lots of smart people on our team and we need to be prepared to hear them, encourage people to post their ideas and give them credit when they succeed. If we give more credence to the ideas of certain people, perhaps making their votes more significant, those who have not yet received notice for over-achievement will never bubble up to the top. The idea management social network is a parallel universe to real life. Preexisting relationships in the real world may facilitate relationships on the idea management social network ('Mmmm'I'll invite Bill into this conversation. I think he knows a lot about this'). In this new environment all the players reach out to those with a common area of interest (even if they have polar opposite viewpoints) creating productive pseudo-relationships'relationships which might exist only within the idea management social network. The idea management social network is dynamic. We all have evolutionary interests. Yes, I'll always like Eric Clapton, starting in 1969 when I first heard him'but as time goes by I also like Luther Van Dross and I have to admit I tap my toes lately when I listen to Katy Perry. The people who I 'follow' on the idea management social network yesterday may be supplanted by my new-found passion for the opinions of those who just spoke up about a brand new topic. Real life is complex. So is the idea management social network. You need to nurture transparency, democracy and dynamic relationships. If you encourage collaboration, the result will be great, breakthrough ideas. Give it a try.
Ron Shulkin is Vice President of the Americas for CogniStreamer', an innovation management system. You can learn more about CogniStreamer here http://bit.ly/ac3x60 Ron manages The Idea Management Group on LinkedIn (Join Here) http://bit.ly/dvsYWD . He has written extensively on Idea Management (Read Here) http://bit.ly/b2ZEgU .Also search on "cognistreamer" here on the FEI blog site and you'll get a list of my weekly guest blogger entries.
CogniStreamer' is an idea management software tool. It is an open innovation and collaboration platform where internal colleagues and external partner companies or knowledge centers join forces to create, develop and assess innovative ideas within strategically selected areas. The CogniStreamer' portal is an ideal collaborative platform that invites users to actively build a strong innovation portfolio. In addition it provides a powerful resource for internal and external knowledge sharing. The CogniStreamer' framework is used by industry leaders such as Atlas Copco, Bekaert, Case New Holland, Cytec, Imec, Philip Morris International, Picanol, ThyssenKrupp, Vesta and Vesuvius. CogniStreamer' represents the best use of adaptive collaborative technology such to harness human skill, ingenuity and intelligence.