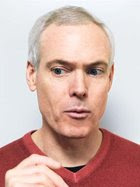 Jim Collins, keynote speaker at the Front End of Innovation Conference, was recently featured in the cover of the April edition of Inc Magazine in which he was asked what entrepreneurs can expect in the next 30 years. According to Jim these are great times for entrepreneurs, even though we are amongst clouds of chaos, uncertainty, and risk.
During the interview Jim mentions that leading entrepreneurs during the past three decades all have something in common. Howard Schultz of Starbucks, Steve Jobs of Apple, Jeff Bezos of Amazon.com, and Wendy Kopp of Teach for America, just to name a few, all wanted to transform society and had huge ambitions. Sure technology has changed across the years (telephone & faxing from the Stone Age to Web 2.0 capabilities today), but the basic principles and fundamentals to build a great company from 30 years ago have not changed. Building a culture of people who share a set of values, have clear and established responsibilities, and perform to their very best - the companies that build around these set of ideas will surely thrive.
Here's a quote that jumps out from the article:
"Well, you can't have a great company if you don't have a successful business, and you can't have a successful business if you don't at least have a workable idea."
All aspects of business including company morale, values, business processes must be strategically sound in order to bring out the best in innovation. It all goes hand in hand.
The innovation movement is a constant learning curve which has gone through several evolutions throughout our timeline. Kudos to Jim for laying out these secrets to business success!
We are particularly looking forward to seeing Jim Collins speak on the critical x-factors for thriving in the changing economy with his keynote speech "How Good Organizations Can Become Great" at the Front End of Innovation Conference next month in Boston. There is still some time left so make sure to signup early. Hope to see you all there!