Each year, seasoned biotech investors gather at BioPharm America™ to meet with innovative biotech companies and to participate in the Startup Pitch Competition. With plenty of fund-worthy competitors, it's essential to stand out from the pack with a perfectly delivered pitch. Past speakers from Biopharm America weighed in on essential tips to making a memorable and impactful pitch.
1. Know your hook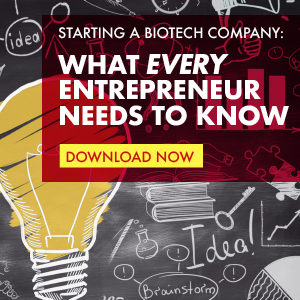 Dennis J. Purcell of Aisling Capital summed it up best in a past BioPharm America session: "My sense is there's always one or two things that really hook you in. We see 600 to 700 pitches a year. What's the one thing that hooks you in? You can't cram everything into 30 minutes.The whole point of the first meeting is to get a second meeting."
However, data and statistics don't stick nearly as well as a story that strikes a chord with the audience.
Last year's first runner-up for "Best Pitch", CEO of Savor Health, Susan Bratton had the following advice: "I think one thing that helps make a pitch stand out is a personal story. A personal story makes it 'real' for the audience. It helps them relate to the problem you are seeking to address and helps the speaker connect with the audience and helps the audience relate to the speaker and his/her problem."
2. Define what makes you different
Demonstrating what makes your company unique to your competitors will not only show your value proposition but also make your company truly memorable.
"Try to be really clear as early on as possible about what you're doing that's unique—because some of these pitches sound fairly generic, not in terms of therapeutic approach, but what specifically differentiates you in the field that you're pursuing," said Sinclair Dunlop of Epidarex Capital at a past BioPharm America session.
3. Cover what stages you're in
This should go without saying, but discussing the stages of development of your drug and how it's performing is a key part of the pitch and will help investors have a better idea of your company.
"Stage of development should be part of your pitch for sure. Think about what's going to be the most important hook that the investor wants to hear. Individual investors want to hear different things so try and stay away from the hyperbole and get to the hook,"  Doug MacDougall of MacDougall Biomedical Communications said at a past BioPharm America session.
4. Be upfront with your weaknesses
Don't be afraid to identify your pain point and show how it can be turned around into a positive.
"If you've only got 30 minutes, like at any event, I teach companies to do a SWOT analysis and build a slide show presentation around that. And the strengths and the opportunities are the things that you want to pitch. But the weaknesses are the most important part of the slide show because a lot of times that's the use of proceeds. 'I can't get there because I don't have this,' or 'I don't have human data' or whatever. Admit that, and that's what you want their money for. It turns negative things about the company around to positive. And the threats are the first questions that they are going to ask you, so be prepared for them," MacDougall said.
Purcell further elaborated in a 2016 BioPharm America session how it's key to be upfront with investors as the truth will come out eventually.
"Be balanced. In due diligence, we're going to find out what the problems are, so hit them up front. We've all had our fair share of failures, so we're used to it. But it's truly hard to find out that there's a deal killer late in the process. Ask yourself, what keeps you up at night, what should we be worried about?"
5. Remember, brevity is best
Keep the slideshows and bullets points short as being concise is the best way to maintain the attention—and attendance—of a room.
"Your pitch is very much like the paragraph you might pitch in an email in order to get them to open up and read your executive summary. In emails, people only ever want to read that first paragraph," MacDougall said.
He also elaborated that the deal happens in the Q&A portion of the presentation.
"You want to have a quick overview and remind them of who you are, then hit them with the key points. Have backup slides if you need them, but it's in the Q&A that the second meeting gets decided on. It's not on 'Oh wow that was a great presentation, I want to meet with them again.' There has to be interaction. In preparing for those interactions, practice verbally explaining it without slides so you can insert the passion behind it. I've heard it said, 'If I don't want to go and have a beer with this person, I'm not going to want to put money in them.' You do have to build that kind of relationship, too."
6. Know where the money is going
Have a plan in mind for how you would like this round of funding to be used and how it will equal success, which will show the company's value to the audience.
"We have a lot of clients who want to make sure that they throw the kitchen sink in their pitch, just in case there may be a hit with a venture capital group. VCs look at those and they say 'These guys are bogus, they don't know where they want to put the money.' To get in the first door you need to show that you've got a plan, and the pitch is pretty important for that. Once you're in the door, they may change the plan on you, but you want to get in the door and show that you really understand what you are doing and you've got a plan to get from point A to point B with their money,"  MacDougall said.
7. Do your homework
Learning about your audience is an important way to build a better connection with them and tailor your pitch if need be.
"Do a little bit of your homework—our bios are usually on our websites. And that can probably give you guidance as to the way the conversation is going to go. If you do a little homework on your audience you can probably preempt or guess some of the places the conversation is likely to go. And again, as I've said already, it is a conversation. Unless it feels like a conversation, it's not going well," Dunlop said.
8. Practice, Practice, Practice
Don't try to 'wing it', practicing is a key way to fine-tune your pitch and temper any anxiety.
"Don't be too nervous but also try not to be too casual with your hands in your pockets and stuff like that. It just comes across even though it may only be 30 seconds," David Steinberg of PureTech Health said at a 2016 BioPharm America session.
Are you ready to pitch? Learn how you can apply to pitch your company and investment to top-tier venture capitalists, pharma representatives and private equity investors at BioPharm America™

The article has been updated and re-published from a previous version.