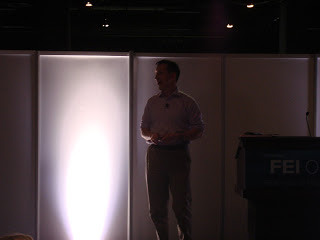 Presenter: David Thomas, Mars, Inc.
David began his presentation by stating that companies should:
1. Be really clear with your challenges and what you need to solve
2. Generate ideas and meet those challenge
3. Develop Ideas once you have them
4. Then select ideas you want to move forward with
Within Mars, they have the business strategy, then they go into insights, then developing ideas, and lastly go into the innovation process.
Mars Inc. Project Team Process
- Immerse a small dedicated teams for projects
- Defining the project - take a full day with the whole project team and stakeholders to define the project
- Searching all the clues - looking through past research information that relate to the project
Before testing out ideas, companies need to know if the idea will actually work. Prototyping is important because it allows you to learn exactly that. Ideas that do not work should be killed and those that are successful should be tweaked so that it is even better. Prototypes capture a broad span and build bridges to success. Companies should learn about an idea, and bring it to life.