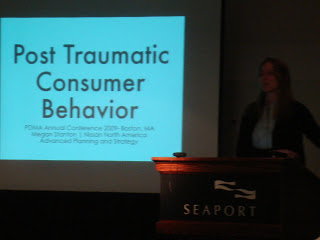 Presenter: Megan Stanton, Nissan North America
Megan mentions that when you take a look at the enhancements and innovation in cars from the past 20 years compared to enhancements done with a company like Apple, there is a huge gap. We can go way farther in terms of innovation when it comes to vehicle technology.
Nissan takes a look at social trends, social psychology and cultural anthropology to get a good sense of how people think. Social psychology and mental processing takes a look at how the brain works how we are wired. Cultural anthropology takes a look at how people interact with products. People are history based, we render pictures from our past and make future projections. When purchasing a car for example, consumers think about what cars their parents have owned in the past, what sort of gear they can fit in the car, whether or not leather is necessary or not, and all of these things will effect the purchasing decision of the consumer.
In certain states, wage earning and completion of Master's Degree for example have increased for women whereas it has stayed the same for men. This is important because projections change over decades. Fads are only a couple of months so you must dig deeper to a slow change that is taking place which will lead to a trend. First, segment based on mindset and then separate by generational differences.
Automobiles are about self moving. It's hard for people to innovate if you call an employee a "suspension engineer". You have to change the mindset and values within the companies.
Closing quote from Megan:
Go Long, Think Deep, Design to Concept
Updated