There is a phrase in healthcare that has become so popular it has even made its way to T-shirts, mugs, and, dare I say, bumper stickers. It goes something like this: "The only thing worse than being blind is having sight and no vision."
2020 was supposed to be the year the insights profession lived up to the classic optometrist's dictum of achieving "perfect vision." To say that it, instead, turned out to be the year of "imperfection" is putting it mildly. But amongst the clouds that come with falling short of perfection, there are often silver linings to be found. So, let's explore how the past year's imperfections are transforming into insights with true staying power – or as our colleagues in the industry say, the key trends of 2021.
Trend #1: Skillfully remote
Perhaps the most empowering trend to emerge over the past year has been the democratization of the workforce and the relegation of the office cubicle. Surprisingly, the sudden switch to working from home didn't turn out to be the productivity killer that executives around the world had feared.
In fact, research from Microsoft and Boston Consulting Group suggests no decline in productivity with remote work. Furthermore, in a recent Work After Lockdown survey of self-reported data, 54% of respondents felt their productivity was higher for every hour they worked than before the pandemic.
This productivity gain seems to have been accompanied by a wave of upskilling. And while upskilling itself is certainly nothing new, the way workers are now enhancing their capabilities indicates a rising trend that's likely here to stay.
These upskilling approaches now run the gamut from embracing collaboration tools that feature virtual whiteboards (like Miro boards), to exploring the use of augmented reality (AR) platforms (like Microsoft Mesh), which energize virtual gatherings using holographic experiences.
What it might mean for insights professionals: Skillfully remote offers the potential for insights industry professionals to digitize further and have new avenues to share learning and create memorable aha! moments. Imagine being able to use Coursera or Udemy in a survey recruitment setting or being able to have a respondent appear holographically to executives vs. a playback of video clips with respondent verbatims. The defaults of blind outreach and presenting stuffy and static findings now have huge opportunities to be modernized and refreshed.
Trend #2: Virtually local
Time spent away from work also took a new shape in 2020. While the struggles of staying at home and being "all dressed up with nowhere to go" united people across the globe, many responded by closing ranks around their local communities and neighborhoods, seeking everything from information on new small businesses and community initiatives to support to new ways to get local favorites conveniently and safely delivered to our doorstep.
Innovation set in and our second trend of virtually local was born. From Nextdoor setting up a flourishing bulletin board for neighborhoods to share everything (and now targeting a valuation of $4 billion+ and a possible IPO) to Lime graduating from campus bike sharing to offering dockless electric scooters in 50 cities and SHOPIFY taking on retail giants by enabling businesses to set up curbside pick-ups. Today, the new customer harvest has made Shopify the largest e-commerce retailer in the U.S., with its sights now set on enabling all small businesses to be aggressively competitive with larger, multi-national chains and conglomerates.
What it might mean for insights professionals: How will "virtually local" affect the way we gather insights and advise businesses? Will it affect how we set up communities? The idea of insights ambassadors at companies has been discussed and even implemented in many industries I have consulted with and companies I have worked at. It may not be too far-fetched to predict that this trend will inspire a new breed of virtually local insights ambassadors – valuable repositories of knowledge about the industry/company's regional operations and insights advocates – to hit the market running.
Trend #3: No lockdown on connectedness
In addition to the growing interest in local happenings, there has also been a surge in wanting to stay connected to the friends, colleagues, and loved ones who reside outside of our regional bubbles. Virtual conversation networks like Clubhouse and Twitter Audio spaces have emerged to enable us to "drop in" or initiate conversations across myriad topics of mutual interest. As a result, we have come out of the pandemic with immersive ways to find "our tribes" and engage in our shared passions.
What it might mean for insights professionals: Will drop-in spaces like Clubhouse present the next frontier in social listening? Imagine the additional data we could mine to help us to continue to enhance our knowledge of consumers. Our ability to use Clubhouse and the like to gain insider access to consumer conversations can be a mutually beneficial trend, ripe to leverage in 2021; they could be an additional avenue to pinpoint survey recruitment opportunities.
Trend #4: Heads up for mental health
Given the central role healthcare has played in the events of the past year, it wouldn't feel fitting to close without touching upon a couple of important trends in well-being. And there are few trends that have rocketed to the top of our cultural consciousness as powerfully as the need for a greater understanding of self and a renewed focus on balancing our individual and collective states of mind.
As a result, the mental health landscape has exploded – for the better of all. Aided by powerful celebrity endorsements and revelations from Oprah to Naomi Osaki and Prince Harry, one can only hope that any associated stigmas start to forever fade away. Yet, mental health also holds tremendous implications for consumer health, as well as individual behavior, and therefore deserves a proactive insights mindset.
According to the 2020 America's Mental Health Pulse survey, 64% of Americans reported feeling anxious as a result of the pandemic.  Added to this is the notion that 76% of people believe that their mental health is as or more important as their physical health. It is no wonder then that there are now over 20K mental health apps in the Apple Appstore; yet I dare say, there are still few insights-based solutions that can consistently change outcomes.
What it might mean for insights professionals: At its most basic, imagine the implications of more than half the country caring deeply about mental health? How might this change consumer behavior and, thus, affect the segmentation decisions our businesses will need to make, in response? Will it drive more compassionate persona building? Most importantly, will it drive more effective solutions in partnership with healthcare companies or with companies outside of healthcare that may have consumer permission to play there? With 48% of the country not knowing where or how to even get help, this is a trend with huge ramifications for insights that drive empathetic societal value.
Trend #5: "Insta-doctors"
Last but not least, the pandemic changed both the availability of and willingness to use telemedicine services. Once the primary domain of hard-to-reach rural areas and those who suffer from rare disorders or others who wish to consult with global specialists, access to telemedicine expanded to all areas of health management in the past year and is likely to expand its prevalence beyond 2021.
Medical Economics calls it the "Uberization of Healthcare, and while that certainly is catchy, it's the stats from their latest research that show real promise: 83% of patients expect to use telemedicine after the pandemic resolves. Nearly 75% would continue to use it to see a physician they meet with regularly. But most interesting is that 91% say that telemedicine would help them stick to appointments, manage prescriptions and refills, and follow wellness regimens as dictated by their doctor. In other words, just like Amazon Prime, consumers now expect and want even their access and experience with doctors to be instantaneous and virtual.
What it might mean for insights professionals: As telemedicine's instant access trend becomes the new superhighway to health, it also represents the most evergreen basal fact for insights and business professionals alike. It's a bellwether indicator of how things once unimaginable can become the new normal. For leaders in healthcare, it summarizes resilience and the need for big, bold ideas that embrace what was once deemed impossible.
I call it Covidacity – the ability to digitize, prioritize and create insights capital. Hopefully, these trends inspire our collective Covidacity, embodied in the story of an old man searching for his keys under a streetlamp. He seemed so harassed that a passing police officer was moved with compassion to help find them. After a few minutes of futile searching, the cop asked the old man: Are you sure you dropped them here? And the old man said: "No. I dropped them in the park." Astonished, the officer asked the man why, then, was he looking here. "Because," said the old fellow, "this is where there is light."
Be "Covidacious," and embrace the bold, rather than being deterred by the dark. Finding ways to tap trends often depends on where and how perceptively you look.
For more ideas on how to transform the latest trends into insights power for your business, join the All Things Insights community. 
About the author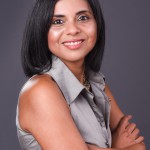 This blog is written by Christina Speck. She is Head of Advocacy & Engagement at Optum and the Founder of Innovation Hacks. Connect with her on LinkedIn.