During the past 18 months, the market research industry accelerated its pivot towards online consumer surveys. According to the Insights Association trade group, "2020 profoundly impacted how the industry conducts qualitative research, with digital methods now in the lead vs. in-person." Further, what started as a temporary reaction to workplace shutdowns may evolve to a permanent change, as many researchers embrace the online model for its speed, flexibility, and cost advantages.
These researchers may also be paving the way for an on-demand data collection model for projects ranging from concept testing, brand perception, and product development to customer segmentation, pricing strategies, brand equity and employee experience. Maximizing the quality and effectiveness of these online survey projects will require that researchers follow best practices for getting the richest insights.
Online
The Insights Association's 2020 Greenbook Research Industry Trends (GRIT) study of nearly 1,100 suppliers and buyers of research found that online focus groups increased 20% from 2019 to 2020, while in-person focus groups dropped by 18%.
The GRIT researchers also noted that buyers "... now realize that online methods are not merely stopgaps to survive the crisis." They added that these tools "... deliver methodological flexibility and tangible pragmatic advantages such as travel cost savings, risk and liability mitigation, diverse recruitment options, schedule flexibility, and general speed and cost efficiencies. It is safe to assume what we will see is a long tail of growth continue to play out even as the pandemic recedes."
As the industry continues to migrate to online surveys for these and other reasons, there are four challenges to solve before these platforms can match the rich insights of in-person research. These capabilities can be achieved through increasing levels of automation, meaning online survey platforms will also be charting a course for delivering richer on-demand insights, in the customer's own voice.
Create a better survey experience.
User experience has become increasingly critical to survey success. The quality of online survey results depends on participants being engaged, interested, and inclined to offer honest, authentic thoughts and impressions. These factors are especially important when researchers are studying the customer experience. There may be nothing worse for a respondent than a poor experience when responding to survey questions about their experience with the brand. One way to solve this problem is to move survey designs to more interactive, even "gamified" experiences.
Listen to survey respondents – don't just talk at them.
It was traditionally believed that only in-person interviews could deliver accurate data. It was traditionally thought that the presence of trained facilitators would ensure all questions would be clarified for participants. By extension, online surveys were considered only useful if they were restricted to simplified yes or no questions, or multiple-choice formats, which forfeited any opportunity to hear the respondent's own voice. The next generation of online survey tools deliver the equivalent of free-flowing natural conversations with respondents, at speed and scale.
Use smart data visualization.
Insights are further illuminated when it is possible to analyze, segment and display both quantitative and qualitative data from online surveys, using a variety of visualization options that surface high-value insights.
Combine bite-sized studies into larger and/or iterative insights.
There is great value in agile survey techniques that use AI and crowdsourcing to get from research question to meaningful answers. Researchers can execute small, on-time, all-inclusive studies just-in-time either as one-off, on-demand projects or as a series of incremental, more iterative studies. Using this approach, each study can build on the insights of the prior, which is particularly useful when researchers are trying to understand highly dynamic environments or enter new markets with unknown characteristics or deal with a new market dynamic.
The solutions to these challenges are now largely available as the industry begins to automate online data gathering, theme-coding, analytics, and reporting while giving researchers new ways to think about survey design.
Survey Automation Drives
On-Demand Insights 
The latest online surveys enable researchers to go beyond the traditional text box and ask open-ended questions without having to manually code the associated free-text responses. One way to do so is through AI and crowdsourcing techniques, and particularly those applied to Natural Language Processing (NLP). An algorithm begins sampling and quickly processing respondent's free-text answers as soon as they are entered, removing duplicate answers and noise. Only unique and meaningful statements are retained, and then fed back to respondents in the form of an ad-hoc, dynamic mini-survey. Each respondent is asked to agree or disagree with these statements, and this crowd-sourced data validation technique is repeated 5-10 times, regardless of whether a respondent provided unique free-text unaided answer to the original question or not.
The goal is to ensure all respondents contribute data even if it is only their assessment of others' answers. When respondents can interactively validate and quantify data in real time, it becomes possible to generate more robust "coded" answers from the study's natural language input than how ex-post free-text analytics tools can. It also enables researchers to calculate how much support strength (or statistical support) there is for each statement – essentially, the respondents are quantifying the qualitative information for them. Figure 1 is an example of this concept, showing how data from the ad hoc "agree/disagree" mini-surveys was used to turn their qualitative data into a quantified picture of the lessons respondents believed humanity had learned from the pandemic, segmented based on their political affiliation.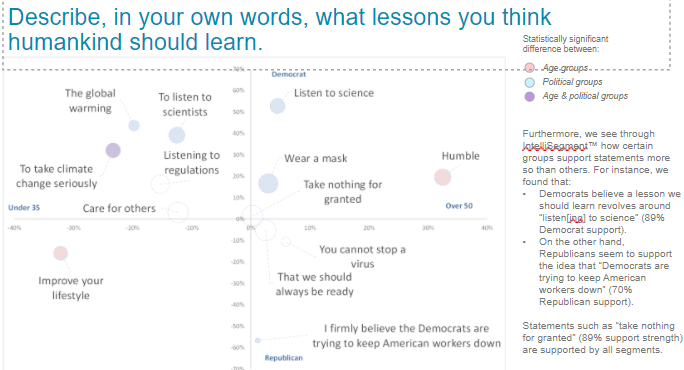 Figure 1: This analysis showed the differences in levels of support for statements about pandemic lessons, segmented based on political party affiliation.
Other types of data visualizations can similarly be created, including cloud diagrams depicting the most supported statements, and correlations that reveal nuances in the stories respondents are telling -- something that would traditionally be reserved for quantitative studies. Figure 2 shows additional examples.

Figure 2: A study example using the GroupSolver® online survey platform with multiple visualization options. These two visualization examples surface insights about what lessons humankind should learn from the pandemic, including statistical support strength for respondent statements (the IdeaCloud™ chart on the left) and correlations (the Consensus Solution™ chart on the right).
These are just a few examples of how online surveys are evolving to deliver new capabilities. Fewer researchers will need to gravitate to closed-ended questions just to avoid manually processing massive amounts of raw, unorganized free-text data. Smaller businesses and marketing organizations will have affordable access to the same "analytical muscle" as larger research firms who can tap an army of analysts. Speaking more strategically, researchers will move from simply "talking" at respondents and then applying ex-post data processing to a much more agile "listening" model where insights emerge naturally and in real time. These smarter survey techniques will enable easy-to-conduct, high-quality, on-demand research studies of any size and make them accessible to a much larger user base, across a significantly broader range of applications.

About the Author: Rasto Ivanic is a co-founder and CEO of GroupSolver® - a market research tech company. GroupSolver has built an intelligent market research platform that helps businesses answer their burning why, how, and what questions. Before GroupSolver, Rasto was a strategy consultant with McKinsey & Company and later he led business development at Mendel Biotechnology. During his career, he helped companies make strategic decisions on developing and managing new businesses, pursuing market opportunities, and building partnerships and collaborations. Rasto is a trained economist with a PhD in Agricultural Economics from Purdue University, where he also received his MBA.