Mental health applications of augmented virtual reality are transforming what's possible in mental health therapy. Because this technology, popular among gamers, is immersive, it allows mental health therapists to place patients into customized worlds within the safety of their offices, from which they may learn to manage anxiety disorders, psychoses, ADHD, pain and other mental and behavioral conditions. The current and future state of virtual and augmented reality mental health therapy applications will be explored at Stanford University's "Virtual and Augmented Reality and Behavior Change Conference," at the Digital Medicine & Medtech Showcase.
Virtual and augmented reality defined
Virtual reality is immersive. When you put on a headset, the physical world is blocked out. This immersive environment is becoming increasingly realistic and can incorporate customized cues for patients. Augmented reality blends the virtual and physical, providing an overlay. Google Glasses is one example. This technology lets users see the physical world while accessing additional information—like a patient's chart—through the AR glasses.
Cutting-edge virtual reality research
"The really exciting thing about VR is that it has the possibility to change patients' motor and sensory experiences, possibly permanently, through visual perceptual illusions in virtual environments," said  Kim Bullock, MD, Clinical Associate Professor, Psychiatry and Behavioral Sciences, Stanford University. In Jeremy Bailenson's (founding director of Stanford University's Virtual Human Interaction Lab) pioneering work, she says, "We have some  evidence that changing one's body type—such as changing weight or ethnicity or role identification—in a virtual world also can changes one's behavior in the real world. In other words we can change our own implicit biases about ourselves and others.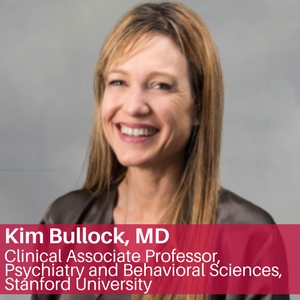 "I'm investigating motor and sensory reprogramming for people with psychosomatic illnesses who experience disruptions in their bodily sensations and sense of agency," she continues. One of the questions is whether a patient who experiences regaining the use of a paralyzed limb in a virtual world (through embodying an avatar) could also regain its use in the physical world. "Preliminary results in our lab appear promising." Another study, the Autism Glass Project, is nearer-term. In it, a person with autism wears glasses that incorporate a camera (like Google Glass) during personal interactions. A facial recognition app tuned to recognize emotions then projects a verbal cue regarding the emotions of the person with whom the wear is interacting into the glasses. As a result the wearer knows whether that person is happy, sad, skeptical, angry, etc.
Virtual reality / augmented reality mental health transforms behavioral medicine
More often, the role of virtual reality and augmented reality (VR/AR) in medical treatment may be to enhance existing therapies. "Standard, literature-based treatments for anxiety disorders will continue, but VR/AR will make them more realistic and, therefore, more effective," Alan K. Louie, MD, Professor, Associate Chair, Director of Education, Stanford University, says. For example, clinicians can show cocaine addicts a virtual image of a crack pipe, thus triggering a more realistic sensation of craving that, in turns, makes the therapy more powerful. ADHD patients can enter a virtual world and therapists can monitor whether they pay attention to the stimuli in that world. Other applications might be designed to treat psychosis, pain, and autism. "We hope to customize the virtual worlds, so a variety of disorders will have more personalized treatments in virtual environments," Dr. Louie says. "Many mental health treatments have a skills training component and clinicians can automate that with VR/AR," Dr. Bullock adds. For example, they may use VR to teach patients experiencing emotional distress to calm themselves in immersive environments and eventually this can generalize to the physical world. A similar approach has been used successfully to help patients reduce post-operative pain. "The virtual environment works as a distraction to put patients in a relaxed or mindful state during painful procedures," Dr. Louie explains. 

Why drug developers should care about virtual and augmented reality mental health
VR won't replace drug therapy, but it can help patients reduce their reliance on drugs. By introducing VR as a pain reduction technology, it has the potential to reduce the quantity of pain medications that are prescribed and this could be particularly important as one possible step in resolving the overuse of opioids. It also can be used as a combination therapy. "Combining medication with psychotherapy often yields a better result with some disorders, like depression," Dr. Louie points out. Combining medication with VR/AR someday may be synergistic— effectively, a combination therapy—that may be more effective than either alone. This emerging technology also has the potential to help physicians improve adherence to medication or psychoeducation.
Virtual reality / augmented reality technology is ready now
VR/AR finally became practical in the past few years, as headsets and tracking devices became smaller and prices dropped from tens of thousands of dollars to a few hundred dollars. As the prices dropped, more sensors were added to provide more tracking abilities to create a more realistic experience than ever before. Now, it's a part of mainstream society where it is popular in the entertainment and real estate industries. Many think it's inevitable that VR/AR also will become a mainstream technology for business and medicine. The technology and applications are changing quickly. "Advances in body tracking technology create a level of immersiveness that's never been available," Dr. Bullock points out. The medical ethics associated with therapies delivered in a virtual environment haven't yet been determined. Nor have issues of privacy and consent. "Many new products are hitting the market now, so academia needs to become involved to ensure that scientific rigor and research is applied to their development." "That's why Stanford is hosting this conference," Dr. Louie says. "This is the time for all the stakeholders interested in VR/AR to collaborate," and to think now, while the technology is still young, about its optimal implementations, ways to minimize risk, and how to provide ethical safeguards, and, in so doing, to improve healthcare.