Liz York, Senior Advisor for Buildings and Facilities, Centers for Disease Control and Prevention (CDC)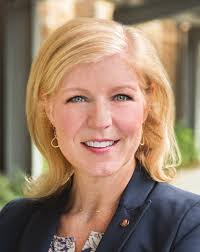 "I am proud to be a part of bringing health into the sustainable buildings conversation," says Liz York, who became an architect because she wanted to have a positive effect on people's lives through her design.
She says, "A design that is good for one part of the system while ignoring other parts of the system, is not serving the public or the client as it should…it takes constant and deliberate action to see the design problem statement from many different perspectives."
Collaboration, balance, and integration are common themes in York's perspective. "We must understand the balance between recycled content, healthy materials and manufacturing costs in order to make choices that support ecology, equity, and economy simultaneously."
Embracing the Circular Economy
Among York's mentors and inspiration was Ray Anderson. She notes that he came from an industry that seemingly wasn't paying attention to ecology but then took the challenge on. She also admires the work of  Ellen Dunham-Jones, who is "cataloging and re-imagining how we breathe new life into real estate as a whole when retail malls are no longer needed and other building types are in decline." York believes that visionaries like them are "looking at their place in the larger system of building design and finding ways to create value by evoking the wisdom of the circular economy."
In addition to industry leaders, York credit her children with inspiring her. "They are full of excitement about innovations that I may never see in my lifetime and they inspire me to consider opportunities that are blind spots for me."
Speaking of future generations, York advises newcomers to green building to "Think about what you can personally contribute and how you are uniquely positioned with your knowledge, skills, and passions. Build partnerships with others who have similar or complementary goals and charge forward together. Think about a whole systems approach and work together to develop win-win-win solutions."
Interested in being profiled in our Voices of Greenbuild series? Please contact jodi.harris@informa.com with your idea.
Editor's note: This article originally ran on the Greenbuild Blog in 2020. As health continues to be a critical consideration in sustainability, we are re-sharing it in case you missed it.