'ESG' and 'Sustainability' are terms that are often seen as interchangeable, but also often mean slightly different things to different people depending on the lens through which they are looking. To differentiate from the Sustainable Investment lens, the term 'ESG' is used throughout this short piece to reflect the all-encompassing challenges that businesses face when attempting to tackle Environmental, Social and Governance factors.
As an industry, Asset Management is increasingly (and rightly) focused on the 'front end' of ESG – the sustainable investment process, and how we ensure that we are making investment decisions which are aligned with the commitments we make.
This is at the heart of what we do as a business, and is the first fundamental tenet to ensure that we meet our responsibilities to our clients, our corporate commitments, and our regulatory obligations.
It is also often the case that Asset Managers are busy building and extending their dedicated ESG or Sustainable Investment departments. This is essential to ensure that the right strategy, practices, priorities and tone are set for this important topic across the business, and that there are common standards and approaches across locations and investment strategies, which address this important topic, and ensure they are aligned with our responsibilities to our clients.
Often these teams include data specialists to attempt to simplify the gargantuan effort required to prove objectively that products and strategies are delivering against their 'green credentials', and that firms are adhering to the increasingly complicated regulatory framework and client expectations.
Alongside the investment focus, the Corporate Sustainability agenda continues to be a very important and visible way for firms to 'display' their ESG credentials whether that is through carbon offsetting, social outreach, the advancement of women and minority groups, or levelling the playing field and setting targets to monitor progress.
Whilst regulation has driven the first wave of ESG standards and requirements, we are now at a point where we should no longer be letting regulation drive a firm's approach to ESG. Instead, it is essential for a firm to define its own corporate ESG strategy, risk appetite and approach, and to introduce oversight of this - ways of demonstrably measuring the progress against their commitments and goals.
Not just on the investment side, where there is already a huge focus and evolving framework, but at every step of the value chain, and across the whole operating model.
But what about the other aspects of our business? Those that are away from the 'front end', away from direct regulatory focus, and immediate client scrutiny?
And with all the focus on the 'E' (Climate change, TCFD, CRFD, Net Zero, Greenwashing) - what about the 'S' and the 'G'?
Implementing an overarching holistic ESG Risk Management Framework ("RMF") is a powerful tool to address the broader value chain. Many companies will already have a robust enterprise level RMF which follows best practices such as strategy setting, risk appetite statements, governance, risk management and reporting.
This framework is an excellent way to articulate and measure your organisation's approach to ESG, within and alongside an existing framework which incorporates all business operations, teams and processes, as well as suppliers and providers, business continuity, and operational resilience.
Ensuring that you have a detailed and comprehensive ESG Risk Taxonomy, taking into account the wide spectrum of Environmental, Social, and Governance considerations, will mean that an organisation can comprehensively begin to measure the impact and risk of every aspect of ESG in their operating model.
Whilst it is right to recognise that there are gaps in the data that is currently available, and the prioritisation of governance and specific environmental factors means that other aspects of ESG data is very difficult to find, we shouldn't let this stop us putting in place a comprehensive framework looking at all aspects of E, S and G across the value chain.
Future developments in ESG expertise across the industry and resulting improvements in available data should lead to the ongoing improvement of measurements. Qualitative measurements can be used in place of quantitative metrics until the data landscape matures sufficiently to be integrated.
Recruiting and promoting individuals into dedicated ESG roles is clearly needed, but ensuring that everyone feels accountable for the E, S & G aspects within their day-to-day work is also essential to ensure that there is awareness, ownership and accountability throughout an organisation.
Implementing an overarching ESG Risk Management Framework, with ownership and oversight integrated all the way through from Board level to each and every individual within the organisation is a necessary and essential tool to achieve this, and to ensure that you are delivering on the commitments you have made.
As the various foundational blocks are coming into place to ensure that Asset Management firms are correctly positioned and delivering positive impact, we must ensure that we are not creating a separate industry around everything 'ESG', but rather integrating it into everything that we do.
Under the spotlight: Davina Goodall-Smith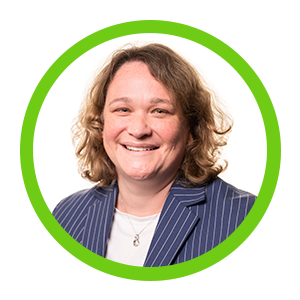 Davina Goodall-Smith is the Chief Operating Officer for EMEA at Nikko Asset Management. As COO, Davina is responsible for over-seeing all aspects of Nikko AM's operational activities across the EMEA region, and ensuring that the firm has the global connectivity and processes required to achieve best practices. Davina is also a member of the Board of Directors, and Chair of the Stewardship Oversight Committee. She plays a key role in developing the ESG strategy for Nikko AM Europe.
Davina has over 20 years of experience in the financial services industry with roles in Global Relationship Management, Operations and Change management across the UK, Europe, and Asia. Davina joined Nikko AM in 2020 from BNP Paribas Securities Services where her most recent role was as Head of Relationship Management. Davina holds a degree in Mathematics from the University of Bristol.
Davina Goodall-Smith is a part of our incredible speaking faculty at IMpower 2023. Don't miss out on her as a moderator in 'Fireside chat - What does best practice ESG look like across the value chain?' on the 27th of June, 2023. 
Find out more about IMpower 2023 here>>