The pharma & healthcare industries are facing unprecedented changes. With the vast amount of new technology and data available, the "patient" of tomorrow is being completely redefined.
FEI Wellness: The Front End of Innovation Wellness brings you one of the world's leading cancer doctors, researchers and technology innovators, David B. Agus, to present you with the future of healthcare. He addresses the fundamental questions "patients" are asking, while challenging the long-held wisdom and dismantling misperceptions about what "health" means and how this new truth will affect your industry.
Can we live robustly until our last breath?  


Do we have to suffer from debilitating conditions and sickness? 


Is it possible to add more vibrant years to our lives? 


And, has the time come for us to stop thinking about disease as something somebody "gets" or "has" rather to think of it as something the body does?

Dr. Agus offers insights and access to breathtaking and powerful new technologies that promise to transform medicine in our generation.  This groundbreaking approach will change patient care and how we develop the next generation of treatment and cures.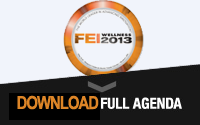 Dr. Agus is just one of 30+ industry specific speakers featured at FEI Wellness, along with 10 cross industry keynotes who will inspire you to push beyond the borders of your own industry.
This unique mix of industry focused and cross industry perspectives is what make the FEI Wellness experience so transformational. Download the full brochure for session details.
The Front End of Innovation is recognized globally as the World Leader in Advancing Innovation because we offer a conference experience like no other: the most provocative and actionable content, and access to hundreds of cross industry innovation peers.
Today is your last opportunity to save $600 off the standard rate, secure your spot now.
Registration Information:
Mention your FEI Blog VIP Code FEI13BLOG & save 15% off the standard rate.
http://bit.ly/134JphF
Email: register@iirusa.com
Phone: 888.670.8200
See you May 6-8 in Boston.