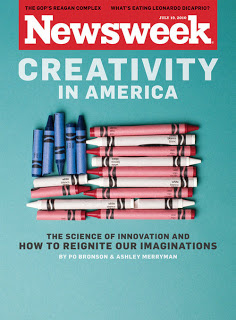 Here are the top ten things I learned from some of the best innovation professionals last week. Last week I went to the Optimizing Innovation meeting in NY. There were many different industries and disciplines represented. But everyone had a VP Innovation title. And everyone wanted to both share and learn about the latest in innovation. Smart Innovators Attended
First, the industries. There were companies who produced soft drinks, pharmaceuticals, appliances, motors, consumer packaged goods and much more. Hearing about innovations in one industry proved to inspire thought for applications in other industries. Second, the disciplines. It was fascinating to note that VP's of Innovation might be responsible for design, for packaging, for engineering, for production and much more. It was very exciting to hear how innovations occur in many different departments and led by people with varied education.

Innovators have to sell their management on the concept of accepting change.
Some Specific Innovation Case Studies
We heard case studies about many different innovations. We heard how Coca Cola revamped their coin operated machines with eye catching, asymmetrical doors (cleverly designed to retrofit existing machines in order to save money). We heard how Whirlpool thought creatively to put their products into different rooms of the house (the garage, or man cave) and technology into their traditional product lines (USB connectivity for washer and dryers so you can use your smart phone to remotely program custom washing cycles for your clothes). We learned how important innovations in packaging can affect revenue. Estee Lauder's team is constantly introducing thousands of new SKU's with attractive, eye catching packages to continuously intrigue consumers.Challenges To Innovation
Speakers also told us about their innovation processes. We heard how front end of innovation software tools can make innovation a people oriented endeavor. Innovators have to sell their management on the concept of accepting change. And they have to constantly evangelize to their fellow employees to get them to engage in the innovation process.Top Ten Latest Ideas In Innovation
We heard some ideas about innovation that are dramatic and significant:
Whirlpool was able to 'smash-up' Six Sigma with Innovation processes, a shocking thought considering they appear to be opposite approaches. Assembling highly structured processes with disruptive, chaotic approaches is a remarkable accomplishment.
We heard innovation managers tend to hire for passion, not skills. It is more important to have avid, creative thinkers than those dedicated to their disciplines. Plus people in innovation are constantly learning.
If you're going to encourage innovators to take the risk of failure, then you have to encourage the people to fail fast (so you don't invest any more money than you have to). If you are going to say failure is OK, you should do more than just that. Innovators encourage people to 'celebrate failure' by noting the lessons learned, perhaps having a celebratory dinner. Failures can save the company money when the Quick Kill happens, shutting down the project before more money is spent.
Many apply Practical Innovation on things we know, but also dare to innovate with forecasted concepts. It is a lot harder to innovate on things that don't yet exist; the chance for failure is exponential (guesses on guesses).
Collaboration tools are not only for ideation but can also be used to preach innovation to the rest of the company.
Although Innovation frequently takes away budget from other programs, when the innovations yield revenue (like licensing your patents to other companies) innovation can pay back the debt; gaining the support of other departments.
Innovators must get past 'cognitive barriers'. This means they have to get past 'functional fixedness'; to stop making assumptions. The best example was pointing out when DVDs came out; they looked just like the VCRs that preceded them, even though they really didn't have to.
Innovators like to embrace Humble Leadership. Respecting the opinion of everyone on the team is more important than acquiescing to the HIPPO (the highest paid person in the room). The example here is that the product or idea resulting from the consensus of all your smart people is probably a better choice for development investment than the pet project of your CEO.
Collaborative tools are required for the creative, fuzzy front end of innovation. It enables contributors from many disciplines to be found when needed and to work together on breakthrough ideation.
Innovation requires organizations to make an approach with a different management style. Collaborative idea management tools enable a more flat organization, agility, flexibility, user driven accomplishments and distributed flows. It encourages fuzzy boundaries, even open borders (instead of silos of information) and transparency for open business models. Innovation requires a collaborative tool to surface the best (and breakthrough) ideas that any organization requires to survive in today's competitive economy.
Always great to participate in a meeting to compare notes with innovators; to learn what they are doing and how they apply all the different approaches to the subject. Today's innovation leaders are serious about their work and understand they need passionate people, collaborative systems and management's support to accomplish their goals. Ron Shulkin is Vice President of the Americas for CogniStreamer', an innovation management system. You can learn more about CogniStreamer here http://bit.ly/ac3x60 Ron manages The Idea Management Group on LinkedIn (Join Here) http://bit.ly/dvsYWD . He has written extensively on Idea Management (Read Here) http://bit.ly/b2ZEgU . CogniStreamer' is an idea management software tool. It is an open innovation and collaboration platform where internal colleagues and external partner companies or knowledge centers join forces to create, develop and assess innovative ideas within strategically selected areas. The CogniStreamer' portal is an ideal collaborative platform that invites users to actively build a strong innovation portfolio. In addition it provides a powerful resource for internal and external knowledge sharing. The CogniStreamer' framework is used by industry leaders such as Atlas Copco, Bekaert, Case New Holland, Cytec, Imec, Picanol and ThyssenKrupp. CogniStreamer' represents the best use of adaptive collaborative technology such to harness human skill, ingenuity and intelligence.