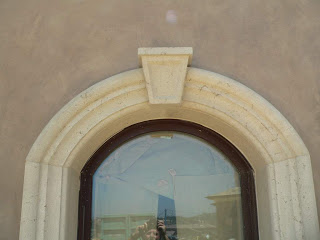 When your company embraces innovation it will also cut costs, your quality will improve, and it will be a safer work environment. One Keystone Decision (like embracing innovation as a corporate mandate) can effect every other part of your organization. A commitment to Innovation can turn into all sorts of successes everywhere. That Keystone for Innovation is held up by all your other efforts, while providing stability for the corporate structure at the same time. There's a Yiddish proverb that says, "With money in your pocket, you are wise and you are handsome and you sing well too.' I'll take it one step further. When your company embraces innovation it will also become more profitable, you'll cut costs, your quality will improve, and it will be a safer work environment. In his new book, The Power of Habit: Why We Do What We Do in Life and Business, Charles Duhigg, a business reporter for The New York Times, explains how some companies have achieved enormous success by altering people's habits. "If you can change a keystone habit, you unlock all these other patterns in an organization," Duhigg says. He provides the example of Alcoa. When Paul O'Neill took over as CEO, his No. 1 priority was transforming worker safety habits within this company, so that they would have zero injuries. By focusing on worker safety and examining how an inefficient manufacturing process is dangerous to employees, O'Neill found a way to bring the entire corporation in line. Bigger profits, better quality'all by focusing on worker safety. The same holds true for innovation. A company that focuses on innovation will' ' Be more profitable ' Have higher revenues ' Will implement more cost saving measures ' Will lead their marketplace with new products ' Will break out of the pack from amongst their competitors by having the foresight to exploit their market intelligence by leveraging their technological know-how. ' Will use their domain knowledge in new ways to explore unknown market needs. Those seem like pretty good, cost justified, reasons to invest a company's money and culture in the practice of innovation pursuits. "No one says it's easy. Innovation by definition will not be accepted at first. It takes repeated attempts, endless demonstrations, and monotonous rehearsals before innovation can be accepted and internalized by an organization. This requires 'courageous patience'." So says Warren Gamaliel Bennis, an American scholar, organizational consultant and author, widely regarded as a pioneer of the contemporary field of Leadership studies.

Harold R. McAlindon said, 'The world leaders in innovation and creativity will also be world leaders in everything else.'
NESTA (the National Endowment for Science, Technology and the Arts) last year conducted a study looking at how innovation efforts effect European service firms (see chart). They concluded: Innovative firms grow faster. Firms with high innovative capacity expanded substantially faster on average than non-innovative firms.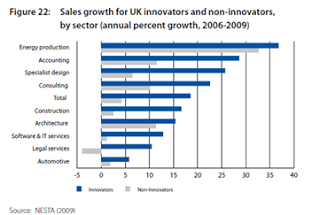 Think about it. If you encourage your team (including employees, third party stakeholders, customers'even the public) to offer their unsolicited ideas, you're going to get a chance to quickly implement incremental innovations that can yield revenue improvements and costs savings.
Someone on the production line will suggest: if you turn the machine this way or if you turn down that dial...the production line will operate more efficiently...saving money, providing a safer work environment.
Someone on your sales team will come up with the idea, perhaps after coming back from a visit with a customer, that if we just modified one of our product offerings we could sell more products.
Your third party stakeholders, like distributor networks, or a group of academics, could suggest a change in your approach that rapidly makes or saves money.
And once you encourage all these folks to feel comfortable (and it becomes acceptable) to submit these unsolicited ideas that lead to incremental innovation'you'll get organizational engagement. Everyone will be collaborating and be comfortable sharing information. Then you can provide some strategic guidance. Let everyone know you're interested in hearing how to explore unknown areas. This will yield breakthrough or radical innovation. This latter type of innovation, breakthrough or radical, can happen for your company by exploiting your existing domain knowledge (your company know how) to take advantage of unknown market needs. Or it can enable your company to come up with new technological solutions to needs you discover from known market intelligence. You don't have to make your company's mission to become more profitable. By making your mission to be more innovative you will have the collateral result of becoming more profitable. You'll tap into new cost savings, introduce new products, exploit new markets and offer a safer work environment. Your employees, your partners and your customers will be happier with you because they'll know you listen to what they have to say. And they'll know you reward by acknowledgement those who are the most collaborative and therefore the biggest contributors to the new-found culture of innovation.

If you're one of the biggest contributors to collaborative innovation then you're also one of the biggest contributors to higher profits.
Although it can prove challenging, it can be done. Recently my company and one of our partners put on an educational webinar pointing out at least ten ways to get everyone at your company on board with innovation. You can watch it here And, of course, the simplest, most cost effective stop on the road to successful innovation is to deploy a backbone for all this ideation; a collaborative software tool; a social network for innovation.
Ron Shulkin is Vice President of the Americas for CogniStreamer', an innovation management system. You can learn more about CogniStreamer here http://bit.ly/ac3x60 Ron manages The Idea Management Group on LinkedIn (Join Here) http://bit.ly/dvsYWD . He has written extensively on Idea Management (Read Here) http://bit.ly/b2ZEgU . CogniStreamer' is an idea management software tool. It is an open innovation and collaboration platform where internal colleagues and external partner companies or knowledge centers join forces to create, develop and assess innovative ideas within strategically selected areas. The CogniStreamer' portal is an ideal collaborative platform that invites users to actively build a strong innovation portfolio. In addition it provides a powerful resource for internal and external knowledge sharing. The CogniStreamer' framework is used by industry leaders such as Atlas Copco, Bekaert, Case New Holland, Cytec, Imec, Phillip Morris, Picanol, ThyssenKrupp, Vesuvius, Vesta and many others. CogniStreamer' represents the best u
se of adaptive collaborative technology such to harness human skill, ingenuity and intelligence. It is the best of breed social network dedicated to innovation.