Stars aligned beautifully, not long ago, for dealmaking at Celgene.
The company, early this decade, was raking in the dough from the multiple myeloma drug Revlimid. Cash had to be spent somewhere.
Celgene didn't have much of its own R&D. Shareholders weren't clamoring for their cut, via quarterly cash dividends. The stock soared, without any jet fueled-share buybacks. Letting cash pile up in the bank, collecting puny interest payments, didn't make much sense.
Rarely are companies so fortunate. Even more seldom, the company had senior executives who were willing, and empowered, to aggressively execute on a historic partnering spree.
Celgene in the early part of this decade had George Golumbeski in business development and Tom Daniel in early R&D. Both were scientifically minded, and business savvy. They saw a renaissance going on with gene therapy, cell therapy, genomics, targeted cancer drugs. They saw eye-to-eye. They had the support of their boss and the board.
The result: Celgene built a network of 50 collaborations across immuno-oncology, immunology, neuroscience, epigenetics, protein homeostasis and more. Agios Pharmaceuticals, Bluebird Bio, and Acceleron Pharma are a few companies that owe much of their success to an early lift from Celgene.
Nothing lasts forever, though. Bristol-Myers Squibb is putting the finishing touches on its $74 billion mega-acquisition of Celgene. Golumbeski and Daniel have moved on.
Paul Biondi, the senior vice president of business development and strategy at Bristol-Myers Squibb, is well-regarded in biotech innovation circles. He is keeping his job and influential position reporting to the CEO. That's good news in innovation-land. But nearly everyone in biopharma expects at least a few months of merger-related indigestion to distract the BMS/Celgene team into 2020. Those are sub-optimal conditions for beating out pharma competitors who also want to acquire the hottest platforms and products that biotech has to offer.
So…who in Big Pharma/Big Biotech is poised to become the "new Celgene?" Who has the money, the desire, the humility to lean on innovative little partners for help, and the senior executives with the necessary guts?
Licensing data from the past year, via Informa's Medtrack (see table below) suggests that Gilead Sciences, Genentech/Roche, Eli Lilly, AbbVie, and Biogen are companies to watch, at least in terms of number of deals done over the past 12 months. But there's more to the story, which I sought to flesh out via conversations with venture capitalists, biotech executives, and a few pharma insiders.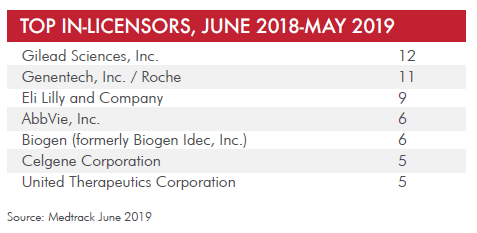 Read on for an inside look at some of the candidates for "most aggressive" in biopharma business development.
AbbVie
The North Chicago, Ill.-based drugmaker resembles Celgene in one key respect—it has a massive golden goose in adalimumab (Humira) for autoimmune diseases. Any pharma company that depends so heavily on a single asset (57 percent of first-quarter worldwide revenue) must diversify sooner or later. AbbVie took a step in that direction through its $20 billion mega-acquisition of Pharmacyclics, the creator of ibrutinib (Imbruvica), the BTK-inhibitor for cancer. That 2015 acquisition panned out with a blood cancer drug that throws off more than $1 billion per quarter in revenue.
Still, AbbViehas also taken its lumps in BD, as all do. Scars must run deep over the $5.8 billion acquisition of StemCentryx, a cancer stem cell drug developer, which has been almost completely written off.
Instead of curling up and licking its wounds, falling back into a risk-averse crouch, AbbVie has maintained its forward-leaning posture.
Consider Morphic Therapeutic. Last fall, The Waltham, Mass.-based computational drug discovery company was running an auction with a half-dozen partners interested in co-developing its integrin-based drug development program for the treatment of fibrosis. Even though AbbVie made a corporate venture capital investment in Morphic, the BD side of the house didn't seem interested in partnering initially, Morphic CEO Praveen Tipirneni told me last October (Timmerman Report article, subscription required).
AbbVie went on to win the fibrosis co-development rights from Morphic, Tipirneni said, because of its "disciplined, organized, aggressive posture that got them from way, way behind to taking the lead. They moved at lightning pace in an organized, coordinated manner." Tipirneni specifically cited the close working relationship among Henry Gosebruch (EVP and chief strategy officer), Jay Stamatis (VP, head of business development) and Michael Severino (Vice Chairman and President).
Morphic wasn't a one-off. Other notable deals from the AbbVie team over the past year include bets on Voyager Therapeutics (Parkinson's disease) and Tizona Therapeutics (oncology).
Dave Grayzel of Atlas Venture (one of the Nine VCs Who Matter that I wrote about in October) said he's encouraged. "The AbbVie team with Mike [Severino] and Henry [Gosebruch] and their venture arm is active to prime the pump. Personally, I don't think it's just volume per se but rather mindset and a culture of proactive / creative BD that started with Tom [Daniel] and George [Golumbeski] that will be hard for others to consistently replicate—though at various times there were always others who stepped up with creative deals."
Gilead Sciences
Gilead is another company sitting on a mountain of cash—$30 billion as of Mar. 31. Shareholders have been pounding the table for more partnerships or acquisitions of assets that might re-ignite the stock, especially since its once-glorious hepatitis C franchise has faded.
Gilead has stepped up, to an extent. The Kite Pharma acquisition for $12 billion was the biggie in 2017. Since then, Gilead has added complementary pieces to a long-term cancer strategy in the form of Cell Design Labs with solid tumor immunotherapy technology, Agenus for immuno-oncology, and Tango Therapeutics for synthetic lethal cancer combos. Gilead has also shown an appetite for other high-science startups like Scholar Rock for fibrosis, insitro for non-alcoholic steatohepatitis (NASH), Precision Biosciences for gene editing for hepatitis B, and Goldfinch Bio for kidney diseases.
Keep in mind that Gilead could do more in coming months. CEO Daniel O'Day officially started on Mar. 1. Like most new chieftains recruited from the outside, he has spent time learning the business and bringing in his own team. Once people settle into those jobs, it's reasonable to expect the pace to pick up.
VCs that I spoke with are eagerly awaiting the dawn of the O'Day era.
"So far, Gilead has not really competed on the BD or partnering front the way Celgene has," said Mike Powell, general partner with Sofinnova Investments. "With the new CEO (and other) leadership there, and the cash on hand, and strong scientists, they certainly have the ingredients to yield the best partnerships around—they just need to focus on that to make it happen. But it's still a guess if they will want to jump in and invest earlier, and partner with biotech the way Celgene has done."
One VC expressed confidence in Andy Dickinson, the Gilead EVP of corporate development and strategy. Dickinson is a holdover from the previous management team, but not a Gilead lifer. As a former investment banker, Dickinson surely is aware of Street perceptions that something aggressive has to happen to rekindle the flame.
Roche/Genentech
Walking around the American Society of Clinical Oncology trade show floor in Chicago last week, you could see Roche/Genentech sending a slightly unusual message.
The company was not just advertising the safety and efficacy of its products to prescribing oncologists. Of course, the company did that. But Roche/Genentech also used its prime booth real estate to communicate a different message, aimed at a different audience. It advertised itself as a "partner of choice" to other little companies prowling the McCormick Place floor.
Roche/Genentech re-organized its partnering shop a year ago, under Genentech veteran James Sabry, to consolidate global partnering efforts. The past year under the new structure has been eventful—see Spark Therapeutics in gene therapy, Adaptive Biotechnologies in personalized T-cell immunotherapy, Xencor in bispecific antibodies for cancer, and Immunocore with TCR technology. The company also has shown an appetite for autoimmune disease help (Parvus Therapeutics).
Eli Lilly
The Indianapolis-based pharma giant hasn't traditionally enjoyed a rep as one of the more aggressive dealmakers. When I think of Lilly, I think of a place where men wear ties to work most days. It's conservative in the risk-averse, don't-rock-the-boat sense of the word.
But CEO Dave Ricks, 51 and two years into the job, is showing signs that he can see a biotech future, along with some willingness to occasionally stick out his neck.
The $8 billion acquisition of Loxo Oncology in January—overshadowed by the BMS-Celgene megadeal—is the clearest sign.
Loxo begs an interesting question. What do you do when you see a company with assets that have striking efficacy against molecularly-defined tumors, but which might be hard to sell because it's hard to diagnostically identify the right patients? This isn't a drug that will automatically sell itself, as good as it is. In the case of Lilly, the answer appears to be to figure out how to practically identify patients with TRK and RET fusions who are good candidates for Loxo drugs. That will take work.
Lilly also has stuck its neck out recently with siRNA drug developer Dicerna Pharmaceuticals, AC Immune for Alzheimer's, Aduro Biotech for autoimmunity, NextCure for oncology, and Centrexion for pain.
Ricks is joined in partnering matters by his chief scientific officer since 2017—Daniel Skovronsky. The CSO got the lead quote in the Loxo acquisition press release. "The company is building their oncology pipeline," said Wende Hutton of Canaan Partners.
Biogen
What to do when you're a first-generation biotech stalwart who's fallen upon hard times? The aducanumab Phase III program for Alzheimer's—a $1 billion corporate bet—officially failed in March. That depressed the stock, and invited legions of doubters to say 'I told you so' about the amyloid-beta hypothesis. That doesn't strengthen one's hand in business development negotiations. Making matters worse, Novartis won FDA approval for a competitive gene therapy in spinal muscular atrophy, which should take away some market share from Biogen and Ionis's nusinersen (Spinraza).
What to do? Biogen's deals this year are pretty modest, and pre-date the Alzheimer's blowup. There was Nightstar Therapeutics in gene therapy, C4 Therapeutics in protein degradation, and Skyhawk Therapeutics in RNA splicing modifiers for neurology.
One biopharma CEO said he's waiting for a sizable shoe to drop. "The company that SHOULD follow Celgene's path is Biogen. They need to and if they don't, I doubt they'll stay independent. Of course, they'll need to deal with a relatively risk averse Board. But this is the 'eat or get eaten' company for sure."
Takeda Pharmaceuticals
For a while, Takeda looked like it was yearning to take over from Celgene as the most aggressive of all biopharma partners. In 2015, Andy Plump, chief medical and scientific officer, and Dan Curran, the head of business development, carefully studied the Celgene model as they upped their company's partnering game.
Takeda did a clever co-investment deal with Third Rock Ventures on Ambys Medicines; and bet big on Denali Therapeutics and Wave Life Sciences in neurodegenerative diseases. But then came the mega-acquisition of Shire, which created a lot of integration work to sort through the new people, locations, and therapeutic categories. Since January, Curran appears to have shifted from SVP of external innovation to a new role at Takeda as head of the rare disease unit.
Merck
When you own a backbone PD-1 inhibitor for cancer, pembrolizumab (Keytruda), it more than behooves you to scour the globe looking for ideal combo agents to get those cancer response rates even higher, across multiple tumor types.
Sometimes the combine-everything with PD-1 frenzy goes badly, as it did with Incyte and its IDO inhibitor.
Furthermore, Merck is big, big, big and old, old, old. It is proud, proud, proud of its internal R&D capabilities. Whenever companies get that big and have so many people who have spent careers in one place, you have to worry about good ideas dying in committee. It can feel like getting an Act of Congress passed to get big, successful, proud organizations to make risky, gutsy, decisions for the future.
Lately, though, Merck has done a couple interesting deals. Merck shelled out $1 billion in upfront cash for Peloton Therapeutics, the developer of a HIF2-alpha inhibiting small molecule for renal cell carcinoma. Merck paid $300 million for Immune Design, a company with adjuvants to boost immune responses against cancer. Dragonfly Therapeutics, an MIT spinout in cancer immunotherapy, is another interesting new relationship for Merck.
As for more subtle vital signs, Merck senior vice president and BD head Ben Thorner posted on LinkedIn about a panel at BIO he was joining with a few entrepreneurs. Who cares, you might say? That may be meaningless. Then again, it could be a tea leaf to suggest here's a guy who doesn't need to run the tiniest little thing through internal people in legal, PR, etc. just to say something innocuous about an industry conference. An occasional LinkedIn posting also telegraphs some familiarity with how the under-40 crowd connects.
Mike Powell of Sofinnova said he's noticed some good things out of Merck lately. "I like their business style, and they are small-biotech friendly," he said. "But I would hardly answer your 'who will be the next Celgene?' question with one of the leaders like Merck, as that's akin to splitting kindling with a double-headed battle axe."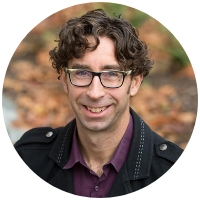 Article by: Luke Timmerman "I give biotech insiders an edge at Timmerman Report." Luke is a journalist, author, and entrepreneur. He is the founder of Timmerman Report, a biotech newsletter, and the author of "Hood: Trailblazer of the Genomics Age," a biography of Leroy Hood.