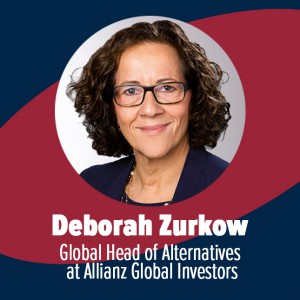 There may be many barriers before you, but you have to go full steam ahead. Deborah Zurkow, Global Head of Alternatives at Allianz Global Investors, shares her thoughts with us on how women shouldn't be hindered by pressures brought by unconscious bias and, instead, should use the skills and qualities unique to themselves with confidence in the workplace. 
"Be yourself; everyone else is already taken." Oscar Wilde's words resonate with me when I think about how women should approach career development. There isn't one single path that's right for every woman – or man, for that matter. That's not how life or careers work, in financial services or any other industry. The key is to understand what path and approach will allow you to shine. That's why I believe authenticity should act as every ambitious woman's guiding principle.
How did you get there, and what are your advice to follow women in the industry? We hear from other women in senior roles in the finance sector on their experiences and lessons learnt. Featuring Deborah Zurkow of Allianz Global Investors, Kirsten Bode of Muzinich & Co., and Gabriella Kindert, Expert in Alternative Lending. 
In my experience, too often women feel pressured into thinking they should pursue their career in a particular way. In reality, however, everyone has an array of skills and experiences, in both their personal and professional lives, that they should draw on to forge their own path. Many women will find they have challenges to overcome along the road. As an industry, financial services can do more to provide an environment that supports women to succeed – by helping them connect, network and learn from each other. We must foster solidarity in the face of some of the challenges that women face. But women can also consider how they can address these challenges proactively and rise to them. Focusing on overcoming those bumps will actually help them get where they want to go in the long-term.
Confront unconscious bias head-on
Financial services is seen as male-dominated, but sustained progress is being made in a number of important areas. One recent industry-wide focus has been on combating unconscious bias, with many firms rolling out training on this topic for their managers. This should help discourage people from always recruiting or allying themselves with people who are similar to themselves. But challenges remain, and I would encourage women in the industry to face down the challenge by not letting other people's bias and preconceptions define your actions.
For example, a number of younger women have told me they self-silence in meetings to avoid being seen as too aggressive. Why not "own" that perception and tell your colleagues upfront that you know as a leader or manager it is important to express your views, so you will make that effort? Bias in the workplace is nearly always unconscious, to the extent that colleagues often don't even realise how their actions are perceived. By openly discussing your approach with colleagues, you can head off their unconscious bias at the outset.
Too many women leave the confidence they have in other parts of their lives at the office door. We must not allow elements of self-doubt to infiltrate the way we work, and limit our ambition. Drive and determination will help you progress in your career and putting your hand up more frequently will take you the next step on that journey
Map your skills to the job
Women should also map their skills to the job, having the confidence to believe in what we can bring to the table based on our experience. Many women look at a job description and focus on the aspects they think they can't do, rather than focus on the elements they can. What's more, they have may additional skills that could lead to a different, more successful approach to the role and a better outcome. Rather than having the confidence to argue their corner, women can fall into the trap of mapping their skills to some idealised version of how a man might do the same job. By assuming that an employer wants a certain employee with specific skills, women are undermining themselves and compromising their authentic, true self.
Adapt the workplace for women and men
I'm also a firm believer that men's priorities are evolving on topics such as work-life balance, particularly as new generations join the workforce. Women aren't the only ones who want more balance from their employers – the chance to devote more time to their families for example – and seek more support and flexibility to do that. By harnessing these shared perspectives, and embedding support for both men and women, we will drive gender equality in the industry. That's the only way we will retain and attract the best talent – otherwise, we'll find the best candidates going to other sectors. Men must be allies, but as work-life balance objectives converge, increasingly women can be allies to men as well, allowing us all to bring our truly authentic selves to work.