This year innovators from across Europe will join forces in Venice, Italy at the premier innovation event, FEI: Front End of Innovation. The FEI brand has been empowering innovation executives around the world for over 12 years, fueling the creation of future value. FEI Venice is all about balancing the entrepreneurial innovator's spirit with a renewed focus on the discipline of systematic innovation.

In addition to the main conference, we are also bringing you some exciting pre-conference options that will stimulate the innovation management process, including: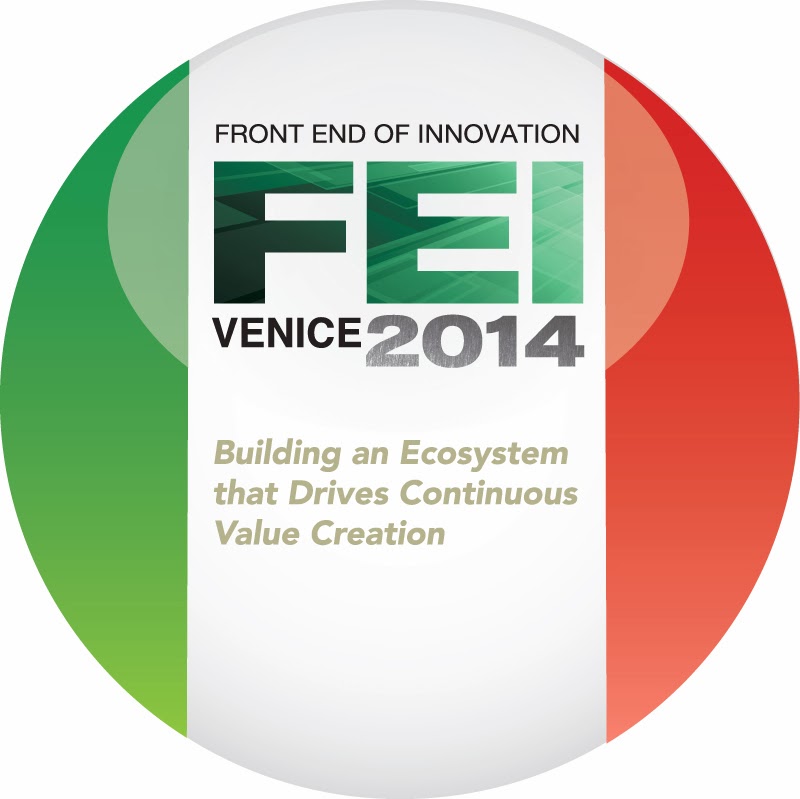 Option 1:  Summits: an in-depth exploration into the Innovation Management process.
' Using a Hotel as an Incubator for New Products and Services
Robert Koren, VP, Italy & Central Mediterranean, Starwood Hotels & Resorts
' Solving the Paradox between Tradition and Innovation
Carlo Bagnoli, Professor of Strategy Innovation, Ca' Foscari University of Venice
' Growing New Ventures in Italy 
Ruggero Frezza, President and CEO, M31
Maurizio Rossi, Co-Founder, H-FARM Ventures
' Engaging the Organization to Innovate for Customers
Francois Bertero, Business Program Manager, Dow Corning
' The Power of Cloud Technology in Innovation
Roberto Siagri, President & CEO, Eurotech
Option 2: Choose one or both of these powerful, hands-on learning workshops:
Half Day Workshop AM: Master the New Visual Innovation Tools. And, Create Your Personal Action Tool-Kit for Making Innovation Happen
Led by Christian Rangen and Elisabeth Ovstebo, Founders, Engage // Innovate & Authors, Strategy Tools for the Next Generation
Half Day Workshop PM: Experience a Foresight Innovation Approach - Identifying Future Business Opportunities from Trends and Weak Signals
Led by Cornelia Daheim, Managing Partner, Z_punkt GmbH The Foresight Company
Option 3: TrenzWalk
If you would like to take the learning outside of the conference walls, take a walk with us into a voyage of discovery into the latest, at the TrenzWalk. Trenz'Walking is a unique system that detects trends in their infancy. It allows not only to signal the new early, but also to reveal the process of change/trends.
There is much more to FEI Venice, Download the brochure to see for yourself!
FEI brings together the best of the best in innovation across Europe. Join us for FEI Venice and hear from the most well-known and respected leaders in innovation.