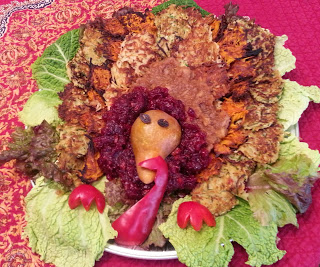 Holiday season is upon us. And that means dinners with family, cocktail parties, convivial gatherings with old friends who are in town for a short while, and the like. My favorite holiday tradition? Coming up with an easy-to-understand definition of what I do. My four siblings each have one-word professions: salesman, doctor, singer, retiree. Not me. 
This week, I was featured in the Life & Style section of the local newspaper for my 'Latke Turkey' creation, an innovative holiday cooking mashup of American Thanksgiving and the Jewish holiday of Hanukah. ('Latkes' are potato pancakes traditionally eaten on Hanukah.) The reporter wanted to know 'what I do.' 
 'Customer-centered innovation, user experience, and qualitative market research' I replied, proud that it was less than 10 words. 
'Oh, 'Market Research',' she replied.
'Yes, I do that, but I also do Innovation Consulting. Can you at least put 'Innovation' in'?
'No one knows what that means. I'm just putting in 'Market Research'.'
It hasn't been easy for me. One year I was Business Systems Analyst. Recently I was a Manager of Tech Planning. I was a Senior Manager of User Interaction Design. ('Seriously'? someone asked. 'That isn't a Dilbert cartoon'?) And then there was Innovation and Open Innovation, and'
Outside of large corporations, most people don't know what the discipline of 'innovation' really is. As rough as it was for my family to understand 'innovation,' which I define as taking an idea or an invention and creating a good or service that provides value and that people will buy, when I told them I was going to the 'Back End of Innovation' conference, they got really confused.  I explained, 'Once you have that innovation that people will value and will purchase, how do you 'make it happen'? How do go through all the steps to actually bring it to market and make money from it'?
'Did you have chestnuts in the stuffing last year? I don't remember the chestnuts.' Mom said.
 'Take my Latke Turkey. I came up with an idea and transformed it into something that provided value (the newspaper reporter leapt at the chance to write an article about it). Then, I had to execute'get the ingredients, plan the purchase, solve various problems. You see, having a great idea, or even a great business case, is not enough.' 
I was sliding into business speak. I wondered, how do we demonstrate the value of what we do if no one understands all the jargon we throw around. We say we want be customer-focused in our product and service innovation, what about being customer-focused in how we talk about what we do? I thought I was really onto something with my extended Latke Turkey analogy.
'Not too many pies,' Dad said. 'We always have too many desserts.'
'I discovered that other people used Bosc pears for Turkey faces, so I leveraged that concept in my design!' I was really excited now.  'I needed to experiment with placement'fat side up, or fat side down?  I made a design change when I switched the applesauce and cranberry sauce so that the red was nearer to the head (more authentically turkey-like). See, without the various stages of execution, I would not have gotten the platter pulled together.'
My parents looked at each other, and I could see it in their eyes. ('Why didn't' she go into teaching like she'd planned'?)  
So I am attending the Back End of Innovation this year, not only to get insights into how to execute on innovative ideas in this volatile, agile environment, but also how to share those insights in language that the broader world will understand.  For once, I don't want to be the biggest turkey at the Thanksgiving table.
Ivy Eisenberg is founder of Our IdeaWorks, an Innovation and Lean Customer Research' consultancy that helps companies connect to customers and other stakeholders to discover business opportunities, accelerate growth, and build and deliver successful products and services.  Ivy has more than 25 years of experience in the Front End of Innovation, user interaction design, and software product and project management. She has worked in healthcare, financial services, B2B, consumer goods, and telecommunications sectors.  Ivy is also an award-winning humor writer and storyteller, with an MBA in Marketing, Entrepreneurship and Innovation from NYU's Stern School of Business.