In support of BEI: The Back End of Innovation, The Institute for International Research invites you to join us for a complimentary Web Seminar.

F/A-18 to the Robots: Stewarding Technical Innovation in Complex Ecosystems
________________________________________
Webinar Description:
Join us for a unique opportunity to dialogue with ret. Vice Admiral Joseph W. Dyer, who throughout his distinguished Naval career stewarded many complex innovation efforts ' as the Navy's Chief Test Pilot, F/A-18 Program Manager, and helping align the supply chain for the business of Naval Aviation as the chief engineer and systems command commander. Upon retiring he helped grow iRobot from MIT spinout, through IPO, and into a successful publicly traded company. As Chief Strategy Officer for iRobot, Dyer has stewarded the transformation of robotics from an emerging technology to an innovation platform.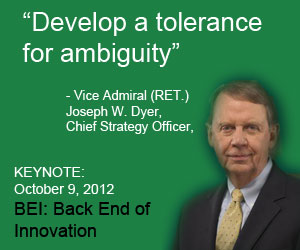 Joe Dyer leads strategy development at iRobot. He comes to iRobot from a career in the U.S. Navy. Dyer last served as the commander of the Naval Air Systems Command, where he was responsible for research, development, test and evaluation, engineering and logistics for naval aircraft, air launched weapons and sensors. His naval career also included positions as naval aviation's chief engineer, commander of the Naval Air Warfare Center, Aircraft Division and F/A-18 program manager. Earlier in his career, he served as the Navy's chief test pilot. Dyer holds a bachelor's degree in chemical engineering from North Carolina State University and a master's degree in finance from the Naval Post Graduate School in Monterey, California. He is an elected fellow in the Society of Experimental Test Pilots and the National Academy of Public Administration. Dyer chairs NASA's Aerospace Safety Advisory Panel.

Register here.
Please use priority code M2414W1Blog when registering
About BEI:
BEI: Back End of Innovation is a conference focused on the execution of innovation. It's about commercializing ideas and creating new value that drives bottom line profitability.