Understanding buying behaviors and attitudes is fundamental to marketing, especially in consumer packaged goods. But the game, and the stakes, have gone up with the increased complexity of Gen Z. Continued reliance on legacy data sources that inherently misrepresent buying behavior will move brands from misunderstanding consumers to missing the market. 
The Gen Z Behavioral Difference
The trends emerging among Gen Z consumers hold substantial implications for retailers and manufacturers. Gen Z is the first "majority minority" generation, with 55% of people in this age group being non-white, compared with 47% of Millennials. Numerator data shows they are 75% more likely than Millennials to be bilingual. It's not surprising they prefer flavors and eclectic offerings that mirror their taste and travel preferences. Diversity defines the generation.
The shift toward city living among young people is also pivotal for CPG businesses. The first wave of Gen Z urbanites are starting to find their city apartments. In addition to smaller spaces with less storage, Gen Z has different views on ownership. They're more comfortable having access to what they need rather than owning it, and favor smaller stores and smaller items that fit more easily into their lives.
Gen Z also tends to shop "in the moment," making their purchase patterns less predictable. For this reason, companies must rethink and reinvent distribution and marketing strategies to make their products more accessible— this generation is less likely to "wait" until they can find a specific brand or product and will, instead, buy whatever is available in the moment.
Unlike Millennials and Boomers, Gen Z uses social media for discovery rather than connection. Numerator data indicates Gen Z is 24% less likely than Millennials to be influenced by ads they see on their computers because their attention and trust are on social smartphone apps. That's not only where they make friends and find entertainment, it's also how they find new products.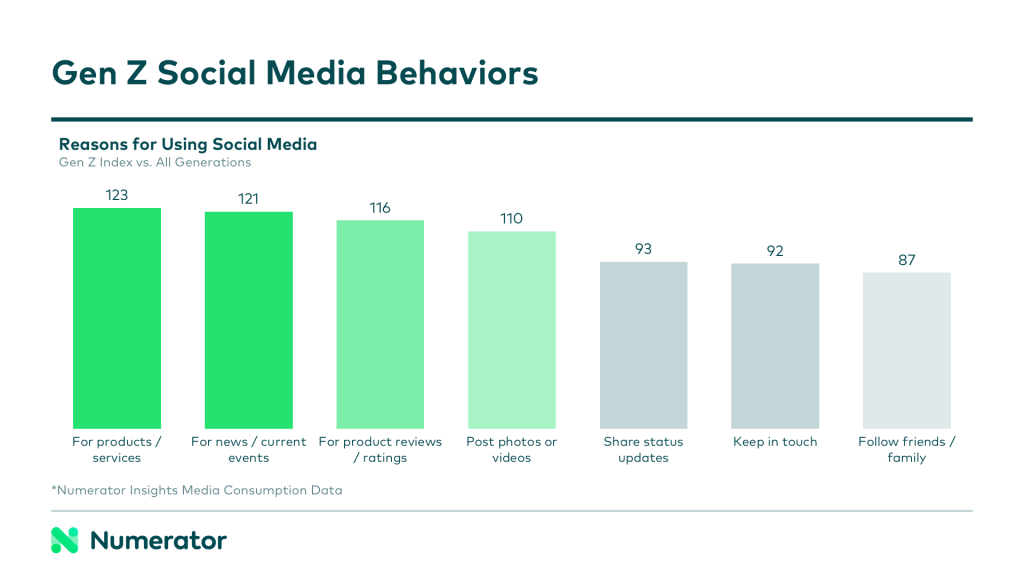 To win in the current and future marketplace, brands can move beyond understanding retail sales to understanding consumer behavior and attitudes.
Gen Z Attitudes Further Diverge
With the most complex, fragmented ethnicity ever, Gen Z has a diversity of attitudes to match.
Numerator Psychographics Data reveals them at both ends of the technology adoption spectrum. 21% identify as innovators (58% higher than the average shopper) – natives in the digital world who are comfortable with early experimentation. But they also over index as technology laggards at 16% (26% higher than all shoppers) who are skeptical of new tech and only use it when they have to. Overexposed since birth, Gen Z is bringing back a tech skepticism typically associated with older generation.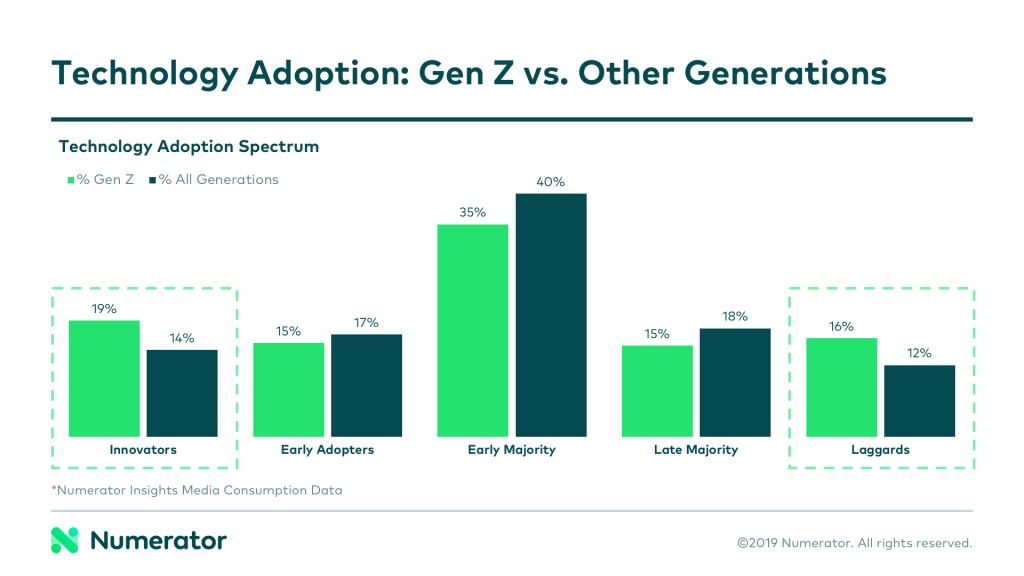 Having grown up with the world literally at their fingertips thanks to the internet, they're also slower to affiliate. For example, Numerator data shows over 40% of Gen Z'ers identified themselves as "non fans" when asked if they were sports fan– the highest of any generation so far.
How CPG's Can Reach This Generation
Understanding where, when, and how Gen Z shops is important, but you must also go further to understand they why beyond the buy. For example, Numerator data shows that 27% of Gen Z shoppers prioritize buying organic foods, which is comparable to the number of Millennials who hold this value. However, Generation Z is more concerned with taste and experience than nutrition. In fact, they're 43% less likely than Millennials to bother with healthy eating.
Your brand's value proposition will depend on which segments of this demographic you target and why, but social platforms will be pivotal mediums regardless of the message. A strong social media presence could especially transform food businesses, because it's where Gen Z sources recommendations. A modern, well-curated social media experience will resonate with Gen Z'ers, while an out-of-date or stilted one is likely to turn them away.
Social is where you'll gain Gen Z's eyes and trust, but you won't know how to do it unless you're tracking customers behaviors there. To create strong brand relationships with this new generation, examine metrics that matter. It's time to start analyzing new data— the kind that puts you in front of the next generation, not behind it.
About the Author: Kelly Dotson is the chief marketing officer for Numerator, a firm that combines sales data, omnichannel marketing, and merchandising to make it easier for brands to pursue new opportunities. In her time with Numerator, Kelly established a data-driven commercial approach and created a cost-based program analysis to improve overall client success and relations. Prior to her career with Numerator, Kelly served in leadership roles for established brands like The Pampered Chef and Viad.