In advance of this year's BEI: Back End of Innovation
conference, we wanted to start a larger dialog about the execution of
innovation programs. In that spirit, I recorded a new episode of our Forward Focus Podcast series with conference chair Julie
Anixter, Chief Innovation Officer, MAGA DESIGN GROUP and Executive
Editor, INNOVATION EXCELLENCE.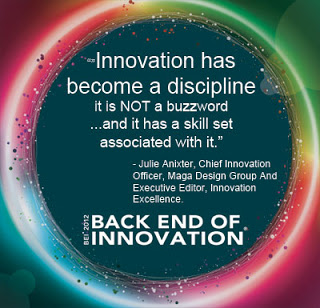 In this episode we discuss Julie's background in design and how that morphed into a career in innovation, new trends in the innovation field and her recent blog post "Seven Reasons Conferences Matter."
One great takeaway of the conversation for me was Anixter's advice for those just starting out with creating an innovation project or program. She suggests "Don't be intimidated by the word," reminding us that everyone has to start as a beginner at some point. Listen to the podcast here for more.
Looking to hear more? Join Julie Anixter and other innovation leaders at the BEI: Back End of Innovation
conference in Boston this October. Learn more by visiting our website.
Michelle LeBlanc is a Social Media Strategist at IIR USA with a
specialization in marketing and a background in publishing and advertising. As part of the FEI team at, she tweets at @BEI_innovation and is the voice behind BEI:Back End of Innovation on Facebook and LinkedIn.