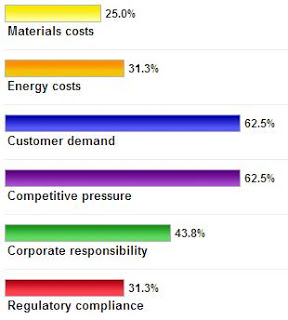 Earlier this month, we invited you to participate in the green innovation poll taking place at Innovating to Win. As promised, we're bringing you the results. The results of the poll show that two green drivers stood out: customer demand and competitive pressure.
Customers are demanding that companies have social responsibility as a business practice. As result of the poll, it looks as if many companies are choosing to turn to green practices within their company, pressuring competitors to do the same.
As the article states, it's been debated if companies can go green and maintain their competitive power. As we continue to see the demands change both within the customer base and the environment, it's a valuable asset to go green.