Surplus sugar production, low prices and much needed policy changes are spurring sugar mills in India to turn to ethanol to pump up profits. This analysis from F.O. Licht explores the recent successes for ethanol in one of the world's fastest growing markets.
After a stretch of very poor harvests the sugar industry in India may reap another bumper crop in 2018/19, after producing already more than 31 mln tonnes in 2017/18.
The ample supplies on the domestic market have pushed down sugar prices and this has started to show in the financial reports of the sector.
After a return to profit in 2016/17 the sugar divisions of many leading companies have moved back into the red again in 2017/18 and 2018/19. This development is unlikely to change in 2019/20.
The main reason is the expectation that the country will again produce more sugar than it needs for internal consumption in 2019/20. This constellation has already prompted one of the worst crises in the sector's history.
India's mills have run up a record INR303 bln (USD4.38 bln) in arrears to 50 mln cane farmers during the season, who have gone unpaid for their produce for more than a year. Of the total, mills in Uttar Pradesh, India's top cane-producing state, owe INR108 bln (USD1.56 bln), industry and government sources said, citing their calculations based on cane prices and the volumes bought by sugar mills.
It is not only the low sugar price which is affecting the mills' ability to pay but also the huge inventories worth INR800 bln.
The government took a clutch of measures, including incentives for exports and creation of buffer stocks to help trim inventories and prop up prices so that mills can pay farmers, according to the federal Food Ministry. However, the measures have yielded few results so far, giving little relief to either farmers or mills.
Another record crop
The Indian government is well versed in the world of state interventions in the sugar market but the current and the prospective situation is still posing a special challenge. After all, the sector is in one of its deepest crises ever as good weather conditions lifted sugar production in the two key growing regions of Maharashtra and Uttar Pradesh either to new record or near previous records.
At the start of the season the Indian Sugar Mills Association (ISMA) expected a crop of around 31.5 mln tonnes, white value, down one million tonnes on the year. This was then lowered to 30.7 mln tonnes in January.
However, the impact of the favourable weather in Maharashtra and UP started to leave its mark on the production numbers. Right from the beginning output was ahead of the 2017/18 record season and by mid-March production was up by 1.5 mln tonnes.
As the actual output numbers increasingly called ISMA's estimate into question the trade body stopped publishing crop reports for a longer period of time.
However, the local industries in Uttar Pradesh and Maharashtra continued to supply figures. In the former in particular production may come in near the previous records.
When ISMA finally published the crop numbers for the period up to the end of April, there was no denying that 2018/19 will be another record year and the trade body lifted the total for the year to 33 mln tonnes, 0.5 mln more than last year and 2.3 mln above the January forecast.
This would confirm our assessment of 12 months ago when we said that the good monsoon and the stable cane growing area would suggest a near record production result.
In view of the expected glut it is hardly surprising that the Indian Sugar Mills Association continues to lobby for government assistance. However, New Delhi is running out of options. There is hardly a stone that has been left unturned over the last 12 months in search for way out of the current mess.
And the measures that have been devised by the government are increasingly being ignored by the industry. There are frequent reports that sugar mills:
sell sugar beyond their sales quota,
sell sugar below the minimum price,
export less than their quota.
This suggests that there is little that the government can do to help the industry in the short term.
In the meantime the sugar industry's protracted period of suffering has begun as the latest financial reports reveal.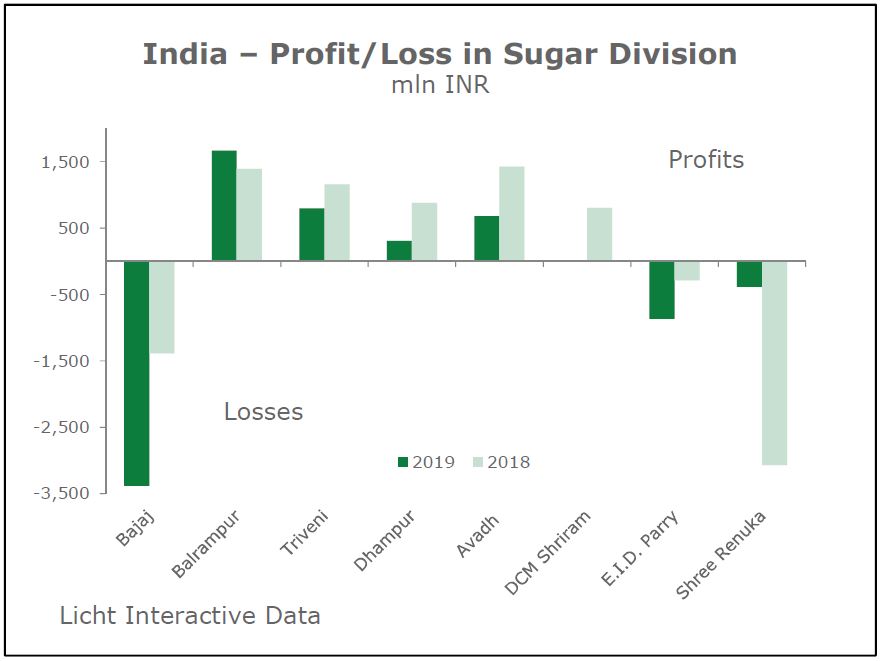 Sugar bears vs. ethanol bulls
The 2016/17 deficit on the Indian sugar market proved to be a short-lived blessing for the country's crisis ridden industry as the supply glut in 2017/18 already started to pressure sugar profits. The first numbers for 2018/19 suggest that hardly any company has escaped unscathed.
However, there are big differences between the various milling groups as far as the sugar results are concerned. With regards to ethanol, almost all were able to post record results.
Bajaj Hindusthan Ltd., by far the biggest producer, slid into the red in its sugar division. In 2018/19 (Apr/Mar), Bajaj posted a loss of INR3.4 bln in the division against a loss of INR1.4 bln in the same period in 2017/18.
In contrast, its ethanol division posted a record profit of INR2.6 bln against INR1.4 bln last season Bajaj Hindusthan operates 14 sugar mills in the state of Uttar Pradesh where the cane arrears are the highest.
Its units have a combined cane crushing capacity of 136,000 tonnes per day and alcohol distillation capacity of 800,000 litres per day.
The country's No. 2, Balrampur Chini Mills Ltd., posted a profit of INR1.7 bln in the sugar business in 2018/19 against INR1.4 bln in the same period a year ago. A record cane crush, higher recovery rates and the full utilisation of its capacity contributed to the result.
The company operates 10 mills with a combined daily crushing capacity of 76,500 tonnes and alcohol production capacity of 360,000 litres per day. This will rise to over 500,000 litres as the company will commission a new fuel ethanol distillery by the end of 2019.
In 2018/19, it enjoyed record production in all of its divisions (sugar, ethanol, power) as the volume of processed sugarcane rose to 11.0 mln tonnes in the 2018/19 season (Oct/Sep) from 9.3 mln the year before.
Sugar production reached 1.278 mln tonnes against 1.005 mln the prior year as the recovery rate rose to 11.99% against 11.06% in 2017/18. As the average sugar price fell to INR30.96 per kg revenue in the division fell to INR38.2 bln from INR41.6 bln. However, the better capacity utilisation rates prompted profits to rise to INR1.6 bln from INR0.8 bln.
In the fiscal the company exported 167,000 tonnes of sugar under the government's export quota system.
Ethanol production rose to 107 mln litres form 81 mln the year before. In contrast to sugar, prices in this market rose to INR43.16 per litre from INR39.81. Consequently, revenue rose to INR4.7 bln from INR3.3 bln while profits ballooned to INR3.2 bln from INR1.1 bln.
The third largest sugar producer in the country is Dhampur Sugar Mills. In 2018/19 its mills put out 799,000 tonnes of sugar while its distilleries manufactured 84 mln litres. Traditionally it is one of the most profitable sugar producers and indeed its sugar division managed to stay in the black this season. Nevertheless its sugar profits tanked to INR0.3 bln from INR0.9 bln in 2017/18.
In its ethanol vertical Dhampur posted a profit of INR1.9 bln against INR0.6 bln the year before.
The No.4 in the country, Triveni Engineering, posted a sugar profit of INR0.8 bln in 2018/19. This compares with earnings of INR1.2 bln in the same period a year ago. At the same time its ethanol profit rose to INR1.3 bln from INR0.3 bln.
Sugar production in 2018/19 fell to 724,000 tonnes from 770,000 tonnes, -3,500 while ethanol output almost doubled to 48 mln litres from 27 mln. The company operates 7 mills with a combined daily crushing capacity of 61,000 tonnes and alcohol production capacity of 310,000 litres per day.
DCM Shriram is now the country's No.5 sugar producer with total output of close to 700,000 tonnes in 2018/19. While its sugar division posted a loss of INR5 mln against a profit of INR800 in 2017/18, its new distillery reported a profit of INR1.5 bln in its first year of full operation.
The company started to operate in the sector only in 1997. Today, it has an installed capacity of 33,000 TCD, crushing around 4 mln tonnes of cane at four manufacturing units. In 2018 it inaugurated its first 150 KLD distillery at Hariawan. A second is to follow this year at Ajbapur.
There is a chance that some of the milling groups may avoid bigger losses in their sugar division next year as well. If achieved, this would be a major feat as sugar prices remain modest at best while cane costs are on the rise.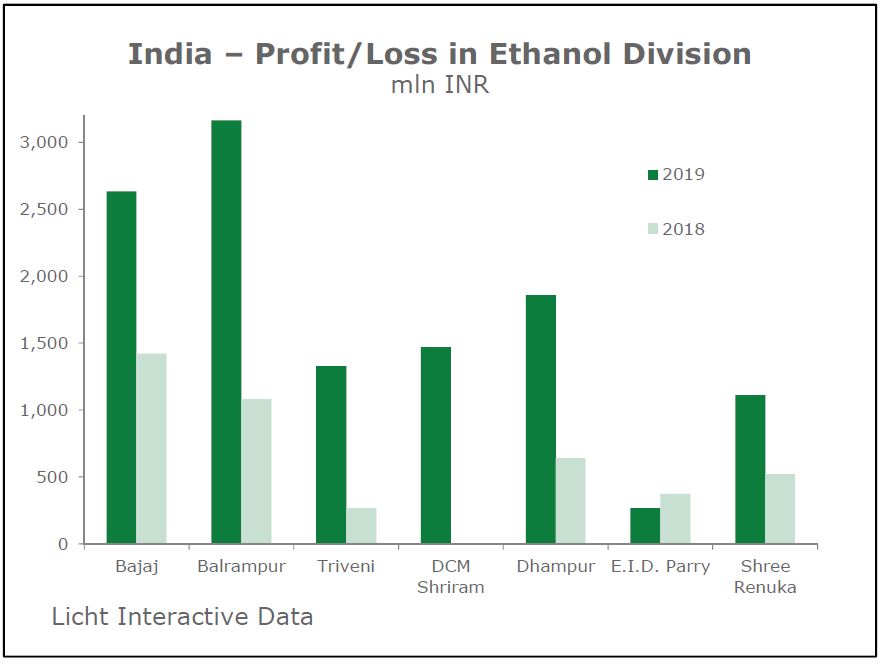 Sugar export strategy runs into resistance at WTO
Indian sugar mills have contracted to export 3 mln tonnes of sugar since the current marketing season began on October 1, Praful Vithalani, president of the All India Sugar Trade Association, told Reuters.
Of that 2.853 mln tonnes have been dispatched from mills and 2.129 mln tonnes had been shipped out by May 13. Of the exported quantity, 976,000 tonnes were raw sugar and the remainder whites with the top four destinations being Bangladesh, Iran, Sri Lanka and Somalia, Vithalani said.
Prime Minister Narendra Modi's cabinet late last year approved incentives to encourage money-losing mills to export at least 5 mln tonnes of sugar in the 2018/19 (Oct/Sep) season to help prop up local prices by trimming bulging stocks.
However that target is likely to be missed by a large margin. While another 724,900 tonnes are in the export pipeline, total shipments before the end of the season in September will reach no more than 3.2 mln tonnes, according to AISTA for logistical and economic reasons. This compares with about 500,000 tonnes of domestic sugar shipped in the entire 2017/18 season.
One major reason is the low price of sugar on the world market which could not be compensated for by the export subsidies granted by the government. Another reason is that Indian sugar mills focus primarily on white sugar. However, the global markets require raw sugar which Indian sugar mills produce only in the crushing season, i.e. between October and April.
Indeed, Indian exports are considered one of the major reasons why the white sugar premium is likely to remain at rather depressed levels for the time being.
In 2018 the country had approved incentives to encourage cash-strapped mills to export at least 5 mln tonnes of sugar in the 2018/19 season under the so-called Minimum Indicative Export Quota (MIEQ).
Among other measures the government is compensating the expenses towards internal transport, freight, handling and other charges. It is paying a transport subsidy of INR1,000 (USD13.77) per tonne for the mills located within 100 km from ports, INR2,500 (USD34.42) per tonne for mills located beyond 100 km from the port in coastal states and INR3,000 (USD41.30) per tonne for mills located in other than coastal states. The total expenditure on this is estimated at INR13.75 bln (USD189.3 mln).
This strategy has provoked the anger of other sugar exporters and in December 2018 Brazil's trade chamber Camex approved an authorisation for the country to open consultations with the WTO Dispute Settlement Body to challenge the Indian policy.
According to Camex, there is the suspicion is that Indian domestic support (to farmers) and its subsidies to sugar exports caused significant impacts in the sugar market in a context of falling prices and decreasing production in Brazil, China and Thailand.
By March 2019, Australia and Guatemala had joined Brazil in its WTO action against India.
So far, India has not given any signs that it would review its subsidies policy. The country argues that it is a developing country and has the right to continue to subsidise sugar exports until 2023. The country also says that it is allowed to subsidise up to 10% of the value of its sugarcane production.
But Brazil says that India is granting much more subsidies than the limit of 10% agreed internationally, and that the Indian policy is generating USD1.3 bln in losses to Brazilian sugar producers annually.
Australia estimates that many global exporters are dealing with operational losses due to India's policy. An Australian study shows that India's subsidies to its sugar sector reached 99.8% of the production value in 2015/16, and 94.5% in 2016/17. The study argues that India's sugar production is USD291 per tonne more costly than production in Australia, and that India's subsidies of USD150 per tonne are enough to cause an impact in global markets.
Will higher minimum prices for sugar help?
In June 2018, the Union food ministry fixed the ex-factory sugar sale price at INR29 a kg to help domestic sugar mills amid falling retail sugar price.
However, as this measure did not prove to be effective there were soon calls to raise the minimum sales price with some in the industry demanding INR35 a kg to improve margins and allow for speedier settlement of arrears.
In February, the government gave in to the demands and raised the MSP by INR2 to INR31.
Of course, such a policy has downsides as well. In some ways it contradicts India's goal to export 5 mln tonnes. If prices on the local market are more attractive and if mills can reckon with further increases they will refrain from exporting. In addition, it hurts consumption and is in contradiction to the objective to get rid of surplus stocks.
On top, the measure proved to be ineffective as cane arrears continued to rise. Therefore calls for another round of increases have not subsided. In April, the association of Sugar Technologists demanded a INR5 increase to INR36 per kg.
Fuel ethanol – a success story
After more than 10 years of experimenting with its fuel ethanol policy the Union government has finally become serious last year as it discovered that this tool could be used to get rid of the country's sugar surplus.
After approving the use of sugarcane juice and B-molasses as fermentation substrates in June 2018 it also approved INR44.4 bln in subsidised loans from banks for five years to expand distilling capacity.
Traditionally, the industry makes alcohol from C-molasses, a by-product of sugar production. From the start of the 2018/19 blending season (Dec/Nov) it will also be produced from B-molasses or sugarcane juice. In order to compensate the industry for the lower sugar output the prices for these grades were fixed at a much higher level than those for C-molasses ethanol. While that for C-molasses was fixed at IN43.7 per litre that for B-molasses stands at INR52.4 and that for sugarcane juice at INR59.1.
The program can be rated a big success. The fuel ethanol blending share averaged more than 8.0% vol. in ten states in the first four months of the current Dec/Nov obligation period, while in Maharashtra, Uttar Pradesh and Uttarakhand, the ratio was even above 9.0%.
The Indian Sugar Mills Association (ISMA) said supply contracts for a total of 2.370 bln litres of fuel grades were signed for 2018/19, translating into an average 7.2% blend. Out of this, 450 mln litres were to be made from B-molasses and sugarcane juice plus 165 mln from damaged food grains. The remainder will come from C-molasses.
A nationwide E-10 blend would require roughly 3.3 bln litres.
Meanhwhile, the annual fuel ethanol production capacity is expected to grow from the current 3.550 bln litres to 6.0-7.0 bln in the next three years. This will then allow achieving a blending share of over 15%, ISMA added.
In 2018, Delhi agreed for a nationwide E-10 blending share by 2022, rising to 20% by 2030.
For the sugar industry the fuel ethanol program is a key factor in its survival strategy.

Record sugar run to end, but most problems will remain
While 2018/19 season may have been bad, there is little reason to be confident that 2019/20 will be much better despite the lower production forecast.
Most measures that have been taken so far have proved to be ineffective to deal with the maelstrom of overproduction and ballooning surpluses. The only exception is the production of fuel ethanol which in many instances generated record profits. Often these were enough to compensate for the losses in the sugar business.
The last 12 months have shown that the government is in a classic Catch 22 situation. If it shells out even more generous subsidies to the sector the row with other exporters at the WTO will intensify. On top, the price of sugar on the world market will fall even further, neutralising any subsidy.
If it does nothing, many mills will go bankrupt, which in most instances will bring hardship to their surrounding rural communities.
For the world sugar market, this situation is hardly satisfactory. Sugar mills in India will probably export mostly low quality whites over the next couple of months as output of the raw variety slows down. That may keep the whites premium under pressure and will continue to hurt stand-alone refiners.
And the country will need to sell even more sugar in 2019/20. Therefore a sustainable price recovery to values above 14¢ seems unlikely for the time being.
Discover new market opportunities for sugar, ethanol and biofuels production and trade across four continents. Find out more about F.O. Licht's Sugar & Ethanol Series.