American biotech is a tough act to follow. Moments before the opening panel discussion about bio-pharma successes in Europe at BIO-Europe® 2018 in Copenhagen, the standing-room-only audience heard an update from the United States.
Therein 2018 acquisitions hit a record level of USD 32 billion, out licensing deals reached an all-time high of USD 68 billion, and until October, publicly traded biotechs outperformed large pharma with gains of 22 percent. See the full BIO Report from BIO-Europe 2018.  
Yet how successful would American biotech be today without innovative European science?
"Just to remind everybody, the DNA helix, the antibody and a fair share of the CRISPR technology has come out of Europe," said the co-moderator for the panel discussion, Mette Kirstine Agger, Managing Partner with Lundbeckfonden Ventures. Science in Europe is perhaps the region's strongest point, she said.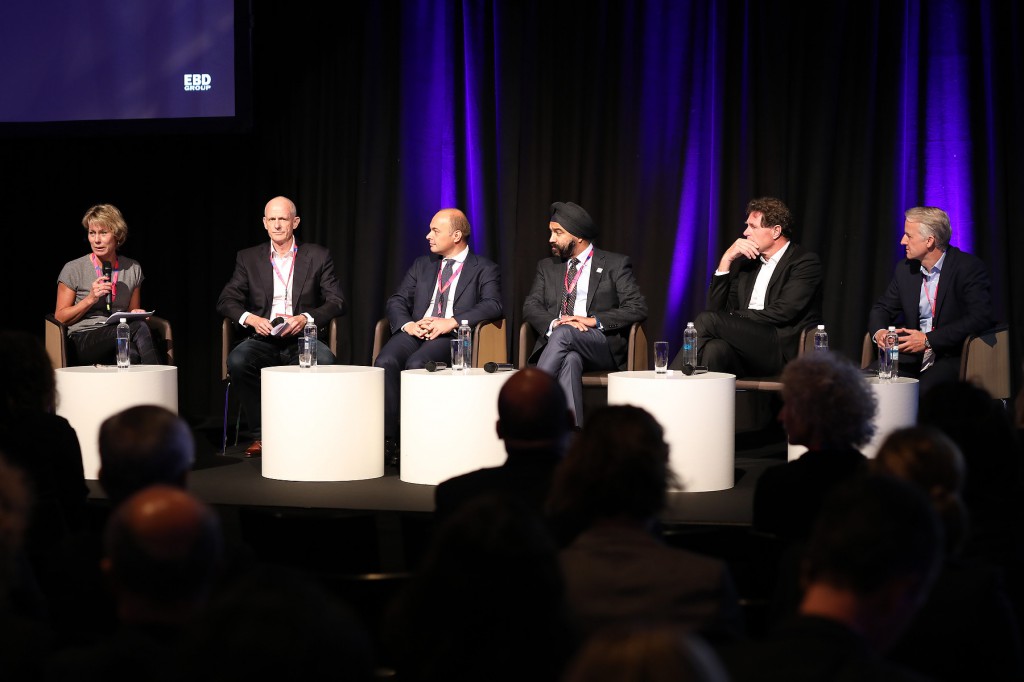 These breakthrough achievements spoke to the theme for the discussion, "Europe: The Global Innovation Trailblazer," even if the discussion among the panelists stayed focused on the difficulties faced by biotechs in a cash-strapped Europe.
Agger's brave summary of the financing for European biotechs paled against the year-end report for American biotechs.
"In financing here in Europe," she said, "it looks like we will be close to EUR 8 billion by the end of this year. We are also seeing a good number of European biotechs crossing the EUR 1 billion valuation mark, showing that we are seeing a maturing industry in Europe."
Co-moderator for the plenary discussion, Thomas Dyrberg, the Managing Partner at Novo Ventures, said, "We have seen significant changes on the European scene, and from a venture capital perspective, probably the most important has been the willingness and the ability of funding rounds of a significant size in order to allow entrepreneurs to concentrate on the task of developing their projects rather than spending all their time raising money."
The new Head for Johnson & Johnson Innovation EMEA, Sir Harpal Kumar, agreed that there is now more capital available for European biotechs, yet questioned whether the model has changed. "Capital it is still distributed in smaller amounts for shorter periods of time. Why is that still the case? The proof for how successful companies are created is found in the US. I would put the question to the people with the money, asking why we are not seeing a different model being adopted here."
At the same time, he said, "there is enough going on in Europe to be optimistic. A third of our 400-plus collaborations come from Europe, first-in-class and best-in-class programs."
Werner Lanthaler, the CEO at Evotec, also sounded an optimistic note in rallying the home team, asking that everyone take up the mission to say good things about Europe. He led off with two key points.
"One of the great things is the access to talent, and the retention of that talent," he said. "This is a clearly differentiating factor. Going forward, this will become an even greater factor, because no one wants to see turnover rates of over 30 percent and more.
"Also, the European Union has awoken to biotech and putting many instruments in place, such as Horizon 2020, and we as companies need to leverage these."
The mood did not last. Even Lanthaler's third point was about new barriers from the EU for publicly traded companies, leaving him by his own admission two-for-three in promoting Europe.
Marcus Schindler, Senior VP for Global Drug Discovery at Novo Nordisk, then questioned the virtues of Europe's retention of talent.
"European scientists and management teams are very realistic and data-driven, which is nice, but they can also sometimes lack vision, assessing things for what they are rather than what they could be. The flipside of the stable workforce is that there is limited input and not a drive toward diversity. This is in contrast with teams in the US where, in greater Boston, people tend to keep their parking lot but change companies."
Onno van de Stolpe, CEO at Galapagos, suggested that his company shows it is possible to build a world-leading biotech in Europe. "But it is difficult, it takes longer, and it all boils down to the access to capital, which is so limited here. We went public and raised EUR 22 million, which is not enough to build the business. Every step takes longer here, the approvals are slow, which means you lose two years of patent life. A company needs to partner earlier, which may not be the best thing for a program. I think that if Galapagos had been based in the US we would be much further along than we are today."
Did you enjoy BIO-Europe 2018? Join us for BIO-Europe Spring in Vienna to ignite powerful partnerships with life science leaders.