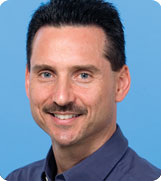 Mike Santori
NI Business and Technology Fellow
For more than 20 years, National Instruments Business and Technology Fellow, Mike Santori, has played a vital role in defining and developing the company's revolutionary software products. Working in both marketing and engineering, Santori has held many leadership positions within the company, giving him the power to directly impact the success of NI products. In 2000, Santori's leadership and contribution to the continued growth and success of NI earned him the title of NI Business and Technology Fellow.
Santori was directly responsible for defining and developing the test executive software that eventually led to the creation of NI TestStand, a ready-to-run test management environment for organizing, controlling, and executing automated validation and manufacturing test systems. As the director of industrial automation products, Santori oversaw NI activities and products related to industrial applications such as BridgeVIEW, Lookout, Fieldbus, and CAN.
With extensive experience and knowledge of the test and measurement and industrial automation industries, Santori has published work in several leading industry magazines including Evaluation Engineering, IEEE Spectrum, Personal Engineering and Instrumentation, Chemical Engineering, InTech, and Plant Engineering. Additionally, Santori is known within NI and the industry as an excellent communicator and has a regular presence on the stage at NIWeek, where he gives NI customers insights into the future direction and applications of the company's graphical system design products.
Santori is a strong motivator and engaged participant in all NI software initiatives, ranging from product development to software marketing strategies. Seen as a mentor and consultant to his coworkers, he works closely with R&D and marketing to define new product capabilities and technologies. He received his bachelor's degree in electrical engineering from Texas A&M University in College Station, Texas.
For more information about FEI 2009, please visit the event's website.