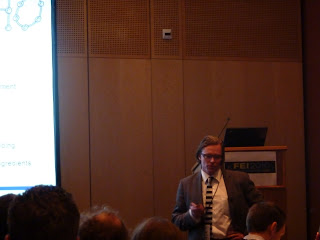 Presenter: Sigmald Harryson, Department of Innnovation and Organizational Economics, Copenhagen Business School
What do we know of Porsche? They launched the first hybrid car, about 10 years before Toyota and also introduced the first ever ceramic racing brake. The basis behind this is open innovation.
When launching the brakes, Porsche had to collaborate and generate strategic partnerships in order to accomplish this. Porsche could never collaborate with universities exclusively.
Porsche had only 2,000 engineers, but they brought over 600 students to work with the engineers. The selection of students is orchestrated by one person at Porsche. Companies nowadays are using master students to delegate tasks such as reprogramming transmissions as Porsche does.
How could this be accomplished through students?
This was done by people who had no previous experience in the industry. A team of fresh students can really bring in creative solutions because they are not blinded by experience.