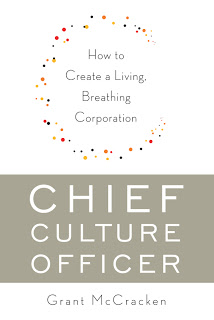 In a starred review from Publisher's Weekly, Grant McCracken's book Chief Culture Officer is described as "enlightening and entertaining reading." The book "argues that every company needs a chief cultural officer to anticipate cultural trends rather than passively waiting and reacting. CCOs should have the ability to process massive amounts of data and spot crucial developments among an array of possibilities; they will be able to see the future coming, no matter which industry they serve, and create value for shareholders, move product, create profit and increase the bottom line."
It is this sentiment that makes McCracken, a research affiliate at Convergence Culture Consortium at MIT, a perfect featured speaker for the Future Trends 2011 conference. Chief Culture Officer was named one of the best Innovation books of the year by BusinessWeek one of the best Big Idea books of the year by CEO Read, and recommended by Harvard Business Review.
For this week's "Forward Focus," take a look at the clip below from The Agenda with Steve Paikin where Grant McCracken discusses why companies should employ a Chief Culture Officer to remain cutting edge.
McCracken will be presenting "Fast Moving Culture Trends Vs. Slow Moving Trends" on Wednesday October 5th, 2011 at Future Trends. To learn more, download the brochure. Readers of our blog save 15% off the standard registration rate with code FEI2011blog. Register here.
Stay in touch with Future Trends, join our LinkedIn Community, follow us on Twitter or become a fan on Facebook for updates on the conference, discounts and industry news.