The Uncover, Track, Translate track at Future Trends 2011 offered interesting glimpses inside the working parts of several organizations. After the morning of inspiring keynotes by Josh Rubin, Scott Trowbridge and Cassandra Lin, it was great to get down to the gritty details of "OK, so how do we do it?"
We started off the track with Thomas Brailsford of Hallmark Cards. Thomas set our minds puzzling over the image below.
What direction is the bus traveling?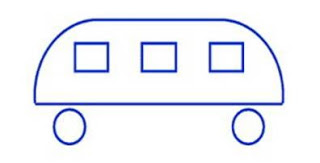 Do you know the answer? Preschool children shown this picture all know the answer is "left." (Because you can't see the door.) As revealed by this exercise, sometimes the answer is a lot simpler then expected. At Hallmark, this could be applied to simply realizing that there were many segments of the company working on foresight and bringing those key stakeholders together into a trend council.
My favorite takeaways from this session were the following quotes "If you're going to change the way people think, first you have to change the language." and "Focus on making change one degree at a time. Small changes now will impact where you end up X years down the line."
Next up was Jim Meier of Pepsico. Jim walked us through a four-step foresight strategy: Discovery, Extrapolation, Integration, Planning. Pepsico thinks about the future by scanning for "weak signals" - those things on the edges of devlopment - extrapolating what those signals could come to mean, exploring how they will integrate with each other and the world, and finally planning for the end result. He walked us through a number of futuristic developments (Flavor changing bubble gum anyone?) as examples in the process. In the end, Jim recommends "backcasting." That is, finding a desired end result and then going back to see what steps could get one there. Key takeaway: "We can't really create the future, but we can position ourselves differently in it."
After lunch we rejoined the track for Nina Beckhardt's talk on innovating brand language. As Nina mentioned, naming is often left til last or given over to gut reactions, but having a strong branding language strategy can be an incredible advantage for a brand. Look at Starbucks, Ben and Jerry's or IKEA. Everyone in the room could identify where the terms "Tall, Venti, Grande" came from.
Lastly we wrapped the track with a presentation from GM's global trends network. Josh Rubin mentioned this morning that automotive companies are often a good place to look for what's "cool," but in a world increasingly challenged by congested cities and fuel shortages, how can an auto company stay innovative. For GM, the answer is walking in their customer's shoes (or driving in their cars?) - getting out to the congested street's of Mumbai for example. Then, a concentrated group within the organization that meets monthly can spread findings out to an executive team, and ultimately to a larger email distribution list. As a result, maybe this is the future of your commute: