Since the launch of RiskMinds 28 years ago, how has the growing importance of climate risks and ESGs shaped the agenda for risk managers?
Climate risks and environmental threats have been slowly but surely creeping to the top of the risk management agenda for the past several years and look to continue to be a prime concern. The recent Risk Minds Edge event, the first of its kind, focused on Climate Change and ESG initiatives and the positive response from the community has been overwhelming, leaving no doubt that the question of how to build a more sustainable future will remain at the front of risk managers minds going forward.
To mark International Earth Day 2022, celebrated on April 21, we asked the RiskMinds community to tell us about the climate and environmental risks which are shaping the industry now, and for the future.
What are the most critical risks associated with having poor ESG practices?
When preparing your business for the future and ensuring a more sustainable approach, implementing a strong environmental, social and governance (ESG) practice is considered a must. This doesn't just concern environmental issues, but questions of how to manage diversity and inclusion in your company.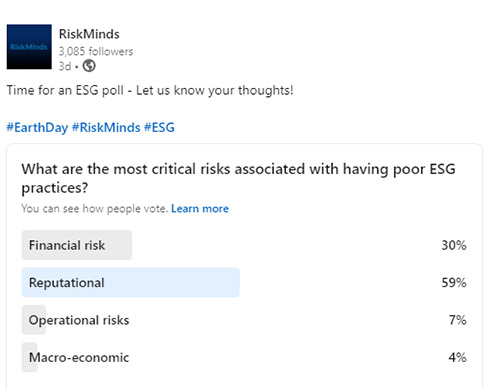 However, working within an ESG framework can be complex, and requires both long-term strategies and efficient, pragmatic short-term solutions. Implementing strong ESG guidelines can reflect positively on your business, however, lack of attention to ESG practices will invariably be followed by various critical risks.
Two risks stood out in our survey as being the most critical risks associated with having a poor ESG practice. Over half of the respondents (59  %) saw reputational risks as a top concern, whilst 30 % thought associated financial risks are the most severe risks to be aware of.
Companies that don't demonstrate an active stance in implementing greener initiatives, ethical business practices, inclusivity and diversity in their workforce might see damage in their brand's reputation.
When thinking about the potentially political nature of aligning with specific ESG initiatives, this is hardly surprising. Companies that don't demonstrate an active stance in implementing greener initiatives, ethical business practices, inclusivity and diversity in their workforce might see damage in their brand's reputation. In other words: Implementing a successful ESG strategy should be on the forefront of all risk manager's agendas.

Are risk managers taking climate risk seriously enough?
Although it's hard to miss the increased focus on climate risks in the world of finance, the challenge of implementing strong ESG practices and the resulting change management begs the question: Are we taking the looming environmental risks seriously enough?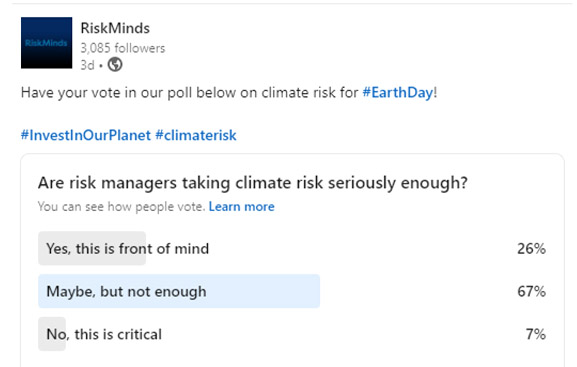 When asking our RiskMinds community, an overwhelming majority (67 %) replied that risk managers are taking the climate risk seriously, but not as much as they should be. Only 26 % believe it to be front of mind, showing that there is still a way to go.
However, introducing green initiatives to your company and setting yourself up for a changing future is no trivial task. Preparing for the effect of climate change and modelling climate risks has become an increasingly important business tool to assess, adapt to and mitigate climate change – and it is a vital means to build a resilient business and protect your people, resources, and investments. Climate risks are usually grouped in two categories; the physical risks, referring to risks that arise from increasing frequency and severity of climate change such as floods, droughts and extreme weather, whilst transition risks refer to the risks i.e financial losses a company might experience when adjusting to a low-carbon economy. As such, measuring these risks properly is vital to ensuring the longevity and resilience of your company in a future that will be undoubtedly effected by the changing environment.
The challenges to facing climate risk are many and vast, and with the many obstacles that lie ahead for risk managers when approaching the climate question, it therefore, is all the more important to share knowledge and experience on how to plan ahead and create a resilient infrastructure for the future. Awareness of climate risks should surely be a priority in any company. Plus, with the increased focus on climate stress testing and ESG implementation, the road has been paved for more initiatives to come.
Did you join us at RiskMinds Edge Climate Change and ESG? Don't miss any future events. Buy a season pass now and get access to all RiskMinds Edge events in 2022.