Leading up to the 2013 Front End of Innovation EMEA event, we'll be chatting with some of our dynamic speakers for a sneak peek of what they have in store for this year's conference.
Stefan Lindegaard, whose work for 15inno we featured here last week, will be presenting "Using Social Media for Innovation Efforts."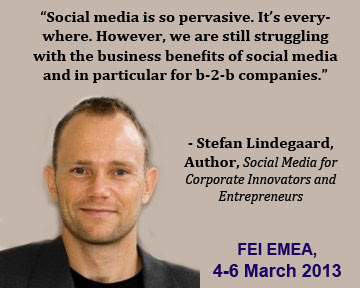 He was kind enough to complete a brief interview for our blog, including the following insights:

What's the first step you'd recommend for someone just getting started with social media innovation efforts?
This starts with a simple question: 'What's in it for me'? If you can't find 'business' reasons for you to engage with social media, then you need to give this some thought first. The same goes for leaders asking their people to start using social media. This is worthless if you don't have an answer to this question first.
The 'What's in it for me'? question is not about money; it's more about how you can get better at your work by using social media. An example could be that a corporate innovation team can identify the right partners for innovation ecosystems faster if they know how to use the search functionality on LinkedIn. It starts with their challenge on finding the right people. Once they know this challenge, they can start looking into how - or if - social media can help.
This takes us to the next important step. Most corporate innovation teams ' as well as many individuals ' need to find ways to upgrade their mindset and skills on how to use social media for business reasons. Hopefully, they can find some good insights in my book. 
Read the full transcript of the interview here. 
Register now to
join  Stefan Lindegaard and other innovation leaders at the Front End of
Innovation EMEA. Save 15% off the standard rate by mentioning code: FEI13BLOG
Michelle LeBlanc is a Social Media Strategist at IIR USA with a
specialization in marketing. She is the voice of the Front End of Innovation EMEA event on twitter, Facebook & LinkedIn