In celebration of our July book club pick, our featured
authors Bob Eckert and Jonathan Vehar  will be joining us for a
live online discussion on LinkedIn on
Thursday, July 26th, 2012 at 1 PM EST.
Ask your questions about energizing innovation teams, discuss your takeaways or questions from the book and connect with the BEI: Back End of Innovation community.
Join our LinkedIn group to participate.
Bob Eckert and Jonathan Vehar will both be speaking at BEI: Back End of Innovation taking place October 9-11, 2012, in Boston, Mass. Bob Eckert will be presenting "Innovation Culture: Knowing What To
Strive For, What Not To and How to Measure It" and Jonathan Vehar will
be leading our various collaboration sessions throughout the event. Download the BEI brochure to learn more.
For a sneak peek of the "New & Improved" approach to leadership in innovation teams, enjoy this irreverent look at the importance of taking responsibility to find new solutions... see and what happens when you don't: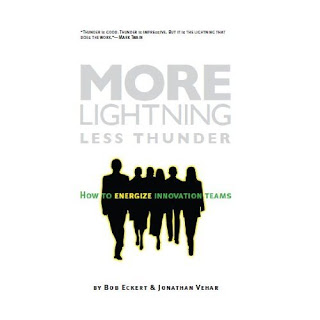 Our July Innovation Book Club pick is More Lightning, Less Thunder: How to Energize Innovation Teams and we're giving away four signed copies. The giveaway ends at midnight tonight, so be sure to get your entries in: entry details here. 
About the book:
More Lightning, Less Thunder: How to Energize Innovation Teams
introduces the fundamental behaviors and specific attitudes necessary to
function in a team environment. It's designed to help you work more
effectively with others to create innovative results and bottom-line
improvements. Mere tools and techniques are not enough to change the way
people and organizations work together. Innovation demands that
individuals adopt specific behaviors and attitudes in order to flourish
within teams.This book shares how to spark your brain and your teams to
generate more creative results.
Don't miss out! Add our live discussion to your calendar here.