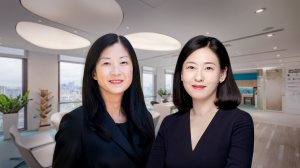 Dr. Dan Wang, Head, Johnson & Johnson Innovation, Asia Pacific, and Dr. Sharon Chan, Head of JLABS @ Shanghai discuss its support of startups, interests in diverse disease areas, the importance of collaborations and much more in this exclusive interview with EBD Group.
1. With more and more multinational healthcare companies setting up their external innovation teams in China, what makes Johnson & Johnson Innovation unique? How does Johnson & Johnson Innovation connect with local startups in the life science ecosystem through the Asia Pacific Innovation Center, JLABS @ Shanghai and the China Lung Cancer Initiative? 
Wang: China's life science ecosystem is maturing and indeed booming due to a rich pool of talent, strong support from government and private enterprises, and integration with the wider global life science ecosystem. In China and the region, we connect with local startups and the unique ecosystem by working as one Johnson & Johnson Innovation team across the Asia Pacific Innovation Center, JLABS @ Shanghai and the Lung Cancer Initiative at Johnson & Johnson in China (LCI China).
The Asia Pacific Innovation Center is headquartered out of Shanghai, China, with New Venture leaders located in our Tokyo, Seoul, Hong Kong, Singapore, and Sydney offices focused on scouting potential collaboration opportunities by connecting local innovators with Johnson & Johnson's experts from around the globe.
JLABS @ Shanghai aims to provide resident startups with a rich local ecosystem of therapeutic area experts, venture capitalists, and deal teams with an entrepreneurial mindset who understand what innovators are trying to achieve.
And last but not least, LCI China is an integral part of a dedicated global LCI team with expertise in clinical, pharmaceutical, engineering, surgical and early detection sciences, and with the mission of finding new ways aimed to prevent, intercept and cure lung cancer through external partnerships.
The Asia Pacific Innovation Center, JLABS and LCI China teams have been integral to one another in their efforts to find, attract and nurture the best new science and help bring it to patients and consumers. For us, there is no one-size-fits-all structure for our collaborations. Instead, we strive to tailor our deals to what each individual partner needs. Some of the flexible collaboration models include: incubation, investment, license-in, research collaboration, co-development, new co-creation based on partners' interests and needs at the development life cycle.
We feel our scale as one of the world's largest and most diversified healthcare companies and our comprehensive scope across so many areas of healthcare and life sciences are unique and strong differentiators in our ability to address health challenges from multiple perspectives. These differentiators allow us to help set up our partners for potential success by allowing them to focus on making the right connections and to get the resources they need, and the infrastructure that can help them succeed.
2, It's been noted that lung cancer is an area of focus for the organization, especially here in China, as well as diabetes and other chronic diseases. Can you share some examples of recent collaboration agreements across lung cancer? What are other disease areas of interest?
Wang: China leads all nations in lung cancer incidence and mortality, which is expected to grow given long-term exposure to air pollution and low smoking cessation trends. Recently, the Asia Pacific Innovation Center has facilitated several deals with LCI China.
Just last month, we announced a multi-year collaboration with biotechnology company AnchorDx to conduct a lung cancer study designed with the aim to enable the early detection and diagnosis of lung cancer. The four-year study will see over 3,000 patients with pulmonary nodules identified by CT scan enrolled and followed up with in the next three years. Furthermore, a strategic partnership with Zhejiang University was executed to evaluate the efficacy of a Cognitive Behavioral Therapy-based smoking cessation app which aims to help improve the efficiency of smoking cessation and contribute to the government's 'Healthy China 2030' goals.
In terms of other disease interests across Johnson & Johnson, we are interested in Immunology, Cardiovascular & Metabolic Disease, Pulmonary Hypertension, Infectious Diseases & Vaccines, Neuroscience and Oncology. We're also looking for potential solutions and technologies across Medical Devices and Consumer Health, or innovations that converge across these sectors, including Behavioral Science, Immunosciences, Microbiome and more.
Chan: In 2018, JLABS @ Shanghai launched the Lung Cancer Innovation QuickFire Challenge to identify innovators with the best ideas, technologies or solutions aimed to improve human healthcare related to preventing, intercepting or curing lung cancer. The three awardees of this QuickFire Challenge are now resident companies at JLABS @ Shanghai and with our continued support are working with the aim to address different aspects of lung cancer.
This includes DNX Biopharmaceuticals, which is developing long-acting therapeutic proteins for the treatment of patients with life-long diseases such as lung cancer, to improve clinical performance, patient compliance and reduce hospitalization costs.
This also includes Hawkeye Bio Inc, a California startup focused on the global deployment of its non-invasive breath-based diagnostic technology that intends to detect lung cancer early enough to be treated successfully.
The final awardee was NE Scientific, which is developing a software for surgical guidance that aims to support physicians in targeting tissues, potentially ensuring that all malignant tissues are eradicated and that the treatment is successful.
3. Since its establishment six years ago, what kind of collaborations has the Asia Pacific Innovation Center achieved in the region?
Wang: The Asia Pacific Innovation Center supports life science innovation by identifying and nurturing transformational healthcare potential solutions from startups and academics engaged in early-stage R&D who want to accelerate their novel programs. We are delighted by the many collaborations we have established to nurture the local biotech ecosystem across the region. In addition to the collaborations with LCI China as described earlier, I'd like to share some of the strategic collaboration examples with you here:
Earlier this year, we entered into a research collaboration with a Korea-based 3D bioprinting company, T&R Biofab, on the co-development of innovative soft-tissue regeneration/repair products based on T&R Biofab's platform technology using polymer, in situ extracellular matrix (ECM) proteins and 3D bioprinting.
In October 2019, we announced a Japan-based "World Without Disease" Call for Proposals in the areas of lung cancer, infant/child health, myopia, neuroscience and healthy aging, in collaboration with Takeda Pharmaceutical Company Ltd. and Shonan Health Innovation Park. We'll soon be announcing up to five awardees in these areas on August 27th in our upcoming webinar.
In the same year, we signed a third agreement with Chinese biotech company, Hitgen, to build and screen novel DNA-encoded libraries (DELs).
In 2017, we entered a worldwide collaboration and license agreement with Legend Biotech, to develop investigational CAR-T anti-cancer therapy, which has shown promising results in early-stage multiple myeloma trials.
We are expecting much more to come in the remainder of 2020 and beyond!

4. What are your criteria for choosing partners for early-stage collaborations? 
Wang: At Johnson & Johnson we aim to collaborate with the best and brightest because we know that a good idea can come from anywhere. We want to make a transformational difference for people, so when assessing partners for early-stage collaborations, there are three key criteria that we use:
The first one is whether your technology aims to address an unmet need, particularly for the most pressing healthcare needs facing patients around the world. The question we ask is: How much benefit could your science or technology bring to patients?
The second criteria is how your idea is differentiated from other solutions available or under development. We want to know what kind of novel approach or business model you have that other companies might lack.
The third criteria is the science or technology needs to be highly disruptive and fall into one of Johnson & Johnson's areas of strategic focus in Pharmaceuticals, Medical Devices, Consumer Health or across these segments. To succeed with solving the most pressing healthcare needs around the world, we decided in the past to focus our own expertise, our R&D budgets and collaborations in areas of great human need, where we can combine our own excellent science with the best available science and technologies outside the company.
5. With the recent one-year anniversary of JLABS @ Shanghai, what are some of the highlights and successes coming from Johnson & Johnson's first JLABS in the APAC region? 
Chan: As the first JLABS in Asia Pacific and the largest in Johnson & Johnson Innovation's global network, JLABS @ Shanghai has supported a total of 42 residents over the year, 35 of whom are current residents, innovating across pharmaceuticals, medical device, consumer and digital health.
In only one year, JLABS @ Shanghai has had one resident company IPO on the Korean Stock Exchange, three have signed deals with Johnson & Johnson, five have "graduated", and collectively at JLABS @ Shanghai alone, our resident companies have raised 3.1 billion USD in their own financing and strategic collaborations. Of our resident companies, 17% have been led by women, 71% are first-time entrepreneurs and 29% are serial entrepreneurs.
From our engagement on site with residents to our global reach through Johnson & Johnson Innovation's global network and online programs, we strive to support innovation in the region and across the world to bring life-changing health and wellness potential solutions to patients and consumers. Over the year, JLABS @ Shanghai has hosted over 55 events reaching over 3,500 attendees, held 38 company and investor meetings and onboarded 38 investor hub members.
6. With the COVID-19 pandemic, there is greater collaboration than ever before between academia, biopharma companies, government entities, NGOs and other stakeholders. Johnson & Johnson has recently partnered with BARDA, Emergent and Catalent. What types of new business models are being created to support the collaborations needed to address this pandemic and any future global healthcare crisis? 
Wang: There is certainly no shortage of opportunities to collaborate on innovative potential solutions to one of the most pressing healthcare needs of our time. In March of this year, Johnson & Johnson announced that its Janssen Pharmaceutical Companies had entered a collaboration with the Beth Israel Deaconess Medical Center (BIDMC) to support the development of a preventive vaccine candidate for COVID-19. Subsequently, Janssen announced the selection of a lead COVID-19 vaccine candidate in collaboration with the Biomedical Advanced Research and Development Authority (BARDA) and the rapid scaling of the Company's manufacturing capacity with the goal of providing global supply of more than one billion doses of a vaccine.
In many ways, the pandemic has propelled our work and allowed us to identify new potential solutions and implement innovative ways of working that—in the end—can have the power to change the lives of people all around the world. This has resulted in an even stronger pipeline and more strategic collaborations achieved at Johnson & Johnson Innovation in the first two quarters in comparison to 2019.
Chan: I can't agree more with what Dan just mentioned. On a broader note, to help address the pandemic, we have been searching and reviewing novel science and technologies across our global innovation network:
Over 60 JLABS resident companies are actively exploring novel technologies aimed to help address the COVID-19 pandemic.
Through our strategic corporate venture arm Johnson & Johnson – JJDC, we are currently investing in three external companies running research programs focused on COVID-19 diagnostics and therapeutics. We are also assessing collaborations with healthcare systems and companies that provide data/digital based approaches to inform social distancing, testing guidelines and policies to help manage the pandemic.
Wang: And at the Asia Pacific Innovation Center, we have developed a new business model that leverages technology in order to stay connected to the opportunities around us. We have moved our scouting efforts online to ensure that we can all stay connected with external partners. Our New Ventures & Transactions team has evaluated more new opportunities through virtual scouting in the areas of vaccines, antiviral therapeutics, diagnostics/consumer aids and several new opportunities are now under global review.
Since the start of the year, we have also been hosting a monthly webinar "Meet with Johnson & Johnson Innovation" series on topics of importance to innovation in the Asia Pacific's life science ecosystem, such as a COVID-19 vaccine, immunology and cell therapy, and medical device innovation, to engage with innovators from across the region and around the world.
7. Have you seen any new opportunities coming out of COVID-19 and how have you leveraged these?
Chan: We feel the current pandemic underscores a substantial need for stronger pandemic and general disease preparedness. However, despite the challenges, we have seen new opportunities arise across the China and wider ecosystem.
Digital transformation has significantly accelerated as a result of the pandemic—patient care is increasingly being delivered via tele-medicine, online medical service, highly connected patient communities, personalized diagnosis and treatment, and more. Consultations, diagnosis, monitoring, etc., will be more convenient, earlier, and faster. This transformation will shape the future of healthcare.
Wang: I agree that the growth and adoption of digital health programs has accelerated. The further use of data and analytics could be a game changer, in terms of both achieving better health outcomes for individuals as well as changing today's paradigm from "disease care" to true healthcare. New access models will play a role in managing costs, driving quality and improving patient access and experience. They will also highlight inequality and the social determinants of health.
Looking ahead, we expect an increased need for high-quality innovative healthcare products and services for patients. Unprecedented levels of collaboration with public health organizations and academic institutions, as well as collaboration across the pharmaceutical industry, could be crucial in addressing this global pandemic.
8. 2020 has been a challenging year but we are seeing tremendous progress in R&D at an unimaginable rate. What are you excited about for the near- and long-term future of R&D and healthcare?
Wang: Asia Pacific, with more than 60% of the world's population, has a growing demand for quality care caused by urbanization, an expanding middle class, an aging population and a growing burden of disease in HBV, cancer, dementia, diabetes and more.
To help meet these demands, we are excited to see novel science and disruptive technologies emerge in China and the region, specifically across areas such as cell therapy, gene therapy, high throughput drug screening technology, AI enabled discovery and other technology, cell-free DNA diagnostics, robotics and 3D printing.
And as we mentioned earlier, digital solutions are changing the healthcare delivery system and patient/consumer behavior with a significant impact, including more transparency between doctors and patents, more online doctors and better compliance management leveraging real-world evidence.
We expect to see significant growth in these areas and are excited about the future of life science innovation across the region. With our local and regional partners, we look forward to collaborating on new strategic collaborations aimed to accelerate innovation and bring new solutions to patients and consumers.
Dr. Wang will be a panelist at the live plenary session Forging ahead in unprecedented times: The path forward on August 25, 2020 during ChinaBio® Partnering Forum Digital. Click here to learn more about the digital event where valuable cross-border partnerships are forged and how you can participate.