Our morning speakers on day one gave us some great pointers on
making the most of our FEI experience
. One piece of advice was to open yourself up to learn from others. Well, this morning, we had an opportunity to learn from a very unexpected teacher, a gang leader. 
Antonio Fernandez took the stage following a raucous and raw video showing a bit of his handiwork. What in the world would this gang leader teach us about innovation? The audience was silent, and I was a bit stunned, as we learned of Antonio's past. 
Even though Antonio had a loving family, he fell into a life of drugs and crime. A key factor leading to this life? He struggled in school. Specifically, he said school made him feel stupid. Connecting back to Clay Christensen's perspective, isn't it school's job to make kids feel smart? Well, we all know education is ripe for innovation but this is a larger topic for another day. Interesting to me though, that both Clay and Antonio had the exact same perspective on this issue.
Anyway, Antonio's reaction was to play hooky. He didn't want to be in a place where he felt so different from everyone else. One thing was true, however, Antonio wanted to be rich. But with no education, he knew the proper way of making a living, that his father was trying to teach, was the
long road. He wanted the quick fix.
Antonio's solution was to become an entrepreneur. Sadly, dealing drugs was his product. I'm not going to belabor this part of the story. As you would probably expect, he became a drug addict and was sentenced to jail at the age of 17. Many stories end here with people living a life of addiction and/or incarceration. Not so for Antonio.
Acclimating to prison, I guess, is not unlike finding your way within any sort of social construct. Groups developed and Antonio was welcomed into a family called the Latin Kings. Jokingly, to our audience of business executives he says, "See, we have titles too. You have CEOs, we have Kings." (Nervous laughter.)
Antonio became a king in 1989. This new family and structure provided comfort in prison but the hopelessness was still there. He realized that when any of the kings left prison and went home, they still
acted like they did in prison. Following Antonio's release, he got a call from his "CEO", King Blood, who would be behind bars for years. Concerned about the future of the Latin Kings with him behind bars, he turned leadership over to Antonio, now King Tone.
This is where the story takes a great turn. Soon after assuming leadership, Antonio returned to the principles and values of his family and vowed to change the lives of the Latin Kings. His movement was focused on steering the kings away from crime and drugs and to focus on improving the community. He knew the Latin Kings had great things to offer. But this was a tall order, not just because he was looking at reforming criminals and addicts, but also because the Latin Kings had grown to 7,000 members across different states and countries. 
Well, Antonio Fernandez was the man for the job. Over the course of radically changing the mission of the Latin Kings, he created his very own 3 Laws of Innovation. Yes, they are laws, not guidelines, ideas, concepts, nice to do's, etc. These are laws. Do it or die. (Again, nervous laughter.)
King Tone's 3 Laws of Innovation
Build a community. 
Antonio brought the divided sects of the gang together and presented his ideas at "universals", monthly meetings. These meetings allowed face-to-face time to build the new principles of the Latin Kings from the ground up. He changed the laws of the group. No drugs. No killing. And once he had traction behind these meetings, he moved their locations from parks/parking lots at midnight to churches, at midnight. 


Don't be afraid to bring in outside inspiration.
Understanding the importance of tapping influence from outside the group, Antonio brought influential leaders to his group for inspiration. Leaders like Al Sharpton and others helped promote the need and benefits of the new laws of the Latin Kings. 


Words without actions have no meaning. 
Antonio stressed that this mission was real and worthy. They weren't just talking about these principles, they were living them. Putting the principles into action, he deployed former gang members into political activism and humanitarian efforts. Younger members of the gang were held to strict curfews and shielded from bad influence members that weren't leaving the life of crime.
Even though King Tone was radically changing the trajectory of the Latin Kings, he continued to be a target of law enforcement. Operation Crown in NYC sent Antonio back to jail in 1998 for three years of solitary confinement. But this confinement resulted in an even stronger commitment to his mission. Once Antonio was freed from jail he continued with his mission and now travels the country sharing his leadership lessons from the streets.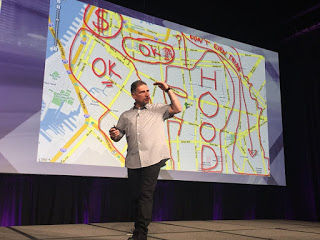 Powerful story shared by King Tone. Again, I am grateful for stories and experiences shared by the most unexpected of teachers. 
Lucy Robb, Aaron Keller and I write for the FEI event blog, please reach out if you have a story to share.
Kitty Hart
Director of Client Experience
Capsule
@HartOfCapsule
See my other posts from #FEInnovation 2017 here....
AARP, you have a brand problem. Or an opportunity?
What's your problem?