In recent years, pharma company R&D budgets have been under pressure. Pharma companies are struggling to find ways to continue to advance the development of attractive drug candidates from their own pipelines while simultaneously looking outside for attractive programs they can acquire. One way pharma companies can do more within a constrained R&D budget is to partner with outside investors in innovative ways to develop attractive drug candidates with "other people's money."
On September 5, 2018, at BioPharm America™ in Boston, a panel of industry experts moderated by Jeffrey Quillen, a partner at the Foley Hoag law firm in Boston, explored ways in which pharma companies and VC firms are partnering with biotech companies to develop drugs and generate investment returns.
The panelists were: Anthony Barry, Senior Director, Technologies, External Science and Innovation at Pfizer, Inc.; Marta New, a partner at Agent Capital; and Lance Ostrom, of Roche Partnering, who also heads Accenture's Boston Innovation Hub.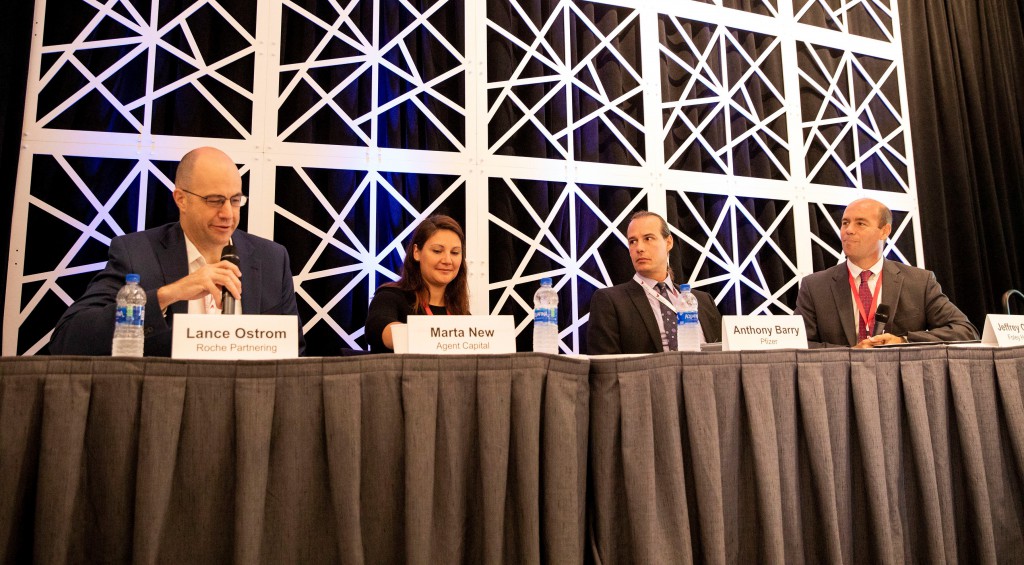 They discussed three models—or what moderator Quillan termed "flavors"—of collaboration. In the first two models, pharma companies and venture capitalists participate in equity investments. In the third model, pharma companies or VCs fund feasibility studies.
Indirect Equity Investment
All three speakers said their companies participate in—or are considering—indirect equity models, in which a big pharmaceutical company invests in a venture capital fund as a limited partner.
Barry, of Pfizer, said his company is involved a variety of such portfolios. "It is one of the many ways that we diversify our interest in activities" and get to "the hotbed of biotech community." It helps us expand our reach in terms of seeing a broader range of portfolios that we may not hold on our own and get a firsthand look at those companies from a different perspective than their just being shopped around from outside. And there's a further diversification of our investment into the space. Oftentimes we might look to join a partner that has a specific niche or an opportunity in terms of their focus that is a complement to what we're doing."
New, of Agent Capital, said involvement in a limited partnership with a midsize French company provides useful insights.
Ostrom, of Roche Partnering, said his group tends to take a more active role than indirect equity investment with individual companies but is currently considering an indirect investment with a VC firm. "I think that's kind of a beautiful model because you can draw from internal scientists at a place like Roche or Pfizer who are experts in therapeutic areas. So, there can be a good sharing of information."
Direct Investment
In the second partnering model the panelists discussed, big pharma invests directly in a startup alongside VC investors as part of a syndicate.
Barry, of Pfizer, said his company "absolutely" participates in this model and this year has, in fact, redoubled its efforts to do so. "We're kind of rebranding our whole venture arm. We see it as an opportunity to complement what we're investing internally and as an avenue for us to touch a lot of very new early opportunities that we think have promise, but that may not be ready for us to internalize at this point."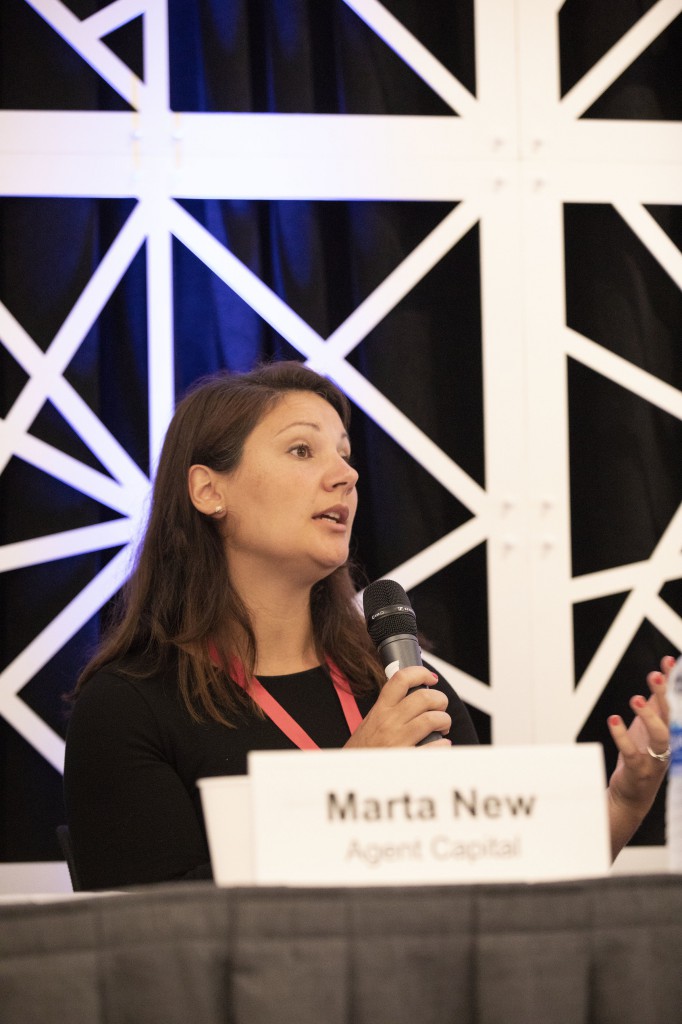 This model at Agent Capital takes this form, New said:  "As VCs, we like to see corporations and VCs around the table in a way that validates our investment, shows through complete diligence that this is aligned with pharma's strategy, and that there's an exit down the road….There's also comfort around the people and how the assets are managed as well as in the collaborative effort inside the biotech and on the board. This is a long game; the chances of an acquisition increase the earlier pharma is involved."
Ostrom, of Roche Partnering, suggested that before entering such a partnership, he would consider the nature of the opportunity, "whether we see the need to not only participate as a board observer, but also if there's a specific opportunity or asset or something of interest for which we want rights of refusal or something like that." The possibility of multiple pharma investors could bring up concerns about competition, but might also help "raise all boats," he added.
Feasibility Studies
A third way in which pharmaceutical companies and venture capitalists are increasingly partnering with early-stage biotech companies is via "feasibility studies."
As moderator Quinlan explained, "These are small deals involving small amounts of money, sometimes in the neighborhood of $200,000 to $400,000, to run a very limited experiment. It is simple. It's just sort of proof of concept, typically on one asset."
The panelists agreed that such studies can be beneficial to both investors and to the biotech if they advance the company's platform, help a pharma company make an "ultimate" decision, or "kill" a product early on if is likely to fail.
However, Barry advised, "As a small company, you have to be judicious about your spend for time and resources. A feasibility study can waste your effort, and, if it's driven by a specific partner, it can be risky. Because if it doesn't pan out, you might have nothing to show for it."
From the pharma side, he added, having a data set can be useful but "if we can't identify the lynchpin, we might have data but still not know the risks. Do we do another feasibility study or cut the cord?"
Gear up for our next event in Copenhagen! Bio-Europe® 2018 will bring together over 4,000 global life science decision makers and innovators who are looking for best fit partners. Learn how you can be part of this growing event this fall.