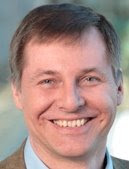 Leo K'rkk'inen is Research Fellow, Chief Visionary in Systems Research in the Office of CTO. Systems Research is the unit of Nokia Research Center with intent on driving breakthroughs that will reach far into the future, enabling new business opportunities for Nokia. As Chief Visionary, Leo is responsible for development of the research content and practices in labs worldwide that pursue disruptive innovation. Systems Research interacts closely with all Nokia functional units and promotes open innovation, working on research projects in collaboration with universities and research institutes around the world.
Don't miss Leo K'rkk'inen's keynote speech, The Nokia Vision: From Boots & Wood to Mobile Phones, at the FEI Europe event in Monaco. Check back Thursday, we'll be profiling speaker Peter Koen, Associate Professor, Director of Consortium for Corporate Entrepreneurship, Stevens Institute of Technology.
Take a look at this YouTube clip to take a closer look at the Nokia Research Center.