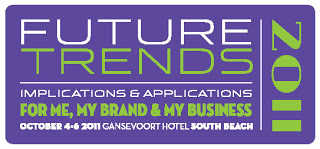 When dealing with trends, there is no "wait and see." To turn trends into a real business advantage, you must spot them in an early stage, allowing ample time to anticipate and implement winning business propositions.
This October at Future Trends, two of the world's top 10 Trend Visionaries help you do just that as they take you on a Trend Trek around Miami's most cutting edge areas.
Firmenich's 'TrendTreking' is a unique system that detect trends in their infancy (mostly 3-4 years before they globally manifest themselves). It allows not only to signal the new trends early, but also to reveal the process of change/trends.
Become a "cultural anthropologist" as you explore various environments, all while generating new, actionable trend insights. You will learn how to see differently, while observing 'things you have never seen before'.
Download the Future Trends brochure now to learn more about TrendTreking and this year's program.
The TrendTrek is only open to 20 participants who are attending the Future Trends conference. This Trek is available on a first come, first serve basis. Register now to reserve your spot here.
We look forward to seeing you this October in Miami!
The Future Trends Event Team
Want to learn more? Visit the Future Trends webpage, follow us on Twitter @Future_trends or become a fan on Facebook.