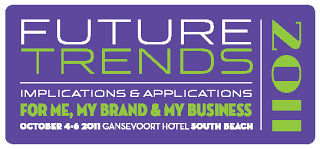 Time to make your move! The recent market shifts have proven that now, more than ever, you need to set a strategy for turning your goals into actionable results.
Future Trends 2011 is the best business trends event in the world because it's all about taking action. Here's just a few of the ways the 3-day experience of Future Trends will help you spark change NOW.
TUESDAY: MIAMI TRENZ'WALK - 10 MORE SPOTS OPEN!

Great news! We are excited to announce that we have secured an additional Trenz'Walk leader who can take on 10 more people! Join your peers on Monday and detect trends in their infancy as you explore various environments around Miami. See the full description here.
WEDNESDAY: CASE STUDIES ON TAKING ACTION NOW

' The Cure for the Common Trend: How to Design & Communicate Trends that Spark Change Now (Dipanjan Chatterjee, Senior Trends Specialist, Target Corp.)

' Fast Moving Cultural Trends to Act on Now and Slow Moving Trends for the Future (Grant McCracken, Author, Chief Culture Officer)

' The "New Normal" - The Changing Economy and It's Differential Impact on the US Consumer (Robert Batic, Director, Portfolio Strategy and Analytics, Kraft Foods)

See the full agenda here.
THURSDAY: PUT IT ALL TOGETHER INTERACTIVE COLLABORATION SESSION

Josh Rubin, Founder of Coolhunting.com reviews key themes that have been discussed at the event, and how to take action on them. This attendee sourced activity ensures you walk away with REAL solutions to current challenges. See the full outline here.
We hope you will join your community of trend spotters, corporate thinkers, and news makers at the Gansevoort this October in Miami.
Register now as a reader of this blog with code FEI2011blog & save 15% off the standard registration rate. Register here.
We look forward to seeing you this October in Miami!
The Future Trends Event Team
Follow us on Twitter or become a fan on Facebook for event updates and industry news.